Best Counseling Schools in Alabama
Licensed professional counselors (LPCs) help Alabama residents face many difficulties. Even if you don't become an LPC, you can still complete a degree program and do good work in this field. Here are some of the best counseling programs in Alabama to help you start your career (or further advance it).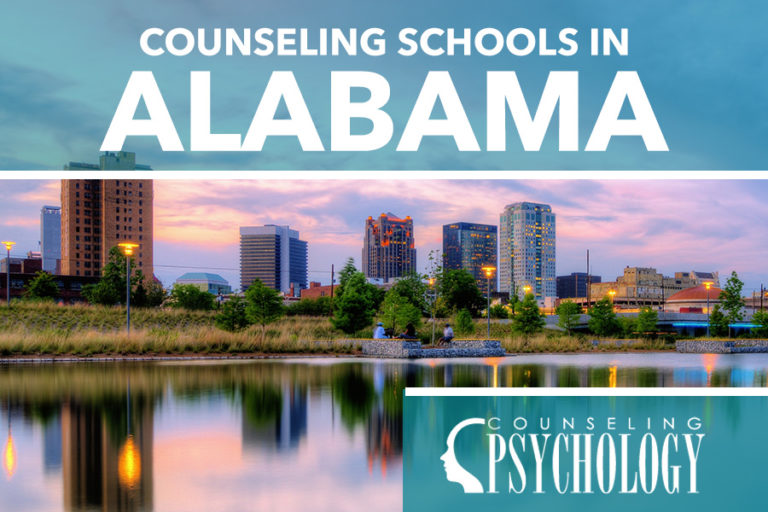 How to Find a Counseling Program in Alabama
There's no shortage of counseling programs in Alabama. You'll find programs at different degree levels, with different course types, and with different specializations. Consider your budgetary needs, scheduling needs, interests, and aspirations as you compare various degree options.
Counseling Degree Pathways in Alabama
Counseling degrees are offered at several different levels. Each level has its own prerequisites and time requirement. You might choose any of the following degree options:
Associate Degree – usually requires a high school diploma and lasts two years
Master's Degree – usually requires a bachelor's degree and lasts one to two years
Doctorate Degree – usually requires a bachelor's/master's degree and lasts three to six years
A GED can be substituted for a high school diploma, and any program requiring a bachelor's degree can also be completed after earning a master's. A two-year master's program is typically needed for licensure as a professional counselor, but you can work in the field with other degrees. Graduate certificates provide opportunities for specialization.
Choose a Counseling Specialty
As a counselor, you can provide generalized counseling or specialized counseling. Should you choose to become specialized, you have many focus areas to choose from. Some popular ones that degree programs are available for include:
Marriage, couples, and family Counseling
Clinical mental health counseling
Dialectical behavior therapy (DBT)
Most counseling specialties are in high demand throughout Birmingham, Huntsville, Montgomery and the rest of Alabama.
Accreditation
You should only consider accredited counseling degree programs, as accreditation ensures your program's quality and recognition. Unaccredited programs likely won't qualify for transferring credits or licensing.
The main body accrediting Alabama counseling programs is the Council for the Accreditation of Counseling and Related Education Programs (CACREP). The American Psychological Association (APA) is the other recognized accrediting body. Any of these will ensure your degree is widely recognized.
Online vs. Traditional Counseling Programs in Alabama
Colleges and universities offer both online counseling programs and traditional (in-person) counseling programs. Traditional programs afford plenty of interaction with classmates and instructors, and they also sometimes have better internship opportunities and library resources. Online programs tend to cost less and have more flexible scheduling options. Online also, obviously, doesn't require relocating.
Consider these variables as you evaluate whether an online program or traditional program would be better for you.
Becoming Licensed as a Counselor in Alabama
You can work within the counseling field and not be licensed. Only licensed professional counselors can provide services without supervision, though. LPCs also can supervise others below them.
To become an LPC in Alabama, you must complete a master's degree with at least 48 credits, 12 credits shorter than many other states require. You must also complete a 40-hour practicum, 600-hour internship, and 3,000 hours of supervised counseling. After meeting these requirements, you must pass a national exam and pay a nominal fee.
Counseling licenses must be renewed biannually. Renewal requires 40 hours of continuing education and a fee.
List of Counseling Degree Programs in Alabama
Are you searching for a counseling degree program in Alabama? Browse our comprehensive list of schools offering counseling programs, both online and on-campus, and follow the links to learn more about what each program has to offer.
Birmingham, AL
Livingston, AL
Mobile, AL
Montevallo, AL
Montgomery, AL
Troy, AL
Are we missing your school's program or need to update information listed? Please contact us so we can make the necessary changes.