Best Psychology Schools in New York
Are you exploring your options to pursue psychology in New York through one of the state's many colleges or universities? In this guide, we show you some important potential steps on how to pick the right program for you, whether you're a new undergraduate or stepping up to graduate study.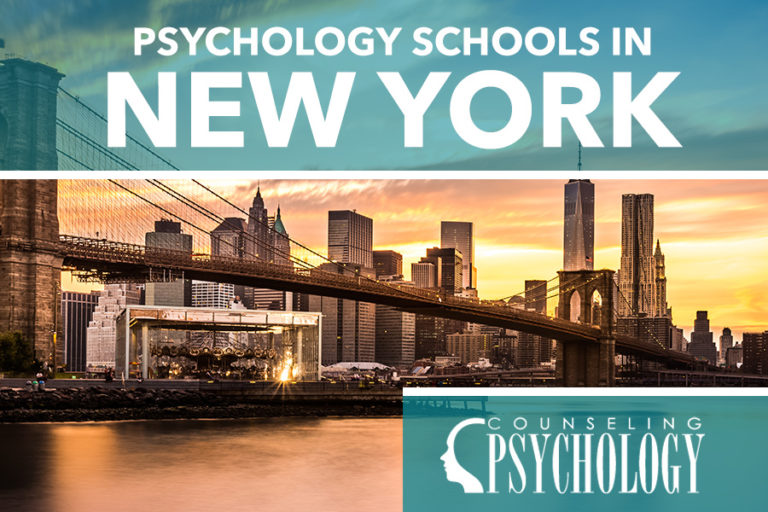 How to Find a Psychology Program in New York
A search of psychology programs in New York should consider the full possible range of factors. While cost, prestige, and location may all matter to you – there are others to consider as well.
Psychology Degree Pathways in New York
First, consider which degree type you need. For new undergraduates, there are two-year associate's degrees or four-year bachelor's degrees in psychology. Associate's degrees can be found at community colleges, but will only lead to very basic entry-level jobs unless you continue your education. Psychology bachelor's degrees are widely available and prime students for graduate study.
If you already have a bachelor's degree, you can pursue a graduate certificate, which is designed to train you in a specialty area of psychology. This one-year program does not result in a degree, but can be a great way to learn skills in a niche area. A master's degree in psychology is the more common graduate route, however. These two-year programs prepare students for a wider range of career roles, as well as future doctoral study.
To practice as a clinician, you will need a doctorate; there are two types – the PsyD, a newer degree type aimed at clinicians, and the Ph.D. for prospective researchers.
Choose a Psychology Specialty
It is rare that you will find an associate's or bachelor's degree in a psychology specialty though they do exist. Most undergrads simply major in general psychology.
That changes at the graduate level, where most programs offer a concentration. While entering a specialty or niche area of psychology is not mandatory, this is the time when students can seek out a more nuanced program if they so choose. The University at Buffalo offers a BA and BS in psychology along with a minor. Their graduate programs include a General Psychology MA, as well as Clinical Psychology, Cognitive Psychology, and Social-Personality Psychology doctorates.
New York University is also a great place to pursue an MA in psychology, as it offers several concentrations: Social Psychology, Forensic Psychology, and Social & Consumer Psychology.
Accreditation
Why should you opt for an accredited psychology degree in New York? It's an important program feature due to the following:
It ensures that a psychology program adheres to minimum required standards
Prospective clinicians must complete an accredited program. The state board will not permit applicants without it
Non-clinical roles (inside and outside of the medical profession) also require this
Professional organizations will allow you to apply for membership with accredited programs
Schools and programs in New York are accredited locally by the Middle States Association of Colleges and Schools. Nationally, the American Psychological Association accredits psychology programs.
Online vs. Traditional Psychology Programs in New York
Whether you choose fully online or traditional campus study, there are both advantages and disadvantages.
Online study permits flexible working times, days, and other patterns that suit your lifestyle. The main drawback is the lack of social interaction and the need for self-discipline, as coursework can often be taken at your own pace.
Campus study provides the traditional college experience including interaction with peers and professors and campus resources such as libraries. However, the reality is that those who are employed and/or have families can't always make a rigid campus schedule work. There is also the issue of commuting to a college campus, which isn't always realistic for those who don't live near one.
Becoming Licensed as a Psychologist in New York
To gain a license to practice as a psychologist in New York, you must obtain a doctorate degree, unless you intend to work as a school psychologist – in which case, a master's is required, followed by two years of supervised experience. For everything else, both PsyD and Ph.D. grads are eligible in the state.
You will need at least 3,500 hours of professional experience in the field in which you will work. Half of these can be completed during your doctorate program, while the other half can be completed as part of your post-doctoral work.
Finally, you must pass the Examination for Professional Practice in Psychology (EPPP).
List of Psychology Degree Programs in New York
Are you looking for a psychology degree program in New York? Browse our list of psychology programs offering both online and on-campus instruction. Follow the links to learn more about what each school's psychology program offers.
Albany, NY
Brockport, NY
Bronx, NY
Brooklyn, NY
Buffalo, NY
Canton, NY
Cortland, NY
Dobbs Ferry, NY
Farmingdale, NY
Garden City, NY
Geneseo, NY
Hempstead, NY
Jamaica, NY
Loudonville, NY
New Paltz, NY
New Rochelle, NY
New York, NY
Old Westbury, NY
Oneonta, NY
Oswego, NY
Plattsburgh, NY
Poughkeepsie, NY
Queens, NY
Rochester, NY
Staten Island, NY
Stony Brook, NY
Syracuse, NY
Vestal, NY
Are we missing your school's program or need to update information listed? Please contact us so we can make the necessary changes.