Best Counseling Schools in New York
Students who want to enroll in a New York counseling program should understand that there are many things that determine if a program is a good counseling program. Exploring counseling programs at New York colleges and universities helps students to choose the best counseling program, based on their educational and professional goals.
Programs are available for counseling students in New York at all educational levels.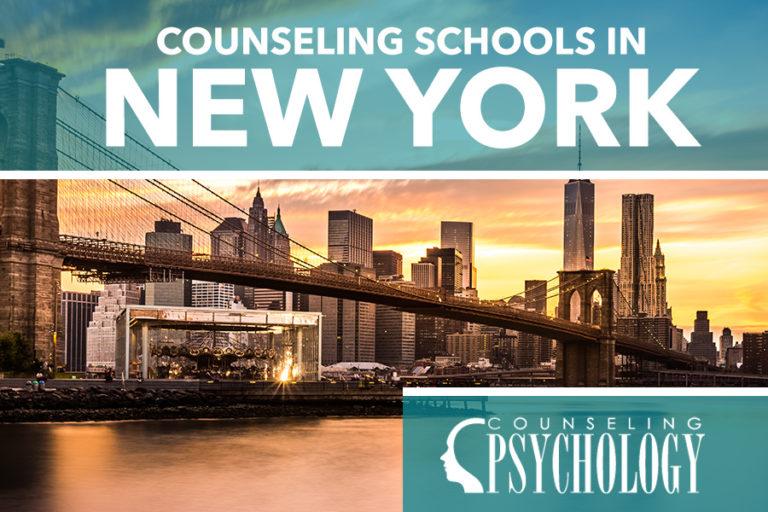 How to Find a Counseling Program in New York
Not every counseling program was created equally. Some students value resources that other students may not need, such as peer-led study groups, or an affordable meal plan at the school's mess hall. Whatever your needs may be, it is a good idea to look at all angles before making a final decision.
Counseling Degree Pathways in New York
There are a few pathways students in New York can take toward a counseling career. Depending on the type of counselor you want to be, some degree options make more sense than others.
Choosing a Counseling Specialty
Students are likely to give considerable thought to choosing a counseling specialty. One thing to consider is the type of jobs available for a counseling specialty. Consider whether the program offers additional career opportunities, either with additional education or training.
The University of Rochester offers several counseling specialties. Consider a Master of Science in school counseling, a Master of Science in mental health counseling, or an EdD/PhD in counseling program.
The University at Buffalo offers students the opportunity to complete a Master of Science in mental health counseling, a Master of Science in rehabilitation counseling, and a Master of Science in school counseling, EDM. There are other counseling specialties at the school.
Check School Accreditation
It is important for students to check school accreditation and counseling program accreditation. Students who attend schools that do not hold proper accreditation may not be able to obtain counseling licensure to practice in New York.
The counseling programs at the University at Buffalo, and the advanced certificate programs, such as mental health counseling, AC, mindful counseling for wellness and engagement, AC, and rehabilitation counseling, AC have accreditation from the appropriate accreditation bodies. 
Hunter College offers counseling programs through the Department of Education. The programs, including the Master of Science in Rehabilitation Counseling, and the Master of Science in School Counseling hold accreditation that allows students to sit for exams and to obtain licensure. Accreditation is from the Council for Accreditation of Counseling and Related Educational Programs (CACREP).
Online vs. Traditional Counseling Programs in New York
Colleges and universities in New York that offer counseling programs often provide options in the program format. Some schools, including New York University Steinhardt, offer online accredited counseling programs.
Pace University admits limited numbers of students in their traditional face-to-face mental health counseling, PhD program. Specializations include grief counseling, substance abuse counseling, and positive psychotherapy and counseling.
Becoming Licensed as a Counselor in New York
New York requires that students meet licensure requirements to practice in the state. The New York State Office of the Professions states the regulations for mental health counselor licensure.
The New York State Office of Addiction Services and Supports provides information on credentialing for substance abuse counselors.
List of Counseling Degree Programs in New York
Are you searching for a counseling degree program in New York? Browse our comprehensive list of schools offering counseling programs, both online and on-campus, and follow the links to learn more about what each program has to offer.
Albany, NY
Brockport, NY
Bronx, NY
Brooklyn, NY
Buffalo, NY
Dobbs Ferry, NY
Garden City, NY
Hempstead, NY
New Paltz, NY
New Rochelle, NY
New York, NY
Old Westbury, NY
Oneonta, NY
Plattsburgh, NY
Poughkeepsie, NY
Queens, NY
Staten Island, NY
Syracuse, NY
Are we missing your school's program or need to update information listed? Please contact us so we can make the necessary changes.