Best Counseling Schools in Texas
Texas has a large and diverse population, and that creates many counseling needs throughout the state. Counselors in Dallas, Austin, Houston, San Antonio, other cities, and more rural areas help people manage challenges such as addiction, trauma, family, and school. If you want to become a licensed counselor or otherwise work in this field, here are the best counseling programs in Texas. Any one of them could prepare you well for a counseling career.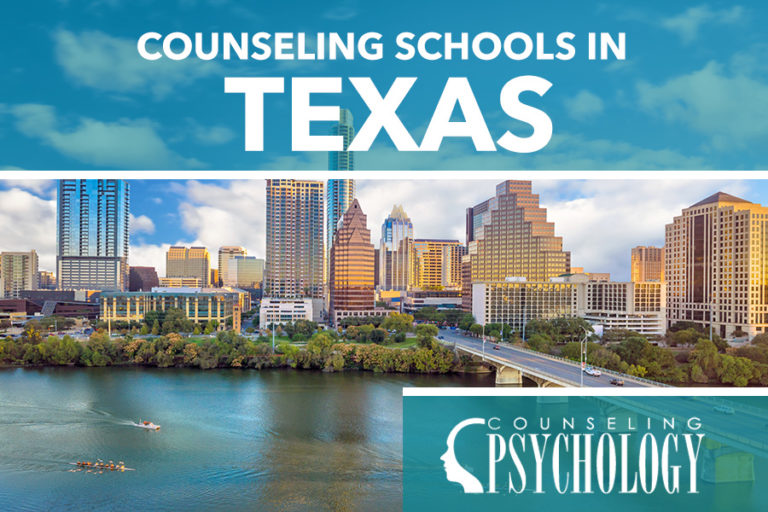 How to Find a Counseling Program in Texas
There are many fantastic programs to choose from in Texas, and narrowing one down that fits your needs can be timely. If you are searching for in-person programs, it will help you to consider the location you will be studying in: Will there be affordable housing in the area or school you'll be living in? Will the school you are applying to have adequate resources such as an accessible library, and tutoring options? These questions and more will help you pick a school that is right for you.
Counseling Degree Pathways in Texas
Texas colleges and universities have counseling degree programs that you can take immediately after high school, or after earning a bachelor's degree (in counseling or otherwise). The various degrees that you can enroll in are a(n):
Associate Degree: An A.A. takes two years to complete after high school, and prepares you for entry-level counseling work directly with clients. Schools may offer an associate of arts (A.A.), or an associate of science (A.S.).
Bachelor's Degree: A B.S. takes four years after high school, and prepares you both for non-licensed counseling work and master's degree programs. Schools may offer a bachelor's of arts (B.A.), or a bachelor's of science (B.S.).
Master's Degree: An M.S. takes one to two years after a bachelor's program, and prepares you for licensure as a professional counselor (LPC). Schools may offer a master's of arts (M.A.), master's of science (M.S.) or master's of education (M.Ed.).
Doctorate Degree: A Psy.D. takes three or more years after a bachelor's program and some professional experience, while a Ph.D. takes 4+ years after a bachelor's. The former focuses on clinical work, and the latter on research. Either can prepare you for advanced positions in the field. Schools may offer a doctorate of psychology (Psy.D.) or a doctorate of philosophy (Ph.D.).
Graduate Certificate: A graduate certificate takes six to twelve months after a bachelor's or master's program, and allows you to specialize. This isn't a degree program.
Base your degree choice on your current credentials and your academic and professional goals.
Choose a Counseling Specialty
These programs can prepare you for general counseling work, or for more specialized work. It's common to specialize more as you advance through the degrees, but any degree program might have a specialization track. Some examples of specializations are:
Clinical mental health counseling
Rural mental health counseling
Rehabilitation counseling
Accreditation
Any counseling degree you enroll in should be through an accredited school. Accredited Texas counseling programs are guaranteed to meet state and other academic standards.
Several different organizations accredit counseling programs. Two of the main ones are the Council for the Accreditation of Counseling and Related Education Programs (CACREP) and The American Psychological Association.
Online vs. Traditional Counseling Programs in Texas
You'll find that Texas schools have both online and traditional counseling programs. An online program will likely have lower tuition costs and more schedule flexibility, while a traditional program will afford more opportunities for in-person conversations. Select whichever option is better for you, as either can provide a solid education.
Becoming Licensed as a Counselor in Texas
To work as a licensed counselor in Texas, you must complete a master's degree, a 300-hour practicum, and 3,000 supervised hours of post-graduation work. You also have to pass a licensing exam and pay an application fee.
To maintain your license, you must complete 24 hours of continuing education every two years.
List of Counseling Degree Programs in Texas
Are you searching for a counseling degree program in Texas? Browse our comprehensive list of schools offering counseling programs, both online and on-campus, and follow the links to learn more about what each program has to offer.
Austin, TX
Commerce, TX
Corpus Christi, TX
Cyprus, TX
Dallas, TX
Denton, TX
Edinburg, TX
El Paso, TX
Fort Worth, TX
Houston, TX
Huntsville, TX
Laredo, TX
Nacogdoches, TX
Odessa, TX
Prairie View, TX
San Antonio, TX
Stephenville, TX
Tyler, TX
Are we missing your school's program or need to update information listed? Please contact us so we can make the necessary changes.