Best Psychology Schools in Florida
Are you currently interested in getting a psychology degree in Florida? This guide will help you through your search process to get started. Whether you are looking into an undergraduate or graduate psychology program, there are plenty of options in the state. Read on to learn more about your options.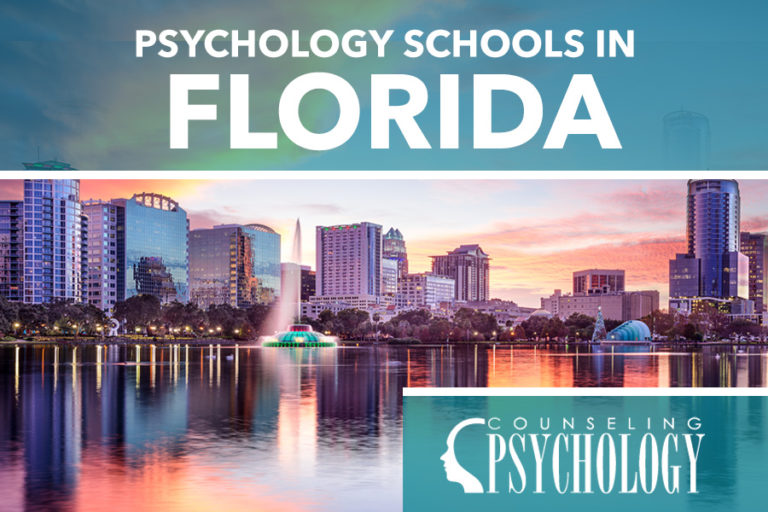 How to Find a Psychology Program in Florida
Your Florida psychology program search should look at all aspects of a program. Cost and location are important but just as important is choosing the right program for your intended career choice and professional interests.
Psychology Degree Pathways in Florida
Which type of degree do you need? If you're a recent high school graduate, you'll need either the two-year associate's degree or the four-year bachelor's degree. You'll need the latter for psychology graduate programs. The good news is, if you already have an associate's degree, you can apply the credit hours to a full bachelor's (a BA or BS).
For those who already have a bachelor's degree, your two options include a graduate certificate, which will train you in a niche area of psychology, or a full psychology master's degree (MA or MS).
If you are ready to reach the highest levels of psychology and have already obtained several psychology degrees, a doctorate degree might be your next choice. You may opt for a PsyD, aimed at potential clinicians, or a Ph.D., aimed at potential future researchers in the field.
Choose a Psychology Specialty
You will not usually have the option of a specialty area of psychology until you reach graduate-level study – this includes graduate certificates, master's degrees, and doctorates. Miami Dade College is one of many to offer associate's degrees across the state, while the main bachelor's, master's, and doctorates are through the state's biggest university: the University of Florida.
Florida State University also offers a range of psychology programs – from undergraduate to post-graduate. Doctorate students should know there are five programs on offer at FSU: Clinical Psychology, Cognitive Psychology, Developmental Psychology, Neuroscience, and Social Psychology.
Accreditation
If you're unsure whether to choose an accredited or unaccredited program, there are a few issues you should know:
Accreditation denotes minimum quality standards are adhered to
For clinical practice, accreditation of your programs is mandatory
Many non-clinical roles will also require that your qualifications reach a minimum teaching standard
Professional organizations will often make fully accredited qualifications a condition of membership
Accredited programs in Florida are covered by the Southern Association of Colleges and Schools. Nationally, it is the American Psychological Association (APA) that accredits programs.
Online vs. Traditional Psychology Programs in Florida
Both online remote study and on-campus psychology programs in Florida have their benefits and drawbacks.
With online degrees, you may study at a pace that suits you – times and days of the week, especially where classes are asynchronous. Synchronous classes mean some degree of structure and control to your study. However, you will not have the social aspect of college life.
Campus study has all those communal and social benefits – it's the main reason most people still prefer this study method. However, these programs lack the flexibility that employed professionals and those with commitments may prefer.
Becoming Licensed as a Psychologist in Florida
To practice as a licensed psychologist in Florida, there are several steps you must take. First, you need a doctorate – this can be a Ph.D. or PsyD in psychology, or an Ed.D.
Once complete, you will need 4,000 hours of supervised experience in your chosen field. Only up to 2,000 of these hours may be in the form of an internship. The other 2,000+ must comprise post-doc supervised employment.
Following this, you must pass the State of Florida's psychology laws and rules examination, and then the EPPP.
Licensure by endorsement is available in Florida.
List of Psychology Degree Programs in Florida
Are you looking for a psychology degree program in Florida? Browse our list of psychology programs offering both online and on-campus instruction. Follow the links to learn more about what each school's psychology program offers.
Boca Raton, FL
Coral Gables, FL
Daytona Beach, FL
Fort Lauderdale, FL
Gainesville, FL
Lakeland, FL
Melbourne, FL
Miami, FL
Orlando, FL
Pensacola, FL
Saint Leo, FL
Tallahassee, FL
Tampa, FL
West Palm Beach, FL
Are we missing your school's program or need to update information listed? Please contact us so we can make the necessary changes.