Best Counseling Schools in Illinois
Counselors are needed throughout Illinois. Chicago has a high demand for professional counselors, and so does Aurora, Joliet, as well as, the state's rural regions. If you're thinking about going to school for counseling, here are the best college and university counseling programs in Illinois.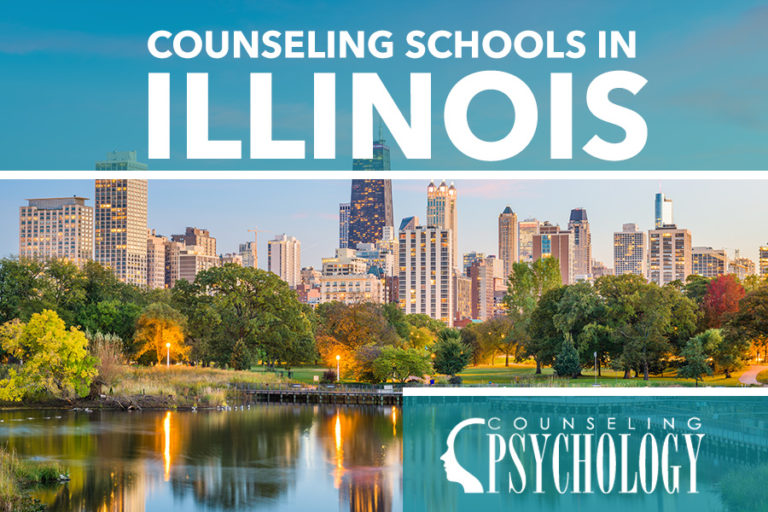 How to Find a Counseling Program in Illinois
Many universities and colleges in Illinois have counseling programs. You'll find no shortage of programs at every degree level, and with a variety of specializations. Choose a counseling program that's in-person and near you, or enroll in an online counseling degree program.
Whichever counseling program you choose, it should work for your budget, schedule, life stages, and career goals.
Counseling Degree Pathways in Illinois
Counseling degrees are offered at every level of undergraduate and graduate level. You might start with an associate's or bachelor's degree to start working in the field as soon as possible. If you're ready for licensure or more advanced work, a master's degree, doctorate or graduate certificate may be well-suited for you.
The various degree options follow the standard postsecondary hierarchy, which is as follows:
Associate Degree: Entry-level degree that takes two years to complete. Requires a high school diploma or GED to enroll.
Bachelor's Degree: Standard undergraduate degree that takes four years to complete. Requires a high school diploma or GED to enroll.
Master's Degree: Graduate degree that's needed for licensure. Takes one to two years to complete, and requires a bachelor's degree to enroll.
Doctorate Degree: Advanced graduate degree that can focus on clinical care (Psy.D.) or academic research Ph.D.). Can take three to six years to complete in most cases. May require a bachelor's or master's degree to enroll.
Graduate Certificate: Specialized certificate that requires six months to a year to complete. Requires a bachelor's degree to begin.
Choose a Counseling Specialty
Depending on the counseling degree program that you choose, you may have an opportunity to specialize. The specializations that schools offer can vary. Depending on your specific school, you might be able to choose specialization in:
Dialectical behavior therapy (DBT)
Family and marital counseling
Other counseling methods and disciplines
Base any choice of specialization on the setting and clients that you want when working professionally.
Accreditation
Accreditation guarantees the quality of a counseling degree program, and it ensures that your degree will be professionally and academically accepted. Limit your consideration of programs to only programs that are accredited.
The largest accrediting body for counseling programs is the Council for the Accreditation of Counseling and Related Education Programs (CACREP). Programs accredited by the American Psychological Association (APA) are also universally recognized.
Online vs. Traditional Counseling Programs in Illinois
Illinois schools make counseling programs available via online learning and in-person classroom. An online counseling program will likely be more affordable and flexible. An in-person counseling program will give you more opportunities to talk directly with classmates and professors.
Becoming Licensed as a Counselor in Illinois
To become a licensed professional counselor (LPC) in Illinois, you must complete a master's degree in counseling that consists of at least 48 credits. You also have to complete a one-year residency (internship) that's the equivalent of 24 credits, but this doesn't necessarily have to be at a school's campus. The final requirements for licensure are 1,680 supervised hours, a licensing exam, and a fee.
Once you're an LPC, you must renew the license every two years. Renewing requires 30 continuing education hours.
List of Counseling Degree Programs in Illinois
Are you searching for a counseling degree program in Illinois? Browse our comprehensive list of schools offering counseling programs, both online and on-campus, and follow the links to learn more about what each program has to offer.
Aurora, IL
Champaign, IL
Chicago, IL
Dekalb, IL
Evanston, IL
Macomb, IL
Peoria, IL
Romeoville, IL
University Park, IL
Are we missing your school's program or need to update information listed? Please contact us so we can make the necessary changes.