How to Become a School Counselor
Aspiring school counselors complete degree requirements and licensing requirements for the state where they want to practice so that they meet the standards set for the profession. School counselors work in a variety of settings, and work to support students to help them meet life's challenges and to reach their full potential.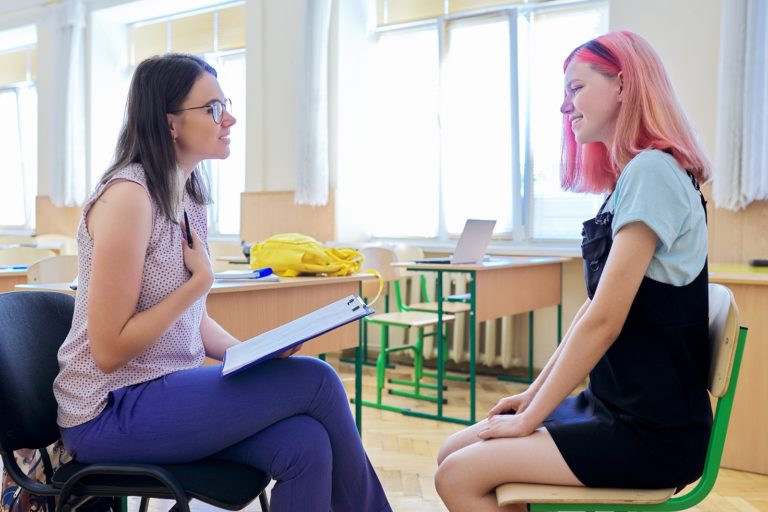 Step 1: Complete a School Counselor Degree
Completing a school counselor degree is a requirement for school counselors at every level and in every state. The required degree is only a part of the requirements for working as a school counselor.
Associate's Degree: Students who earn an associate's degree typically earn a degree in a counseling or psychology area. Consider earning a degree in mental health, behavioral health, or a similar area. Transfer to a four-year school after graduation to earn a bachelor's degree and to continue the educational path to become a school counselor.
Bachelor's Degree: Earn a bachelor's degree in psychology, or in behavioral health sciences. Consider a degree in marriage and family counseling, or in mental health counseling. Students who earn a bachelor's degree with the intention of becoming a school counselor may continue their studies to earn a graduate degree at the same college or university. Some students may want to continue their journey to becoming a school counselor in the state where they want to work after earning their degree and completing all other requirements.
Master's Degree: Look for an accredited school counseling program before enrolling at any college or university. Completing a school counseling program that is not accredited or that otherwise does not meet the standards for becoming a school counselor will likely lead to a student not being able to sit for exams or to obtain licensure. A master's degree prepares future school counselors by providing the professional competencies and skills necessary to work in a K-12 setting. Some colleges and universities offer the opportunity for students to apply to a school counselor certification program.
Doctorate Degree: Look for a doctorate program that prepares students in areas where you want to work at the doctoral level. Some students want to work in research, while others prefer to work in supervisory roles. Make sure that the program meets the requirements for where you want to work as a doctorate program graduate.
Step 2: Become Licensed as a School Counselor
School counselors must hold licensure to practice at schools across the U.S. professional licensure helps to guarantee that school counselors provide the best practices of the profession.
Internship/Practicum Experience
Every degree program for aspiring school counselors requires that students complete an internship, a practicum, or another experience. The required number of hours and the acceptable locations may vary across different states. The other factor that affects the number of required hours that students complete for their internship or practicum is the particular degree that they are seeking at the time.
Examination
Students who complete a school counseling degree are required to pass an examination. It is the student's responsibility to make sure that they register for the exam and take it at the appropriate time.
Many college and university programs provide students with information and the steps to take the exam. The Praxis 5421 tests the skills, knowledge, and competency of students who want to become school counselors. Individual states may have additional requirements, such as taking a state exam.
State Requirements
States have their own requirements for aspiring school counselors. Students need to check with the state to make sure that they complete all requirements before applying for licensure or certification as a school counselor.
Some states offer an alternative to taking the Praxis 5421 Exam, such as that state's exam for school counselors. States often have additional requirements, such as also completing the steps for certification.
Step 3: Apply for a School Counselor Job
Applying for a job as a school counselor requires that students first complete all requirements for the state where students plan to work in a K-12 school setting.
What Careers Can I Pursue with a School Counselor Degree?
Upon the completion of a school counselor degree, most graduates find themselves working in the role of:
Where Can I Work with a School Counselor Degree?
Students who become school counselors have the opportunity to work for a variety of employers and in a variety of settings. Many school counselors work in public schools that serve K-12 grade students. Working in a charter school setting is another option for school counselors, as is working for a private school.
School counselors who work as guidance counselors work in the office at public, private, or charter schools. They may work at centers that provide services to students.
Step 4: Learn About School Counselor Salaries
School counselor salaries may vary, based on the state where the school counselor works, or the type of setting where they work. The salary for a school counselor may vary from that of a guidance counselor or a career counselor.
Salary.com lists the salary range for school counselors at $45,495 to $55, 922. The average salary for school counselors is $47,895.