How to Become a Mental Health Counselor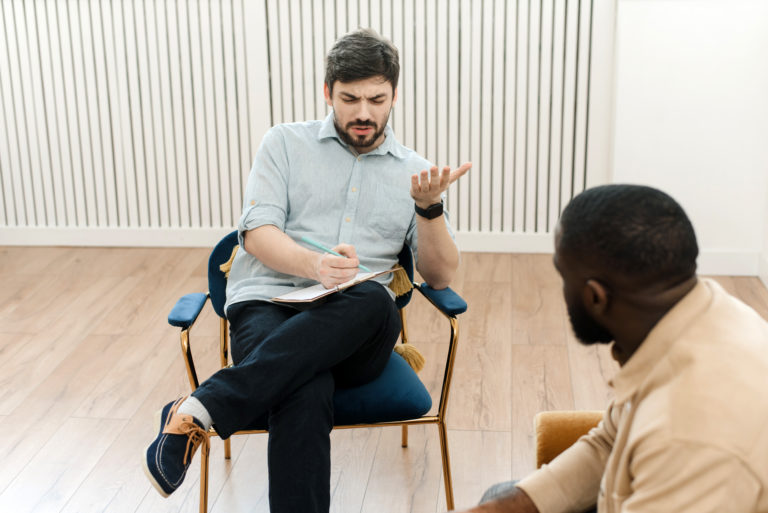 Most people at one point or another in their lives will grapple with their mental health and emotional state. These issues have garnered more attention in recent years due to the challenges faced by the Covid-19 pandemic and related shutdowns. As such, more people have started to speak out and talk about mental health issues. Though this type of counseling overlaps with others, licensed mental health counselors are trained to provide comprehensive, mind-and-body care and therapies to clients struggling with different psychological conditions.
Step 1: Complete a Mental Health Counseling Degree 
There are many degrees available to those interested in a career in mental health counseling, ranging from associate's degrees to doctorates. The level of degree you should work towards all depends on the type of job you want.
Associate's Degree – Those seeking to work in the broader mental health field can get started by obtaining a two-year degree in psychology. Area technical or community colleges are most likely to offer these programs, which allow rapid employment upon graduation.
Bachelor's Degree in Psychology – To turn out to be a mental health counselor, students tend to start out with a bachelor's degree in psychology. This four-year foundational degree enables students to gain a rudimentary knowledge of mental health and psychology.
Master's Degree in Mental Health Counseling – To work as a mental health counselor, a 24-month master's degree from an accredited school is necessary. Essential counseling skills, understanding of p[sychopathology, multicultural counseling, and human development are common graduate-level courses. Though many colleges offer a master's degree online, most internships must be completed in person. Most programs also require students to complete a final paper.
Graduate Certificate in Mental Health Counseling – Working counselors who want to keep current or specialize in a new area may complete an online graduate certificate, which takes about three to six months to finish. Credits earned, however, do not count towards a master's or doctorate.
Doctorate Degree in Mental Health Counseling – Mental health counselors do not need to earn doctorate degrees; a master's is typically sufficient to practice in the field. Earning a higher-level degree may allow students to study new therapeutic and diagnostic methods. A doctorate, which tends to take four to five years to finish with clinical experiences, allows a mental health counselor to work in a research or academic capacity.
Step 2: Become Licensed as a Mental Health Counselor
To become a licensed mental health counselor, candidates must receive their master's degree, complete necessary internships, and pass the National Clinical Mental Health Counseling Exam (NCMHCE).
Internship / Practicum Experience
When completing graduate school, students will find it necessary to start working on their supervised practicums/internships. Some states require graduates to complete internships after they graduate before licensure can be awarded. Some universities will assist with the process of placing students in assigned internships while others require students to complete the process on their own. Before obtaining licensure, students must complete up to 2000 to 3000 hours of supervised clinical experiences. Such work typically involves providing mental health services to clients at healthcare facilities, medical centers, government agencies, and nonprofit organizations. Many internships are compensated through earnings can differ from job to job.
Examination
Mental health counseling graduates are required to hold a license before they can provide unsupervised mental health treatments or diagnoses to clients. As such, graduates must pass the National Clinical Mental Health Counseling Exam (NCMHCE) or the National Board of Certified Counselors (NBCC) in some states to obtain licensure. Most states require the master's degree to be earned from a school that is accredited by the Council for Accreditation of Counseling and Related Educational Programs (CACREP).
State Requirements
To become a licensed mental health counselor, a state may have its own additional examination. Since the title for this type of counselor can vary by state. Graduates are responsible for reviewing and meeting each state's individual exam criteria.
The majority of states also require mental health counselors to earn continuing education (CE) credits to keep their licenses current.
Step 3: Apply for a Licensed Mental Health Counselor Job
Licensed mental health counselors help individuals diagnosed with psychological conditions improve their functionality. With their education, internships, and licensing work completed, graduates are poised to apply what they've learned by working in a more independent capacity. Demand for licensed mental health counselors is expected to rise by 20% over the next 8 years, according to BLS.
What Careers Can I Pursue With a Mental Health Counseling Degree?
Licensed mental health counselors (LMHC) provide care and diagnose individuals suffering from psychological afflictions.
Licensed mental health counselors — Using a holistic rather than specialized approach, mental health counselors are trained to examine, diagnose, and provide treatment and therapies to people (individuals, families, and groups) struggling with issues that impact their overall psychological well-being. Though experienced mental health counselors may use a variety of treatment options, most use one based on strength rather than a deficiency model. Through therapy, they help clients gain an understanding of their issues and set out actionable steps to achieve their previously established goals.
Though there is overlap, licensed mental health counselors tend to provide regular treatments to those with diagnosed psychological conditions (anxiety or depression) rather than work with families struggling with personal challenges (divorce or grief). Substance abuse counselors or other licensed professional counselors provide a similar type of mental health care but may work with specific populations.
Where Can I Work With a Mental Health Counseling Degree?
Licensed mental health counselors can work in medical clinics, health care organizations, social services government agencies, and more. Others may work for private or group practice. Providing treatments and therapeutics via remote video conferencing might be a possibility as more counseling is being delivered in this manner.
Step 4: Learn About Licensed Mental Health Counseling Salaries
The number of years a licensed mental health counselor has been practicing as well as the extent of their continuing education will help determine a professional's salary. Whether a counselor works for a government agency or the private sector may also influence how much they earn. The U.S. Bureau of Labor Statistics reports that the average salary for a mental health counselor as of 2021 (latest available data) was just over $48,000.