How to Become a Marriage & Family Counselor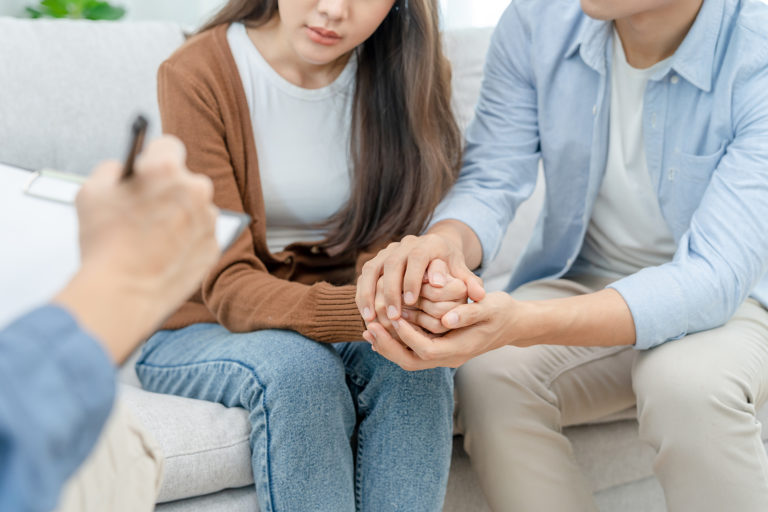 Making the decision to work as a marriage and family counselor could be an excellent opportunity for those who enjoy working closely with people to improve their lives. Becoming a therapist like this takes time, and it also takes pursuing the right type and level of education before qualifying to obtain your license. Each state's rules on licensing are a bit different, but the following is what you can expect in most situations.
Step 1: Complete a Marriage and Family Counselor Degree
The first step is obtaining your education. To do that, you will likely need to enroll in a bachelor's degree program as a first step. Here's what you need to know.
Associate's Degree: It is not possible, in any state, to provide counseling services to clients with just an associate's degree. For those who are interested in this field and want to start slowly, it may be possible, to begin with, an entry-level psychology degree.
Bachelor's Degree: Students are often likely to start here, working to earn a bachelor's degree in psychology or sociology as the first step into their career as a therapist. This path typically requires four years of education, but most states do not see a bachelor's degree as enough to qualify for work as a therapist.
Master's Degree: To work as a marriage and family counselor, completing a marriage and family therapy or associated mental health field degree is the most common step. A master's degree will provide students with the ability to provide therapy to patients. 
Graduate Certificate: For those who have already earned their master's degree and may be working in the field and licensed, it may be possible to complete a marriage and family counselor graduate certificate. This allows the student to earn more of their education in this specific specialty field within psychology.
Doctorate Degree: For those who wish to continue their education, perhaps after working in the field or after completing their master's, it is possible to complete a doctorate degree. The doctorate of marriage and family therapy requires a research-heavy curriculum that aims to provide students with the ability to work as college administrators or professors as well as work as counselors and research professionals in the field.
Step 2: Become Licensed as a Marriage and Family Counselor
Each state sets its requirements for earning a counselor's license. Typically, this becomes an option after a student completes their educational requirements at the master's degree level. Here is what the process typically includes.
Internship / Practicum Experience
A core component of most therapists' education is to complete clinical experience. The number of hours will differ, but this often includes:
1000 hours (or more) of direct client documented clock hours spent with patients in this field under a licensed professional.
This could include working in an emergent care setting, but more commonly involves working in a mental health practice or treatment facility.
Students may be able to fulfill their internship with a clinical practice supervisor or training therapists.
This type of educational process typically allows the student to learn about interacting with patients, providing care to them, analyzing and diagnosing, and treating them in real-world situations, though a licensed therapist is available to help.
Examination
The examination is the next step once a student completes their necessary hours of clinical experience. This often includes:
Sitting for your state's marriage and family therapist license
Schedule and take the necessary examination
The examination will include practical and clinical experience questions and a solid demonstrated understanding of core principles in the topic.
State Requirements
Students will need to work through the educational requirements set by the state. These differ in areas such as:
The type of education required
Accreditation of the educational provider
The number of credits and types of courses
The number of clinical hours required for practicum and clinical experience
When and how the test is taken
States also set continuing education requirements for those who complete their license. These, too, differ, as does the length of the license period.
Step 3: Apply for a Marriage and Family Counselor Job
Once licensed, individuals will then be able to apply for available positions with doctor's offices, mental health organizations, private practices, and other services.
What Careers Can I Pursue With a Marriage and Family Counselor Degree?
Marriage and family counselors work to complete therapy sessions with couples and families, both individually and together, to help with decision-making, communication, problem-solving, emotional help, and coping with difficult decisions. But having experience as a marriage and family counselor also opens you up to many other job opportunities such as providing other types of therapy, or providing work as a consultant.
Where Can I Work With a Marriage and Family Counselor Degree?
Those who have this license may be able to work in a wide range of positions, including:
Mental health treatment centers
Medical and health practices
City and other public mental health service providers
Research and mental health studies
Consider applying for positions with local medical facilities, health improvement programs, city, and state-sponsored programs, as well as large hospital systems and medical health facilities for additional opportunities.
Step 4: Learn About Marriage and Family Counselor Salaries
Working in this field is rewarding in many ways. Depending on a person's experience and where they live, they may earn between $50,530 and $76,064 per year, according to Salary.com. A number of factors contribute to that earning potential, including things like location, experience, and the types of services offered. Those who work in well-known practices may earn more in some areas. Also, some marriage and family counselors go on to own their own practice, which can open up the door to higher earnings in some regions.