Best Psychology Schools in Texas
Psychology is a field with many specialties and sub-specialties, all of which have their own degree requirements for practice. The variety makes it so that there are opportunities at every educational level from an associate's degree all the way to a doctorate. However, a doctorate is required to become a licensed psychologist in Texas.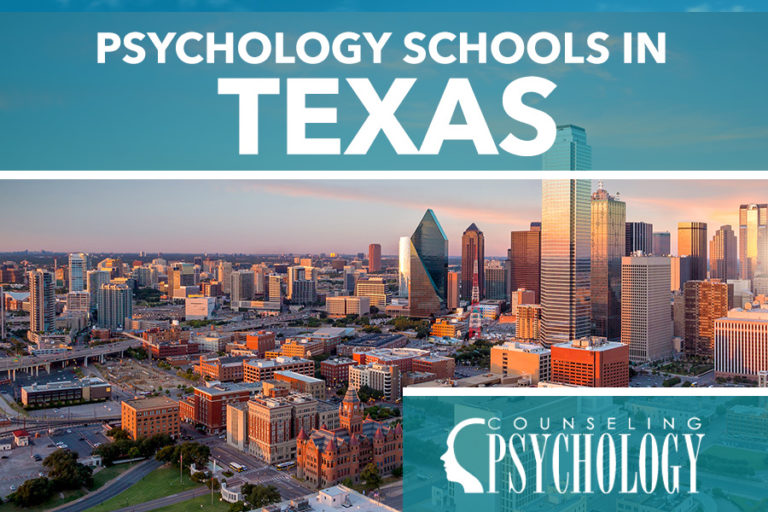 How to Find a Psychology Program in Texas
One of the key things to look for in any psychology program is accreditation. This lets you know that the program has met specific criteria meant to ensure the quality of your education. Also look at basics like tuition cost, which degrees are offered, whether the program is online or in-person, whether or not there are specialty programs of interest, and reviews.
Psychology Degree Pathways in Texas
There are several psychology degree types in Texas. Normally, an associate's degree in psychology takes two years, a bachelor's takes four, and a master's takes another two years. While an associate's degree can be a great place to start, most careers in the psychology field will require a minimum of a bachelor's degree, and many more require a graduate degree such as a master's.
A doctorate degree in psychology, such as a Ph.D. or PsyD, can take between four and seven years. You will need a doctorate if you wish to become a licensed psychologist.
Choose a Psychology Specialty
There are seemingly infinite psychology specialties. You can be a school psychologist, an engineering psychologist, a general psychologist, and many more. Some psychology programs have tracks that focus on these and other specialties, while others are more general.
If you wish to specialize in a particular area of psychology, searching out programs that offer these concentrations is a good idea. Most programs at the master's level and beyond include specialization options, but some bachelor's degree programs offer concentrations as well.
Accreditation
To be accredited, psychology programs must meet or exceed the standards set by the accrediting body. This basically guarantees that the education will be worthwhile – if the accrediting body itself is reputable. Diplomas from such programs are worth more because they are respected by employers. Texas' licensing board also requires applicants to have taken an accredited doctoral program.
In Texas, the main accrediting bodies for the doctoral level are the American Psychological Association (APA) and the National Association of School Psychologists (NASP).
Online vs. Traditional Psychology Programs in Texas
There are online programs that not only have accreditation but are offered by big-name universities. However, you should check each one to be sure, because not all online programs are reputable.
Traditional programs require you to physically attend classes. Checking accreditation is also important with these, but such programs are more likely to have it.
Convenience is usually the biggest selling point with online programs, while social interaction and a more personal learning experience are a draw for traditional ones.
Becoming Licensed As a Psychologist in Texas
Getting a license as a full-fledged psychologist requires getting a doctorate degree from a program accredited by an agency such as the APA. Prior to earning that degree, though, you must first work at least 1,750 hours in a formal, supervised internship.
After this, you can apply for a provisional license. This license lets you work another 1,750 supervised hours (for a total of 3,500 supervised work hours), which you will need to do before you get your full license. These hours must be documented.
Once you do all of this, you are eligible to take the two required licensing exams. If you pass, and you've met all of the other requirements, request your license and submit a fee. The Texas Behavioral Health Executive Council has more information on licensing requirements.
List of Psychology Degree Programs in Texas
Are you looking for a psychology degree program in Texas? Browse our list of psychology programs offering both online and on-campus instruction. Follow the links to learn more about what each school's psychology program offers.
Arlington, TX
Austin, TX
College Station, TX
Commerce, TX
Dallas, TX
Denton, TX
Edinburg, TX
El Paso, TX
Fort Worth, TX
Houston, TX
Huntsville, TX
Laredo, TX
Lubbock, TX
Nacogdoches, TX
Odessa, TX
Prairie View, TX
Richardson, TX
San Antonio, TX
San Marcos, TX
Stephenville, TX
Tyler, TX
Victoria, TX
Waco, TX
Are we missing your school's program or need to update information listed? Please contact us so we can make the necessary changes.