Best Counseling Schools in Florida
Florida is a growing state with a growing need for counselors. Should you intend to work within the counseling field, the right preparation is essential. Here are some of the best counseling programs in Florida to help you prepare for your future career.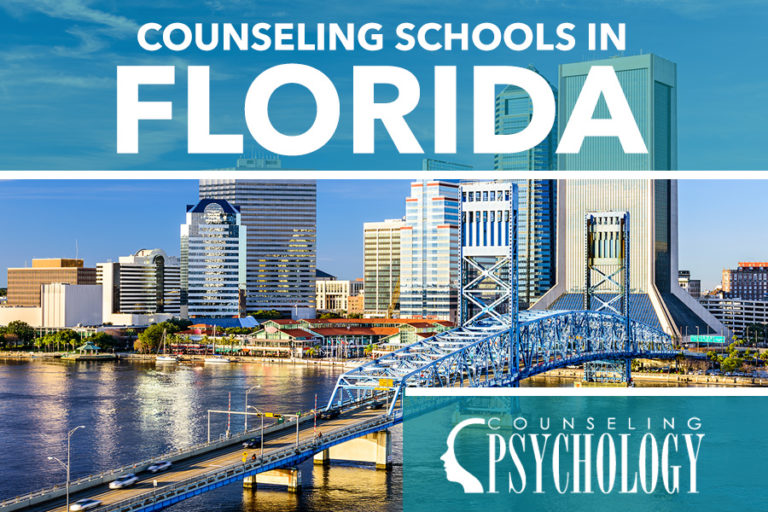 How to Find a Counseling Program in Florida
While there are many quality counseling programs in Florida, no one program is right for everyone. Choose a program that meets your needs, which might include budget, scheduling, or other needs. Also, make sure your chosen degree program has the degree type and specialization options that you want.
Counseling Degree Pathways in Florida
The standard degree for becoming a licensed professional counselor (LPC) is a master's degree in counseling (or a similar field). You can find other degree options above or below this, though. High degrees afford opportunities for more advanced studies. Lower degrees allow you to work in the field in non-LPC capacities. The various counseling degrees available are a(n):
Associate in Counseling: A two-year degree for students who have only a high school diploma/GED. An associate degree could help you secure entry-level positions within the field.
Bachelor's in Counseling: A common four-year degree for students who have at least a high school diploma/GED. A bachelor's could help you secure low-level positions within the field, and/or prepare for master's degree work.
Master's in Counseling: A one to two-year graduate degree for students who have completed a bachelor's. This is the degree needed to become an LPC in Florida.
Doctorate in Counseling: A terminal degree that often takes three to six years. It provides the highest level of study for students who have a bachelor's or master's degree. Ph.D. doctorates are research-heavy, while Psy.D. doctorates are more clinically focused (but still involve research).
Graduate Counseling Certificate: A non-degree certificate taught at the graduate level. It takes one to two semesters to complete and usually requires at least a bachelor's degree. A certificate in counseling can be a good way to specialize in the field.
Choose a Counseling Specialty
Some counseling degree programs in Florida have specialties. If your chosen program offers specialization, you might be able to focus in a particular type of counseling such as:
Substance abuse counseling
Marriage and family counseling
A specialization may help you secure work in the particular type of counseling that you want. Consider the clients you would like to work with as you weigh any specialization options that are available.
Check School Accreditation
Accreditation ensures that a counseling degree program meets academic standards. Choose a program that's accredited by the CACREP or the APA. The full names of these two organizations are the Council for the Accreditation of Counseling and Related Education Programs and the American Psychological Association.
Online vs. Traditional Counseling Programs in Florida
Both online counseling programs and traditional (classroom) counseling programs are available. You may choose an online counseling degree program for its affordability and flexibility. You may choose a traditional degree program if you want more direct interaction.
Becoming Licensed as a Counselor in Florida
To become licensed as a counselor in Florida, you must first complete a 60-credit master's degree in mental health counseling. The program must include 1,000 hours of university-sponsored internship experience. In addition to the degree, you must also complete 1,500 of supervised psychotherapy, pass a licensing exam, and pay a fee.
Renewing your counseling license requires completing 25 hours of continuing education, and paying a fee. Licenses must be renewed every odd year.
List of Counseling Degree Programs in Florida
Are you searching for a counseling degree program in Florida? Browse our comprehensive list of schools offering counseling programs, both online and on-campus, and follow the links to learn more about what each program has to offer.
Boca Raton, FL
Coral Gables, FL
Daytona Beach, FL
DeLand, FL
Fort Lauderdale, FL
Fort Myers, FL
Gainesville, FL
Lakeland, FL
Miami, FL
Orlando, FL
Tallahassee, FL
Tampa, FL
The Villages, FL
Are we missing your school's program or need to update information listed? Please contact us so we can make the necessary changes.