Best Counseling Schools in California
As the need for mental health professionals rise, counseling degrees and programs remain a popular pathway for Californians looking for rewarding and stable careers. From undergraduate to graduate and beyond, California is an excellent place to find an outstanding counseling degree program. Read on to find out more about the educational options available for those interested in a counseling career.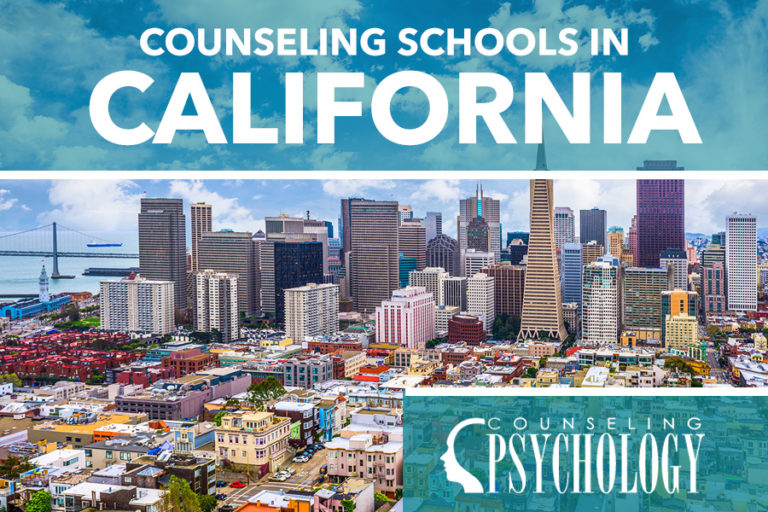 How to Find a Counseling Program in California
Several California colleges and universities offer counseling programs. There are many things that go into finding a good counseling program. The following are some things to look for when you consider counseling programs in California.
Counseling Degree Pathways in California
California counseling programs offer a variety of pathways for students who want to practice in the state. Common options include associate's degree, bachelor's degree, and master's degree in counseling areas. Students can also earn a doctorate.
The Modesto College Chemical Dependency Counseling program is an accredited program. Students gain the skills and values to work in a chemical dependency treatment setting and to start the certification process. Students earn an Associate in Arts in Chemical Dependency Counseling.
Sacramento State University offers a Counselor Education Program. There are several options for students to choose from, including the MS in Counseling (Career Counseling) option, or the MS in Counseling (Marriage, Couple, and Family Counseling) option. Students complete 60 total units of study. They complete a 100-hour clinical practicum and 600 hours of field experience.
California State University Los Angeles (Cal State LA) offers a Post-Baccalaureate Certificate in Clinical Counseling. Golden Gate University offers a Graduate Certificate in Counseling Skills. Students complete their coursework on campus, online, or in a hybrid format.
Saybrook University students enrolled in the Online Ph.D. in Counselor Education and Supervision develop their professional identity as counselors. They gain advanced knowledge and skills in clinical supervision, teaching, research, advocacy, and leadership.
Choose a Counseling Specialty
Students should make sure that the school that they plan to attend offers the option that they want to pursue as a profession. Choosing a different school is sometimes required to complete the desired program.
Substance abuse counselors work at inpatient and outpatient substance abuse treatment facilities, community agencies, correctional settings, hospitals, and in other settings.
California State University Los Angeles (Cal State LA) offers options for students wishing to complete a Master of Science in Counseling. Choose the School-Based Family Counseling option, which includes the "Advanced Authorization credential in School Counseling and the Pupil Personnel Services and Child Welfare and Attendance: School Psychology."
The university also has an option in Rehabilitation Counseling, an option in Applied Behavioral Analysis, and an option in School Psychology.
Accreditation
Completing an accredited program helps to ensure that students obtain a career position in their preferred specialty. The consequences of choosing an unaccredited program can include being ineligible for licensure, being rejected from job applications, and being denied entrance to professional organizations. Students are encouraged to select counseling degree programs accredited by CACREP and/or the American Psychological Association (APA).
Online vs. Traditional Counseling Programs in California
Online counseling programs offer students the opportunity to complete degree requirements without attending classes on campus. Students have the responsibility to complete all course requirements, including if the program requires some in-person attendance.
One example is the online Licensed Professional Counselor (LPC) program at Pepperdine University.
Becoming Licensed as a Counselor in California
The Board of Behavioral Sciences is a California state regulatory agency. It is responsible for the licensure, examination, and enforcement of professional standards for Licensed Marriage and Family Therapists, and Licensed Professional Clinical Counselors.
The California Department of Health Care Services recognizes three organizations to "register and certify alcohol and other drug counselors." The agencies include the California Association for Alcohol and Drug Educators, the California Association of DUI Treatment Programs, and the California Consortium of Addiction Programs and Professionals.
List of Counseling Degree Programs in California
Are you searching for a counseling degree program in California? Browse our comprehensive list of schools offering counseling programs, both online and on-campus, and follow the links to learn more about what each program has to offer.
Azusa, CA
Chico, CA
El Cajon, CA
Fresno, CA
Fullerton, CA
Glendale, CA
Imperial, CA
Irvine, CA
La Verne, CA
Loma Linda, CA
Long Beach, CA
Los Angeles, CA
Monterey Park, CA
Northridge, CA
Oakland, CA
Orange, CA
Palm Desert, CA
Pasadena, CA
Ridgecrest, CA
Riverside, CA
Sacramento, CA
San Diego, CA
San Francisco, CA
San Rafael, CA
South Lake Tahoe, CA
Thousand Oaks, CA
Turlock, CA
Are we missing your school's program or need to update information listed? Please contact us so we can make the necessary changes.