Best Counseling Schools in Hawaii
Whether you reside in Hawaii long-term or only throughout college/university, the state has several accredited and respected counseling degree programs. Here are some of the best counseling programs in Hawaii that should be on your shortlist to consider.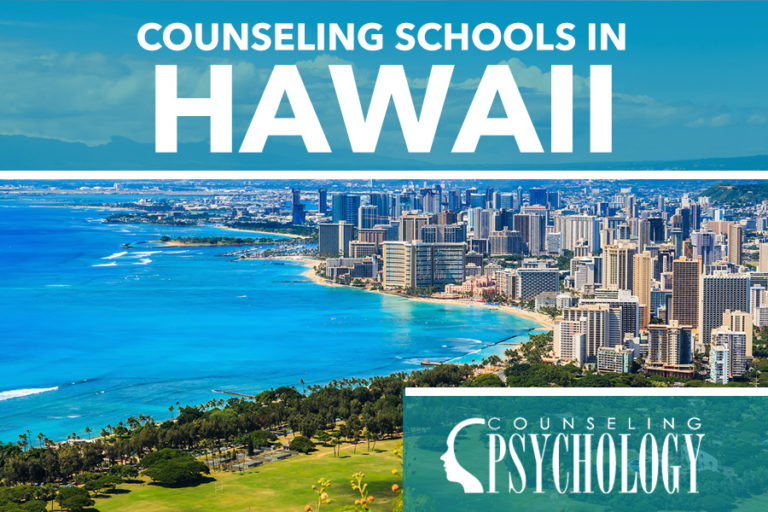 How to Find a Counseling Program in Hawaii
A number of colleges and universities in Hawaii have counseling degree programs. These include programs for different degrees, with different specialty focuses, and taught through different modes. Consider your budget, schedule, locale, and goals as you compare the various program options that are available.
Counseling Degree Pathways in Hawaii
You can work within the counseling field after completing any of several degrees. Which of the following degrees is best depends on your personal goals:
Associate Degrees are two-year programs that require a high school diploma (or GED). They may be appropriate for entry-level work within the field.
Bachelor's Degrees are four-year programs that require a high school diploma or associate degree (in which case the bachelor's is two years). These may be appropriate for entry-level work, mid-level work under a licensed counselor, or before continuing on to a master's.
Master's Degrees are one to two-year programs that require an undergraduate bachelor's. These may be appropriate if you have an undergraduate degree and intend to pursue licensure as a professional counselor.
Doctorate Degrees are three to six-year programs that require a bachelor's or master's degree. These may be appropriate if you want further clinical study (Psy.D. degree) or to go into research (Ph.D.).
Graduate Certificates are one to two-semester programs that require at least a bachelor's. These may be appropriate if you wish to specialize in a particular type of counseling.
Choose a Counseling Specialty
Counselors may choose to provide generic counseling services, or they may specialize in a particular type of counseling. Some specialties you may be able to pursue are:
Substance/alcohol abuse counseling
Cognitive behavioral therapy (CBT)
Dialectical behavior therapy (DBT)
Mindfulness-based cognitive therapy (MBCT)
Internal family systems counseling
Should you decide to specialize, think both about your personal interests and the clients whom you'd like to work with. You might not decide to specialize until you've learned the basics of several approaches, and thus can make a more informed career decision.
Accreditation
To ensure that your degree will be accepted both academically and professionally, only consider properly accredited counseling schools. The University of Hawaii is fully accredited, but it's hardly the only accredited school in the state.
The accrediting bodies for counseling programs are the American Psychological Association (APA) and the Council for the Accreditation of Counseling and Related Education Programs (CACREP). Programs accredited by either one of these entities will be recognized and respected.
Online vs. Traditional Counseling Programs in Hawaii
While many students understandably choose to study in person when attending a Hawaii school, online programs have their advantages too. You may choose online so that you don't have to move, can still work, or pay lower tuition. You may choose in-person classes if you want more interaction with students and faculty, better library and internship sources, and to surf nearby beaches with friends in between cramming sessions.
Becoming Licensed as a Counselor in Hawaii
Hawaii requires a master's degree of at least 48 semester hours before you can apply to become a licensed counselor in the state. The program must include supervised mental health counseling experience and 300 hours of supervised client contact. You must also pass an exam, and pay a small fee when applying for licensure.
Licensure renewal is required every three years but involves little more than completing a form. There aren't any continuing education requirements.
List of Counseling Degree Programs in Hawaii
Are you searching for a counseling degree program in Hawaii? Browse our comprehensive list of schools offering counseling programs, both online and on-campus, and follow the links to learn more about what each program has to offer.
Honolulu, HI
3140 Waialae Avenue
Honolulu
,
HI
96816-1578
(808) 735-4711
Are we missing your school's program or need to update information listed? Please contact us so we can make the necessary changes.