Best Counseling Schools in North Carolina
For those interested in a rewarding and challenging career that involves helping people, counseling is a great, in-demand choice. To get there, though, you must complete the proper education. Luckily, North Carolina has many counseling degree programs, from undergrad to graduate, in a variety of convenient formats.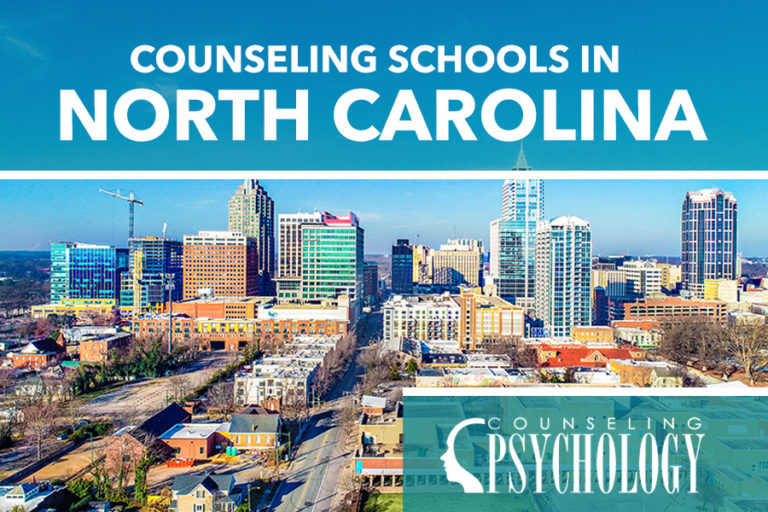 How to Find a Counseling Program in North Carolina
Many things go into finding a good counseling education program in North Carolina. There are a variety of counseling programs in North Carolina for students to consider when choosing a counseling program that meets their educational and professional career path.
Counseling Degree Pathways in North Carolina
Counseling degree pathways allow students to start their North Carolina counseling education and continue their education if they wish to complete an advanced counseling program. Students sometimes complete a counseling certificate program either at the undergraduate or graduate level.
Choose a Counseling Specialty
North Carolina counseling degree programs may offer counseling specialty options. Students who choose a counseling specialty have the opportunity to focus their counseling program more on their needs or goals.
The North Carolina Agricultural and Technical State University offer master's degree programs in counseling. Students choose the Master of Science in mental health counseling – clinical, the Master of Science in mental health counseling – rehabilitation, or the Master of Science in school counseling.
Lenoir-Rhyne University offers students the option of choosing the Master of Arts in counseling – school counseling or the Master of Arts in counseling – clinical mental health counseling.
Check School Accreditation
Accreditation is crucial to a successful career as a counselor. If your program lacks the North Carolina requirements, you will not be able to practice most types of counseling. You can find out if your school is accredited through an organization such as CACREP (the Council for Accreditation of Counseling and Related Programs). Search their database of accredited schools online.
Online vs. Traditional Counseling Programs in North Carolina
Deciding whether to get your counseling education online or in person is as simple as deciding if you require in-person resources such as a school library or peer study groups, or if you live far from the campus and don't want to relocate.
North Carolina Central University offers an online Master of Arts in clinical mental health counseling degree. The program prepares students to apply for an application as a licensed professional counselor in North Carolina. Online counseling programs are typically the same as on-campus counseling programs.
Students who wish to complete the North Carolina State University Ph.D. in an educational leadership program with a counseling and counselor education concentration do not have an online option. Students complete all program requirements on campus.
Becoming Licensed as a Counselor in North Carolina
It is important that students meet the requirements to become licensed as a counselor in the state if they want to practice in North Carolina. The North Carolina Board of Licensed Clinical Mental Health Counselors indicates that "you must have an active license to practice counseling in the state of North Carolina."
The board provides information on applying for licensure for several mental health counseling programs in the state.
The North Carolina General Assembly recently recognized the North Carolina Addictions Specialist Professional Practice Board. The board provides credentialing information for the certified alcohol and drug counselor and provides other credentialing information.
List of Counseling Degree Programs in North Carolina
Are you searching for a counseling degree program in North Carolina? Browse our comprehensive list of schools offering counseling programs, both online and on-campus, and follow the links to learn more about what each program has to offer.
Boiling Springs, NC
Boone, NC
Buies Creek, NC
Charlotte, NC
Cullowhee, NC
Durham, NC
Greensboro, NC
Pembroke, NC
Raleigh, NC
Winston-Salem, NC
Are we missing your school's program or need to update information listed? Please contact us so we can make the necessary changes.