Best Counseling Schools in Pennsylvania
As a growing and in-demand field, counseling degree programs can be found at just about every level. Pennsylvania is an excellent place to pursue a counseling education, with options across the state in a variety of formats. Keep reading to learn more about what kind of counseling degree programs exist, and how to find the right one for you in the state of Pennsylvania.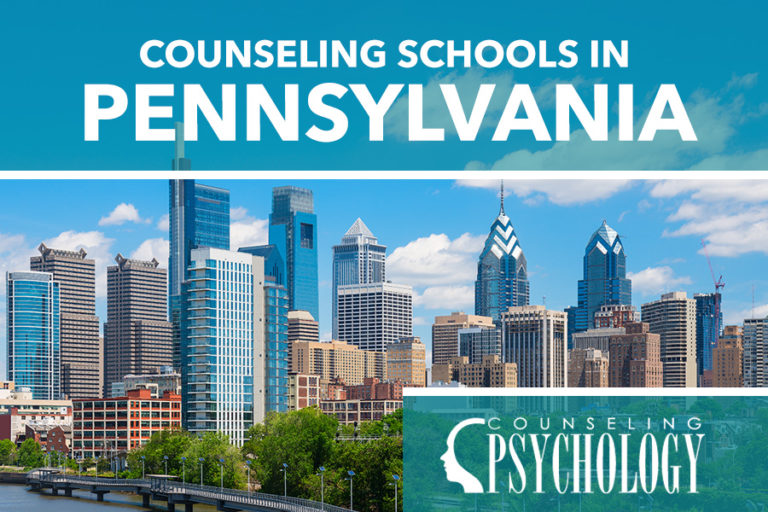 How to Find a Counseling Program in Pennsylvania
The many counseling programs offered at Pennsylvania colleges and universities give students the opportunity to choose the right one for them. There are many things that go into finding a good counseling education program in the State of Pennsylvania.
Counseling Degree Pathways in Pennsylvania
Students have the option to complete a certificate program, an associate's degree in counseling program, a bachelor's degree program, or a graduate degree in counseling program in the State of Pennsylvania. Which degree you should strive for depends mostly on the type of counselor you want to become.
Choosing a Counseling Specialty
Students should read the information about a school's counseling program before deciding if it is the school that meets their educational and career plans. Many Pennsylvania universities offer counseling programs with counseling specialties.
Consider the Waynesburg University counseling programs. The Master of Arts in counseling degree features a concentration in clinical mental health counseling or addiction counseling. Students may choose to complete the Integrated BA/MA in Counseling program. 
Students who want to complete a unique counseling program need to look no further than Bloomsburg University. The school offers a medical genomics and counseling certificate program. The University of Pennsylvania offers a master's program in genetic counseling. 
Check School Accreditation
It is important for students to check school accreditation before they enroll in a Pennsylvania counseling program. If a program is not accredited, students may not qualify to sit for licensing exams or to have a counseling career. Accreditation usually is provided by CACREP (the Council for Accreditation of Counseling and Related Educational Programs).
Look for accreditation on the counseling program page. The Widener University Alcohol and Drug Counseling Certificate program does not list accreditation information on the graduate certificate program page. Students need to enter "accreditation" in search to determine if the program has accreditation.
The Department of Counseling at Indiana University of Pennsylvania lists accreditation on the department page for counseling programs. Students choose between five graduate counseling programs.
Online vs. Traditional Counseling Programs in Pennsylvania
Students sometimes want to have options in the delivery of counseling programs. Some schools offer programs strictly in a traditional format. Other schools offer online counseling programs.
Students enrolled in the Duquesne University Ph.D. Counselor Education and Supervision program complete the program by attending classes in person at nighttime.
LeHigh University offers some programs in a hybrid format. The M.Ed. International School Counseling program is taught partially online and partially face-to-face. The International School Counseling Certificate program is also offered in a hybrid format.
Becoming Licensed as a Counselor in Pennsylvania
Students need to follow licensing and credentialing requirements to work as a counselor in Pennsylvania. The Pennsylvania Department of State provides licensure requirements for counselors.
The Pennsylvania Certification Board provides the application and certification requirements for Pennsylvania Substance Abuse Counselors.
List of Counseling Degree Programs in Pennsylvania
Are you searching for a counseling degree program in Pennsylvania? Browse our comprehensive list of schools offering counseling programs, both online and on-campus, and follow the links to learn more about what each program has to offer.
Bloomsburg, PA
California, PA
Chester, PA
Dallas, PA
East Stroudsburg, PA
Glenside, PA
Indiana, PA
Kutztown, PA
Lock Haven, PA
Millersville, PA
Philadelphia, PA
Pittsburgh, PA
Rosemont, PA
Shippensburg, PA
University Park, PA
Villanova, PA
West Chester, PA
Are we missing your school's program or need to update information listed? Please contact us so we can make the necessary changes.