Best Counseling Schools in West Virginia
West Virginia has a large population of low-income residents who struggle with poverty, and people of all income levels struggle with family conflict, addiction, trauma, and other stressors. Counselors help residents work through their struggles, and toward a better future. If this is work you might enjoy, these are the best counseling programs in West Virginia.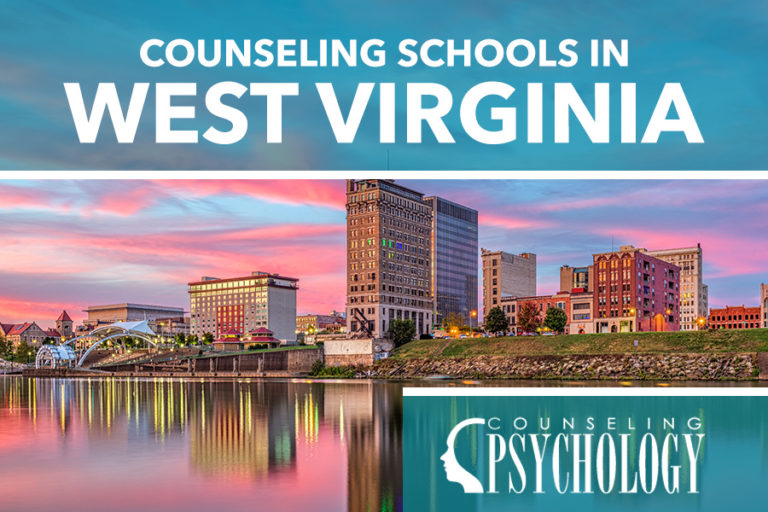 How to Find a Counseling Program in West Virginia
You'll likely have several potential counseling programs to choose from. Whichever program you choose should suit your financial needs, personal situation, academic goals, and career aspirations. Whatever these factors are, you should be able to find a suitable counseling program through a West Virginia school.
Counseling Degree Pathways in West Virginia
No matter where you currently are academically, you can find a counseling degree program so long as you've completed high school (or attained a GED). The various degree programs and their requirements are:
Associate: An associate degree requires high school, and takes two years if studying full-time. You'll be able to apply for entry-level positions once you have graduated.
Bachelor's: A bachelor's degree requires high school, and takes four years to complete. You'll be able to apply for entry-level positions, and also be well-qualified for promotions as you gain experience. You might work at any level below that of a licensed professional counselor (LPC).
Master's: A master's degree requires that you've graduated with a bachelor's already, and the master's takes one to two years to complete. You'll have met the academic requirements for licensure after graduating.
Doctorate: A doctorate degree requires that you have a bachelor's, and takes three to six years in most cases. You may choose to focus on research with a Ph.D. degree or clinical counseling with a Psy.D. degree. Either will qualify you for leadership positions.
Certificate: A graduate certificate requires that you have a bachelor's, and takes a year or less. You can choose any number of specializations through a certificate, and will then be more qualified for the particular type of counseling work that you study.
Choose a Counseling Specialty
Counselors can specialize in any number of specific counseling therapies, and most begin their specialization through a degree track or certificate program. Examples of available specializations are:
Clinical mental health counseling
Student affairs and college counseling
If you're interested in working with a particular population, specializing may give you advanced knowledge in counseling methods that work well with your preferred clientele.
Accreditation
Regardless of all other considerations, any counseling program you consider should be taught by an accredited college or university. Only accredited counseling degree programs are guaranteed to meet standards and to be accepted by other schools, West Virginia, and future employers.
West Virginia accepts institutions that are accredited by the Council for Accreditation of Counseling and Related Educational Programs (CACREP), the National Council on Accreditation for Teacher Education (NCATE), the North Central Association of Colleges and Schools (NCACS), the Southern Association of Colleges and Schools (SACS).
Online vs. Traditional Counseling Programs in West Virginia
Whether you attend an online or traditional counseling program should be based on your present needs and academic preferences. Choose online if you need a lower-cost program that has more flexibility, or opt for a traditional program if you want the classroom experience.
Becoming Licensed as a Counselor in West Virginia
To become a licensed counselor in West Virginia, you must complete an accredited master's or doctorate program. The program must include an internship, and you then must complete 3,000 hours of supervised work. The final steps are an exam and a fee.
Once licensed, you must renew the license every odd-numbered year, by July 1st of the year. Renewing requires 35 continuing education units.
List of Counseling Degree Programs in West Virginia
Are you searching for a counseling degree program in West Virginia? Browse our comprehensive list of schools offering counseling programs, both online and on-campus, and follow the links to learn more about what each program has to offer.
Charles Town, WV
Graduate Certificate Programs
111 W Congress St
Charles Town
,
WV
25414
(877) 755-2787
Huntington, WV
Master's ProgramsGraduate Certificate Programs
1 John Marshall Dr
Huntington
,
WV
25755
(304) 696-3170
Morgantown, WV
Master's ProgramsBachelor's ProgramsCertificate Programs
PO Box 6201
Morgantown
,
WV
26506
(304) 293-0111
Are we missing your school's program or need to update information listed? Please contact us so we can make the necessary changes.