Best Psychology Schools in Mississippi
Mississippi is a great place to obtain an education and practice as a psychologist. If you're a new prospective psychology student or returning to pursue a graduate degree, there is so much to navigate. This guide explains your options and what you need to do for the next steps of your journey toward a psychology career in Mississippi.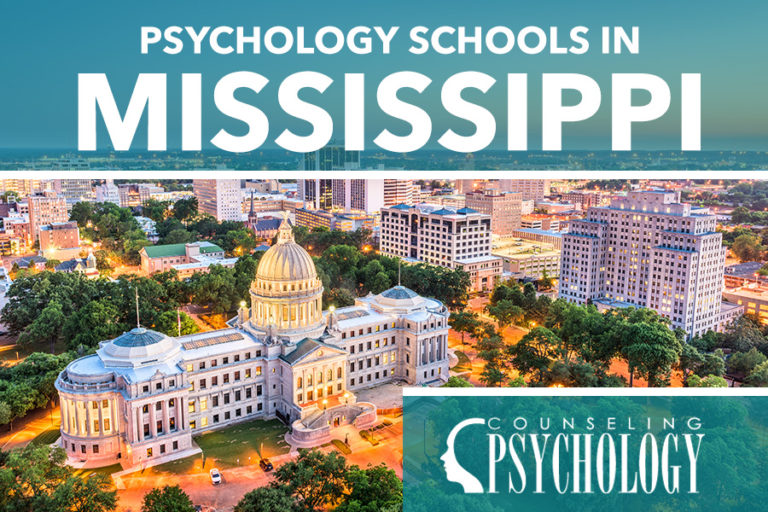 How to Find a Psychology Program in Mississippi
Your search for the right psychology degree program in Mississippi should include many elements, not least of which are location and cost. However, there are other issues to consider, including long-term career goals and which degree levels you wish to complete.
Psychology Degree Pathways in Mississippi
The pathway you expect to take through your career will determine which degree you need. The most basic type of psychology program is the two-year associate's degree. The second undergraduate option is the four-year bachelor's degree in psychology – a bachelor of arts (BA), or a bachelor of science (BS). The associate's degree pathway will only lead to limited psychology job roles.
A bachelor's degree will open students up to more career choices and will also allow them to progress to further graduate study, such as a graduate certificate or a master's degree in psychology. The graduate certificate is a great way for psychology professionals with a bachelor's degree to expand into a psychology niche without having to complete a full degree program. Most students, however, complete a master's degree in a psychology area in order to expand their career options.
A master's degree in psychology will allow you to progress to the doctorate – the highest degree type in psychology. This degree is available in two types: the research-based Ph.D. in psychology, and the practice-based PsyD.
Choose a Psychology Specialty
Undergraduate psychology students aren't usually able to specialize. Once you get past a bachelor's degree, though, concentration options will allow you to enter a niche area of psychology if you so choose.
The University of Mississippi is one of the best places to study in the state, offering a BA in psychology, and Ph.D. options in Clinical Psychology and Experimental Psychology. Meanwhile, the University of Southern Mississippi offers a BS, one master's, and several doctorates.
Accreditation
Why should you pursue accredited psychology programs? There are several reasons which will affect the trajectory of your career:
Accreditation means minimum quality standards are met
You may only work in clinical practice with accredited qualifications
Increasingly, some non-medical roles also require accredited degree programs
Some professional bodies may limit memberships to only those with accredited degrees
In Mississippi, the Southern Association of Colleges and Schools accredits degree programs regionally. Nationally, the APA (American Psychological Association) is the responsible accrediting body.
Online vs. Traditional Psychology Programs in Mississippi
Prospective psychology students in Mississippi have a few ways to pursue a degree. The most popular route is campus-based – the traditional method. The other option is a fully online program – an option that has grown in scope and popularity over the years. Increasingly, hybrid programs, which combine aspects of on-campus and online programs, are available as well.
With on-campus study, you will attend scheduled classes with structured semesters and weekly timetables. The benefits include in-person collaboration and real-time experiences, as well as the resources that a campus has available.
Online study is advantageous for students who work full-time, are parents or caregivers, or otherwise can't adhere to a regular schedule. Online psych programs allow students to study when and where they wish. On the downside, you will miss out on making some in-person connections with faculty and other students, and you must be self-disciplined to keep up with coursework.
Becoming Licensed as a Psychologist in Mississippi
In Mississippi, those with a doctorate are eligible for psychology licensure. Both PsyD and Ph.D. grads are eligible. However, if you're qualification is in school psychology, you are eligible at the master's level.
Two years of practice experience is required, totaling 4,000 hours. This experience can include training and directly supervised practice. One year must be completed during your doctorate program, while the remainder must be post-doctoral work. At the end of these 4,000 hours, the state of Mississippi requires that you pass the Examination for Professional Practice in Psychology (EPPP). Only then will you be eligible for a license and practice unsupervised.
List of Psychology Degree Programs in Mississippi
Are you looking for a psychology degree program in Mississippi? Browse our list of psychology programs offering both online and on-campus instruction. Follow the links to learn more about what each school's psychology program offers.
Clinton, MS
Hattiesburg, MS
Mississippi State, MS
University, MS
Are we missing your school's program or need to update information listed? Please contact us so we can make the necessary changes.