Best Psychology Schools in Utah
Prospective students in Utah looking to enter a stable and always in-demand profession are encouraged to check out psychology. This fulfilling career has many applications and endless room for growth. Finding the right degree pathway, however, is paramount to your success. Learn more about psychology degree types, from undergrad to graduate, and find out what your options are in Utah.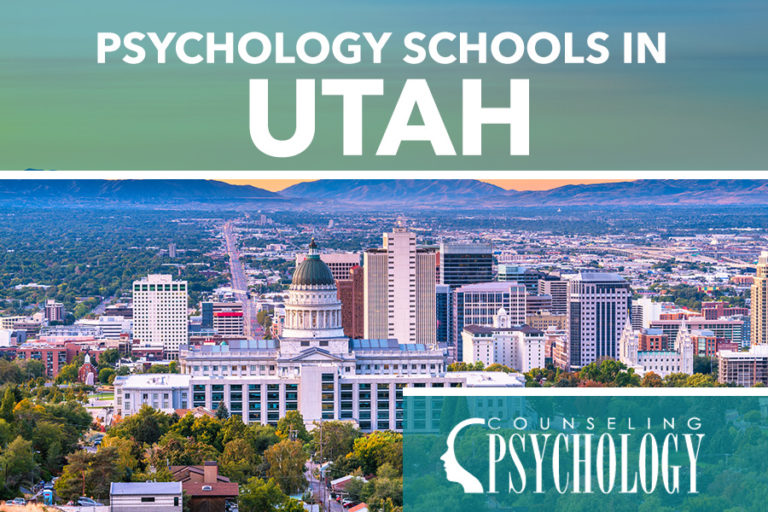 How to Find a Psychology Program in Utah
Many things go into finding a good psychology program in Utah. Students are likely to want to research psychology programs to determine the college or university program or programs that best suit their career aspirations and professional goals.
Psychology Degree Pathways in Utah
There are several pathways that are available for students who want to study psychology in the State of Utah. Some students begin their psychology education by completing an associate's degree program before continuing their degree at a university. Generally speaking, a bachelor's degree and, more often, a graduate degree in psychology is needed for most employment opportunities in the field. Those wishing to become licensed as psychologists will need to pursue a doctorate degree as well.
Salt Lake City Community College offers an Associate of Arts or an Associate of Science in Psychology degree. The programs prepare students to pursue a bachelor's degree or to further their education by completing a graduate degree.
The Department of Psychology at the University of Utah offers several pathways for students who want a career in psychology. Some students pursue the Social Psychology Ph.D. program, while other students choose the Developmental Psychology Ph.D. or another pathway option.
Choose a Psychology Specialty
Choosing a psychology specialty provides students with the opportunity to pursue their preferred path to their future. Students have several opportunities to complete specialties in psychology at the University of Utah.
Some students prefer to complete a bachelor's degree program and then find employment at that level. The University of Utah Bachelor's Degree in Psychology program prepares students for their future by including coursework in clinical psychology, developmental psychology, cognitive neuroscience, and more areas that are likely to help students to decide on their specialty area for graduate education.
Accreditation
It is imperative that students make sure that they choose an accredited psychology program by a respected organization such as the American Psychological Association. Students who discover that a program is not yet accredited need to research the program further. Some universities offer accreditation information for the school, but not for specific programs. Utah State University is accredited by the Northwest Commission on Colleges and Universities (NWCCU). Click on each graduate-level psychology specialization to determine if the program has additional accreditations.
Some universities announce when their programs are up for recertification or review of their accredited psychology programs.
Online vs. Traditional Psychology Programs in Utah
Some students prefer the option to complete their program online or in a hybrid format. A hybrid format allows students the opportunity to complete some requirements in the traditional classroom while completing other requirements online. Utah State University allows students the opportunity to earn a Bachelor of Science in Psychology degree in an online format.
The University of Utah recently announced a new certificate program, which students may be able to complete online. The Applied Positive Psychology Undergraduate Certificate Program "emphasizes the study of human strengths, positive emotions, and well-being."
Becoming Licensed As a Psychologist in Utah
The Utah Commerce Division of Professional Licensing provides the laws and regulations for becoming licensed as a psychologist in the State of Utah. Students must complete all requirements for licensure. There are currently four classifications available for psychology in Utah. These include:
Certified Psychology Resident
Assistant Behavioral Analyst
List of Psychology Degree Programs in Utah
Are you looking for a psychology degree program in Utah? Browse our list of psychology programs offering both online and on-campus instruction. Follow the links to learn more about what each school's psychology program offers.
Cedar City, UT
Logan, UT
Ogden, UT
Provo, UT
Salt Lake City, UT
Are we missing your school's program or need to update information listed? Please contact us so we can make the necessary changes.