Best Psychology Schools in Washington
Washington State in the Pacific Northwest borders Canada. In this Northwestern state, there are several excellent psychology programs. This includes one school, the University of Washington, which is a public Ivy League institution.
Students entering their freshman year, as well as graduate students, can find the training they need for psychology in Washington. Learn more about these programs as you consider training as a psychologist in Washington.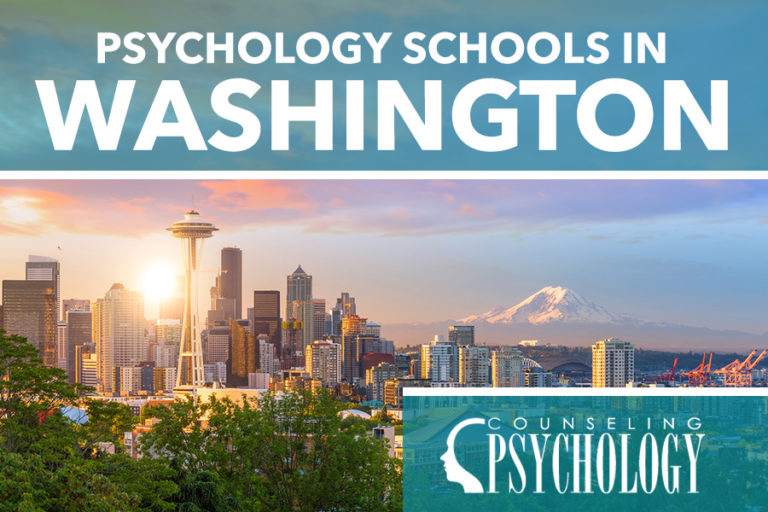 How to Find a Psychology Program in Washington
Consider how to get into the best school and program for you in Washington. As you look into the best psychology program in the state, focus on geography first and foremost. Washington State is far different in various regions.
Then move on to other areas, such as financing and lifestyle. Here are some questions to ask yourself:
Do you want to live in a busy, very populated, and highly-priced city, such as near Seattle?
Are you more interested in living in a rural, less populated, and wide-open plains landscape, such as Eastern Washington?
What is your budget for college, and how will you pay for living expenses as well as tuition and school fees while studying for a psychology program?
What do you like to do in your free time, i.e., Meetups, mountaineering, museums, or live music concerts?
Washington also specializes in various psychology degree pathways and psychology specialty courses.
Psychology Degree Pathways in Washington
In Washington, there are over 20 programs for the study of psychology. Only one school has an associate's degree in psychology, which takes two years to complete. Most of the schools in the state offer a four-year bachelor's degree in psychology.
Fourteen colleges and universities provide master's degrees in psychology in Washington. These programs take between one and three years to complete for a Master's Degree of Science (MS) or Master's Degree of Arts (MA) in psychology.
Choose a Psychology Specialty
At the University of Washington, which is located in Seattle, programs include research and experimental psychology. Washington State University in Pullman is top-rated for psychology. This school offers:
Clinical child and adolescent psychology
Experimental health psychology
Clinical health psychology
Accreditation
Choosing an accredited program or school is key to quality education. You may also be required to have a degree from an accredited program in order to be eligible for certification or licensing in Washington. The top psychology accrediting organizations in the Northwest and nationwide include:
Online vs. Traditional Psychology Programs in Washington
Most of the psychology programs in Washington, such as at UW, are available online post-COVID. However, traditional classroom courses and training opportunities may offer more in-person experience.
Students can train to counsel and interview in person for more interpersonal learning. Online training may be sufficient for some students who are working full-time or have young children.
Becoming Licensed As a Psychologist in Washington
You must graduate with an approved doctorate degree in order to become licensed as a psychologist in the state of Washington. You must also fulfill all of the requirements set forth by the Washington State Department of Health, including all supervised and unsupervised practice hours and successful completion of the required examinations. More information on psychologist licensing in Washington can be found here.
List of Psychology Degree Programs in Washington
Are you looking for a psychology degree program in Washington? Browse our list of psychology programs offering both online and on-campus instruction. Follow the links to learn more about what each school's psychology program offers.
Bellingham, WA
Bothell, WA
Cheney, WA
Ellensburg, WA
Kenmore, WA
Pullman, WA
Seattle, WA
Spokane, WA
Tacoma, WA
Walla Walla, WA
Are we missing your school's program or need to update information listed? Please contact us so we can make the necessary changes.