The Number of BIPOC Therapists Available in These Major Cities is Alarming

The demand for mental health support from BIPOC (Black, Indigenous, People of Color) therapists is rooted in their unique ability to provide their clients with a shared cultural experience and understanding. However, there is a significant shortage of such therapists.
The vast majority of therapists (73%) are white. Only 11% are Asian, 8% are Hispanic or Latino, 4% are Black or African American, and just 0.4% are American Indian or Alaska Native. When contrasted with overall population demographics in the United States, where Hispanic and Latino Americans make up 18.9% of the population, and Black Americans account for 12.6%, it's clear that the diversity of the therapist community does not mirror the people it serves.
To gain deeper insights, we analyzed Psychology Today's extensive therapist directory to determine in what parts of the country there is a scarcity of BIPOC therapists relative to the size of the BIPOC community. We evaluated the following ethnicities: Black and African American, Hispanic and Latino, Asian, and Native American.
By understanding these disparities, we can work towards creating a more inclusive and equitable mental health landscape in the United States.
Key Findings
In the largest 45 U.S. cities, the ratio of white persons to white therapists (307:1) is more than 3X better than that of BIPOC persons to BIPOC therapists (1,002:1).
The cities where therapists most underserve BIPOC communities are El Paso, Memphis, Milwaukee, Phoenix, and Fresno.
The cities with the most BIPOC therapists for BIPOC residents are Atlanta, Raleigh, Seattle, Oakland, and Miami.
How We Measured the Availability of BIPOC Therapists
Our measurement of the availability of BIPOC therapists involved examining thousands of pages on Psychology Today's therapist directory for 45 major U.S. cities. To determine our ratios, we compared the number of therapists with similar backgrounds to their respective populations using data from the U.S. Census Bureau.
In this context, lower ratios indicate better availability, which means more therapists are available to connect with individuals on a cultural level. Our ratios represent the individuals in the respective communities per one therapist (i.e. "XXX:1").
Across the 45 major U.S. cities, the ratio of white persons to white therapists is 307:1, which is more than three times better than the ratio of BIPOC persons to BIPOC therapists (1,002:1). This indicates a significant disparity in access to culturally responsive therapy for BIPOC individuals.
Interestingly, when examining specific ethnic communities, Native Americans demonstrate the most favorable community-to-therapist ratio, with one therapist available for every 125 people. However, the balance is least favorable for Hispanic and Latino communities, with one therapist for every 1,214 people.
Cities Where BIPOC Therapists Best Support Residents
Among the top five cities with the best mental health support for the BIPOC community are Atlanta (220:1), Raleigh (268:1), Seattle (298:1), Oakland (306:1), and Miami (314:1). However, there is no city where the BIPOC population is better supported than the white population.
San Francisco (114:1) emerges as the best city for the Black and African American community regarding therapist support. Atlanta (119:1) best supports the Hispanic and Latino communities. Miami is the top city for Asian (85:1) and Native American (11:1) communities. These relatively favorable ratios indicate improved access to therapists with the cultural understanding and sensitivity required to address the specific needs of these populations.

Cities Where Therapists Underserve BIPOC Communities
Examining the top five cities where the BIPOC communities are under-supported, El Paso (3,070:1), Memphis (2,690:1), Milwaukee (2,340:1), Phoenix (2,027:1), and Fresno (1,793:1) stand out. In El Paso, the BIPOC ratio is more than three times higher than the average BIPOC ratio overall (1,002:1), indicating a severe lack of BIPOC therapist support and limited access to culturally responsive care.
These cities highlight the vast under-support of BIPOC communities compared to the white population. For instance, in Detroit, there are 218 people per 1 white therapist, which is about 6.6 times better than BIPOC therapist accessibility (1,446:1).
When considering Miami, the white therapist ratio (57:1) is notably better than the BIPOC therapist ratio of 314:1. Similarly, in Milwaukee, the white therapist ratio (426:1) is much better than the BIPOC therapist ratio (2,340:1).
Regarding specific ethnic communities, Memphis (2,713:1) emerges as the worst city for the Black and African American population. El Paso is the worst city for the Hispanic and Latino community, with over 4,000 residents per Latino therapist (4,026:1).
Fresno (2,492:1) takes the unfortunate position as the most under-supported city for the Asian community, while San Jose, despite having one of the largest Asian populations (386,993) in the U.S., also has a high ratio (1,606:1), indicating limited therapist availability for this community.
Lastly, Phoenix (497:1) emerges as the city with the least support for the Native American community. Despite Alburquerque having one of the largest Native American populations (29,678) in the country, it also has limited Native American therapist availability (365:1), revealing the challenges Native Americans face in accessing mental health therapy.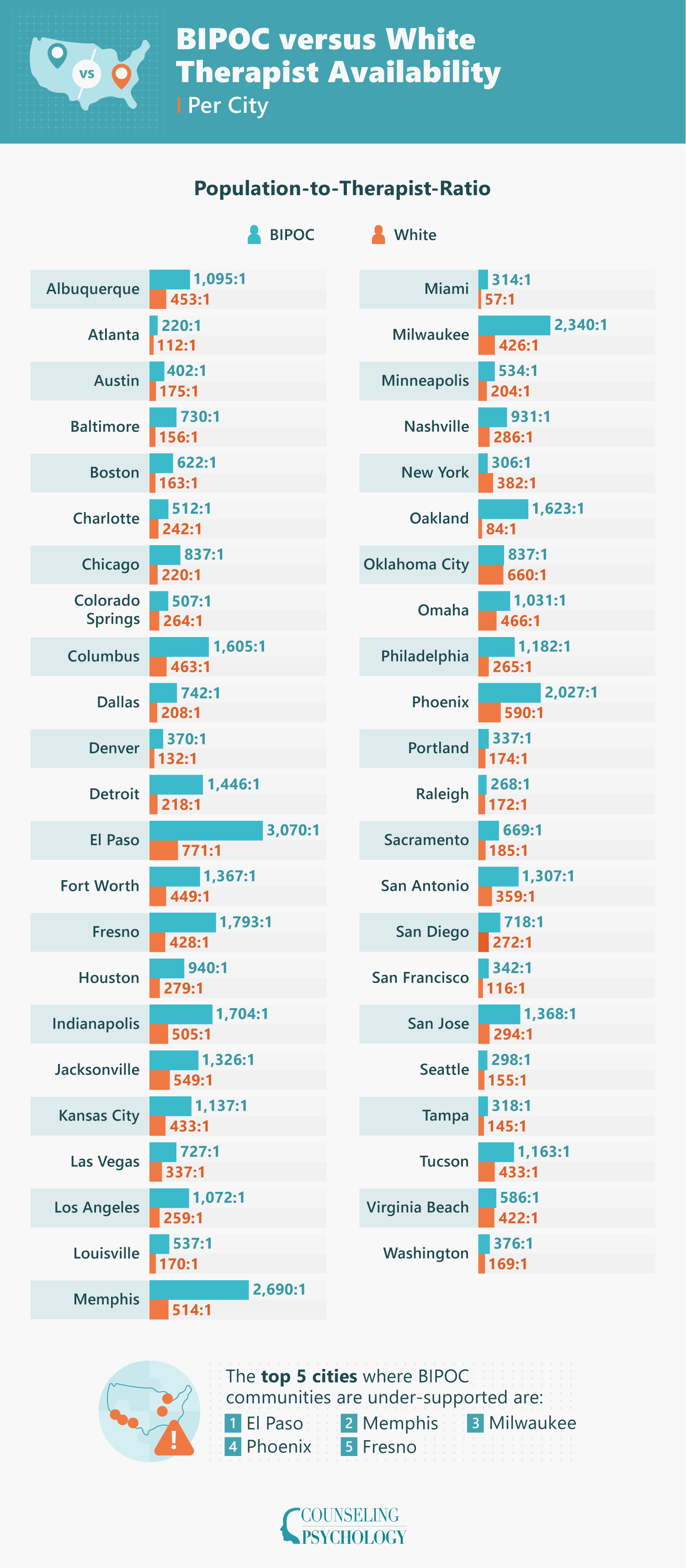 Cities with the Most Access to Bilingual and Multilingual Therapists
To determine the availability of bilingual and multilingual therapists in the 45 major cities, we analyzed the number of available therapists who speak the language compared to their respective populations. Our focus was on therapists who speak at least one of the three most common languages in the U.S. other than English: Spanish, Cantonese, and Mandarin.
It's worth noting that a significant one in five individuals in the United States speaks a language other than English at home, indicating the critical need for access to bilingual and multilingual therapists who can effectively communicate with diverse populations.
In particular, when considering Spanish-speaking individuals, a shortage of Spanish-English-speaking therapists can discourage individuals of Hispanic or Latino descent from seeking professional help due to potential language barriers and cultural mismatch.
With this in mind, we found that the top five cities that multilingual therapists least support are Kansas City (1,515,159:1), Houston (14,969:1), Memphis (7,375:1), Oklahoma City (5,558:1), and Phoenix (4,429:1). These cities face challenges in meeting the linguistic needs of their diverse communities and providing adequate language support.
Surprisingly, cities known for their high linguistic diversity, such as New York (3,637:1), Los Angeles (2,457:1), and Chicago (2,462:1), still present relatively high ratios, indicating limited availability of multilingual therapists. Considering the cultural diversity of these locations, this finding is unexpected and emphasizes the importance of addressing the shortage of multilingual mental health professionals.
On a more positive note, the top three cities with the best access to multilingual therapists are Atlanta (387:1), Miami (416:1), and Tampa (522:1). These southern cities demonstrate a more favorable environment in terms of providing linguistic support for their diverse communities, indicating progress in meeting the needs of individuals who require services in languages other than English.
Conclusion
Our analysis reveals a pervasive discrepancy in the mental health support provided to BIPOC and multilingual communities throughout the United States. This disparity emphasizes the pressing need for initiatives and policies to promote increased representation and diversity within the mental health profession. By addressing this issue, we can make the counseling profession more inclusive and enhance the quality of mental health care available to traditionally under-supported communities.
As our communities continue to grow, it becomes increasingly crucial for healthcare systems to reflect and cater to the population's diverse needs. By recognizing and addressing the gaps in mental health services, we can ensure everyone has equal access to the support they need.
Becoming part of the solution is within reach for individuals interested in mental health and wanting to contribute to change. CounselingPsychology.org is a trusted partner in guiding individuals to becoming a counselor or becoming a psychologist. By taking this step, you can actively contribute to bridging the gap in mental health services for BIPOC communities and positively impact other individuals' well-being. Learn more about the various counseling degrees and psychology degrees available nationwide.
Methodology
In June 2023, we scraped thousands of pages of data from the therapist directory on PsychologyToday.com to get the count of therapists for each ethnicity and language in 45 major U.S. cities.
The ethnicities we filtered by during our scrape are Black and African American, Hispanic and Latino, Asian, and Native American. When analyzing Census Bureau data for Native American populations, we used data for "American Indian and Alaska Native" and "Native Hawaiian and Other Pacific Islander."
The languages we filtered by are the three most popular non-English languages: Spanish, Cantonese, and Mandarin.
We used United States Census Bureau data to compare city populations of each race or ethnicity to the number of therapists in each city.
The Census Bureau recognizes "Hispanic or Latino" as an ethnicity, not a race. This means that individuals of Hispanic or Latino origin can count as any race, such as White, Black, Asian, or Indigenous. The bureau asks respondents to report whether they are of Hispanic or Latino origin and then allows them to select one or more racial categories to indicate their race(s).
However, categorizing and counting Hispanic and Latino people have posed challenges and raised questions over the years. Some argue that the Census Bureau's method of collecting data on ethnicity and race does not accurately capture the diverse identities within the Hispanic and Latino communities. The term "Hispanic" itself is broad and encompasses people from various countries and cultures, including those of Spanish-speaking origin.
Furthermore, some critics argue that the Census Bureau's binary distinction of Hispanic or Latino origin versus non-Hispanic or non-Latino does not adequately represent the complexity of identities and ethnic backgrounds among individuals.
Fair Use Statement: Please share our content for editorial or discussion purposes. We ask that you link to this page and give proper credit to CounselingPsychology.org.