Best Counseling Schools in Delaware
Delaware's colleges and universities attract students from within the state and nearby states, and these include students enrolling in counseling degree programs. If this describes you, here are some of the best counseling programs in Delaware.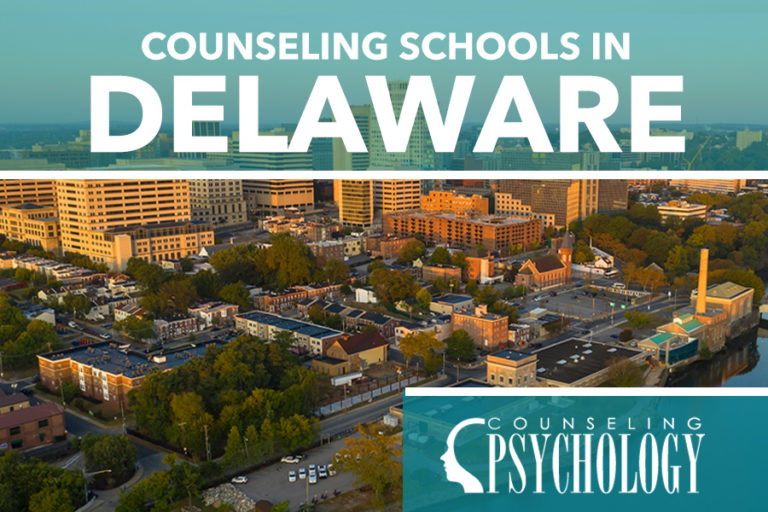 How to Find a Counseling Program in Delaware
Delaware's schools' counseling programs are diverse. You'll find that degree options, specializations, and modes of learning vary depending on which school you're looking at.
When considering which program to enroll in, take into account your personal situation, the academic experience you want, and your professional aspirations. You might prioritize tuition cost, schedule, location, faculty, specialty, or another factor.
Counseling Degree Pathways in Delaware
The counseling degree programs in Delaware usually last from one to many years (ask doctoral students). Depending on your current academic resume and future aspirations, you might choose any of the following:
Associate Degree – two years, requires a high school diploma
Doctorate Degree – three to six years, or more, requires a bachelor's or master's degree
A master's degree is required to become a licensed professional counselor in Delaware, but you can work under a licensed professional counselor (LPC) with a lower degree. Doctorate degrees offer opportunities for clinical study (Psy.D.) or research (Ph.D.), and graduate certificates provide plenty of opportunities for specialization.
Doctorates that don't require a master's degree usually include one within their own curriculum, so you earn both a master's and a doctorate as you go through the program. Other doctorates require that you complete a separate master's beforehand.
Choose a Counseling Specialty
Some of the counseling degree programs in Delaware are generalized programs, while others are specialized counseling programs. A few of the specializations available include:
Social justice counseling
Child and adolescent counseling
Chemical dependency counseling
Couples and family counseling
Whether you should pursue a particular specialization depends largely on your interests, the needs where you want to work, and the clients you hope to serve.
Accreditation
Accredited counseling programs meet educational standards, and they'll be recognized for licensure or further academic study. The two bodies that accredit Delaware counseling degree programs are CACREP (the Council for the Accreditation of Counseling and Related Education Programs) and APA (the American Psychological Association).
Only consider programs that are accredited by one of these two bodies, lest your degree isn't recognized in the future.
Online vs. Traditional Counseling Programs in Delaware
The counseling degree programs that Delaware schools offer include both online and traditional classes. Online programs tend to cost less and give you more scheduling and location flexibility. Traditional programs tend to cost more and be less flexible, but they afford better access to classmates, faculty, internship opportunities, and library resources.
Your situation might dictate that you attend online or traditional classes, or you might be able to choose between the two.
Becoming a Licensed Counselor in Delaware
Licensed counseling professionals in Delaware are either licensed associate counselors of mental health (LACMH) or licensed professional counselors of mental health (LPCMH). Associate counselors are on their way to becoming professional counselors and currently work under an LPCMH.
Before you can become an LPCMH, you must complete 60 credits of master's or doctorate work. You also need an internship (included within the degree) and a total of 3,200 hours of counseling experience (outside of the degree). An exam and fee are also required.
Delaware LPCMH licenses expire in September of every even year (i.e. 2024, 2026, etc.). Renewing requires 40 hours of continuing education.
List of Counseling Degree Programs in Delaware
Are you searching for a counseling degree program in Delaware? Browse our comprehensive list of schools offering counseling programs, both online and on-campus, and follow the links to learn more about what each program has to offer.