Best Counseling Schools in Georgia
Georgia has a large and diverse population, and that generates a substantial need for different types of counseling. As a licensed professional counselor, you'll be able to help people in meaningful ways (while earning a decent salary). Here are some of the best counseling programs in Georgia to help you become qualified to work in this field.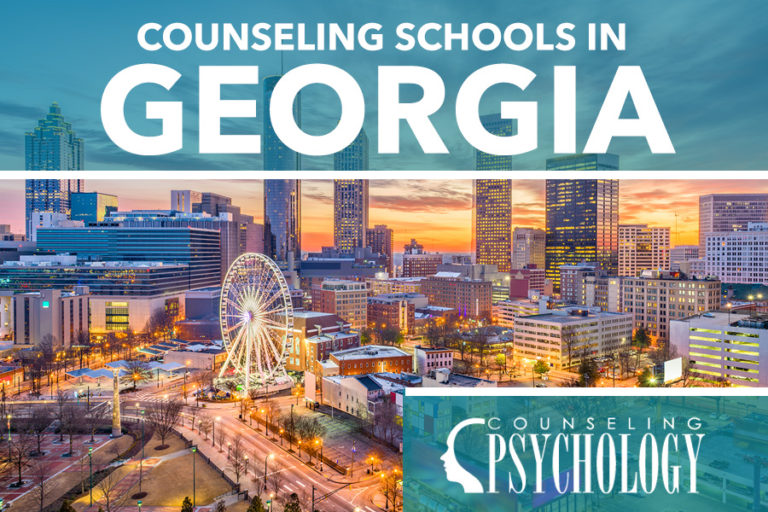 How to Find a Counseling Program in Georgia
There are many schools in Georgia with counseling degree programs. Schools offer degrees at all levels of academics and do so through both online and traditional learning modes. Consider your life situation, financial situation, other obligations, and long-term career goals as you evaluate which of the many Georgia counseling programs is right for you.
Counseling Degree Pathways in Georgia
Georgia colleges and universities offer counseling degrees at the undergraduate and graduate levels. Undergraduate degrees generally require high school or a GED, and graduate degrees generally require a bachelor's. Competitive doctorate programs might only take students who have a master's. The various undergraduate and graduate degrees available are:
Associate Degree: A two-year undergraduate degree. It allows you to begin working with minimal academic study, and also can be an inexpensive way to complete the first part of a bachelor's.
Bachelor's Degree: A four-year undergraduate degree. It qualifies you for most positions below the licensed professional counselor level.
Master's Degree: A one to two-year graduate degree. It's a requirement before you can become a licensed counselor in Georgia.
Doctorate Degree: A three to six-year graduate degree. It's the highest level of degree and can focus on research (a Ph.D. degree) or clinical work (a PsyD degree).
Graduate Certificate: A one to two-semester non-degree graduate program. It's useful when specializing in a particular area of counseling, and can be taken after completing a bachelor's or master's degree.
Choose a Counseling Specialty
Some counselors provide general counseling services, while other counselors specialize in a particular type of counseling. If you eventually want to specialize, your counseling degree is a great time to begin focusing on your chosen area. The following are just a few examples of the numerous specialization tracks that are available through counseling degree programs:
Clinical mental health counseling
Student affairs and college counseling
Accreditation
Before you apply to a counseling program, make sure it's accredited regionally or nationally. The national accreditors for counseling degrees are the American Psychological Association (APA), and the Council for the Accreditation of Counseling and Related Education Programs (CACREP).
Accreditation guarantees that your education meets commonly accepted academic standards. It also ensures that your degree will be recognized by employers and other schools.
Online vs. Traditional Counseling Programs in Georgia
You can choose to enroll in an online program, traditional program, or hybrid program. All are available from Georgia schools, and each has its advantages.
You might choose an online program for increased flexibility and affordability, or because you have obligations outside of school that prevent you from relocating. You might choose a traditional program for greater peer and professor interaction, and easier access to all library resources. Hybrid programs, of course, have some of the advantages of both online and traditional ones.
Becoming a Licensed Counselor in Georgia
Becoming a licensed counselor in Georgia is a multifold process. You must complete a CACREP-accredited master's, or a master's degree in counseling or applied psychology that's otherwise accredited. Your program needs to have at least 600 internship hours.
After meeting the academic requirements, you then must complete three years of supervised work. This is lessened for advanced and specialized degrees. The final steps are passing a licensing exam and paying a fee.
Your counseling license must then be renewed every even-numbered year. Renewing requires 35 continuing education hours.
List of Counseling Degree Programs in Georgia
Are you searching for a counseling degree program in Georgia? Browse our comprehensive list of schools offering counseling programs, both online and on-campus, and follow the links to learn more about what each program has to offer.
Athens, GA
Atlanta, GA
Augusta, GA
Carrollton, GA
Dahlonega, GA
Fort Valley, GA
Macon, GA
Savannah, GA
Statesboro, GA
Valdosta, GA
Are we missing your school's program or need to update information listed? Please contact us so we can make the necessary changes.