Best Counseling Schools in Idaho
Idaho is a diverse state with many different needs, including many counseling needs. From addiction and trauma to family strife and school, counselors help residents with all sorts of challenges and issues. If you're interested in this sort of work, attending one of the best counseling programs in Idaho will give you the academic training you need.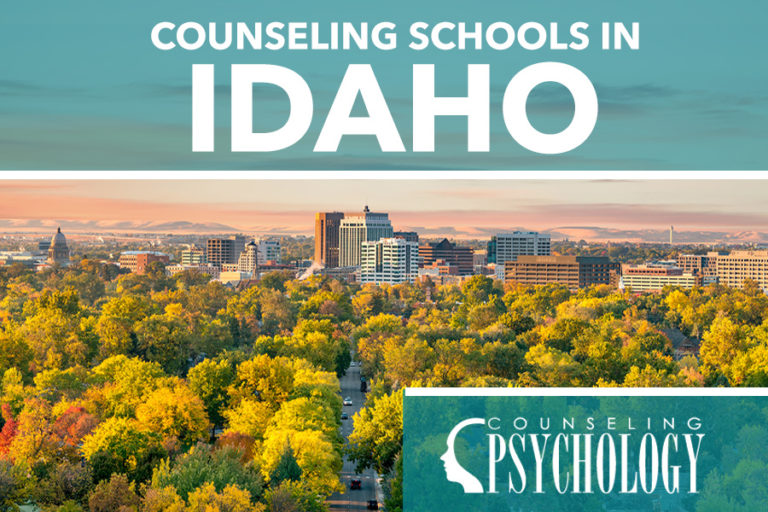 How to Find a Counseling Program in Idaho
Finding the right Idaho counseling program requires thinking through many different factors. Take your financial situation, living situation, learning objectives, career goals, and personal interests into account as you evaluate the various counseling programs in Idaho.
Counseling Degree Pathways in Idaho
Idaho universities and colleges offer counseling degree options at every level of academia. You can pursue a two-year degree, or you can spend more than a decade studying in an academic setting. Which of the following degrees you pursue should be determined by your current credentials and future plans:
An associate degree is well-suited for entry-level work. You might complete this two-year degree to get experience working within counseling as you continue through higher degrees. You might also stop academics and only work upon completing an associate degree. A high school diploma or equivalent is required.
A bachelor's degree qualifies you for entry-level and other work, so long as you remain supervised by a licensed counselor. You might stop academics after earning a four-year bachelor's degree or parlay this into a master's degree program. A high school diploma or equivalent is required.
A master's degree is what you need to become licensed as a counselor in Idaho. Many licensed counselors focus on their careers after earning a master's degree, but some continue on to doctoral work. Bachelor's degree is required for enrollment.
A doctorate degree is the highest counseling degree. You can earn a Psy.D. that's more clinical or a Ph.D. that's more research. Both programs can last three to six years, and longer in some cases. You'll be qualified for many high-level positions after completing a doctorate. A bachelor's or master's is required.
A graduate certificate is a shorter program that allows you to focus on a particular type of counseling. Most certificates are completed in one year or less. 
Choose a Counseling Specialty
Your degree program might offer specialization options, such as specialization in:
Clinical and mental health counseling
Marriage, couple, and family counseling
Student affairs counseling
Consider a specialization if you're pursuing an advanced counseling degree, and want to differentiate yourself for a specific type of counseling work.
Accreditation
The Council for Accreditation of Counseling and Related Education Programs and the American Psychological Association are widely respected accrediting organizations. These are the two leading organizations that accredit counseling degree programs in Idaho and other states.
By enrolling in a counseling program that's accredited by one of these organizations, you can ensure your counseling degree meets academic and professional standards.
Online vs. Traditional Counseling Programs in Idaho
You'll find both accredited online counseling programs and accredited traditional counseling programs in Idaho. Consider online learning if you want a more flexible and affordable experience. Consider traditional learning if you want more in-person interaction with classmates.
Becoming a Licensed Counselor in Idaho
Idaho requires all licensed counselors to complete an accredited master's counseling degree (or similar degree), and the degree must include at least 6 semesters of practicum (internship) experience. You'll also need 2,000 hours of supervised client contact experience, and to pass an exam, before becoming licensed.
Counseling licenses must be renewed annually in Idaho. You'll need to complete 20 continuing education units for each year's renewal.
List of Counseling Degree Programs in Idaho
Are you searching for a counseling degree program in Idaho? Browse our comprehensive list of schools offering counseling programs, both online and on-campus, and follow the links to learn more about what each program has to offer.
Boise, ID
Master's ProgramsPhD Programs
1910 University Dr
Boise
,
ID
83725
(208) 426-1000
Are we missing your school's program or need to update information listed? Please contact us so we can make the necessary changes.