Best Counseling Schools in Indiana
Indiana has a substantial need for licensed counselors and other counseling professionals, and there are lots of job opportunities if you're qualified. Here are some of the best counseling programs in Indiana to help you become qualified (or more qualified).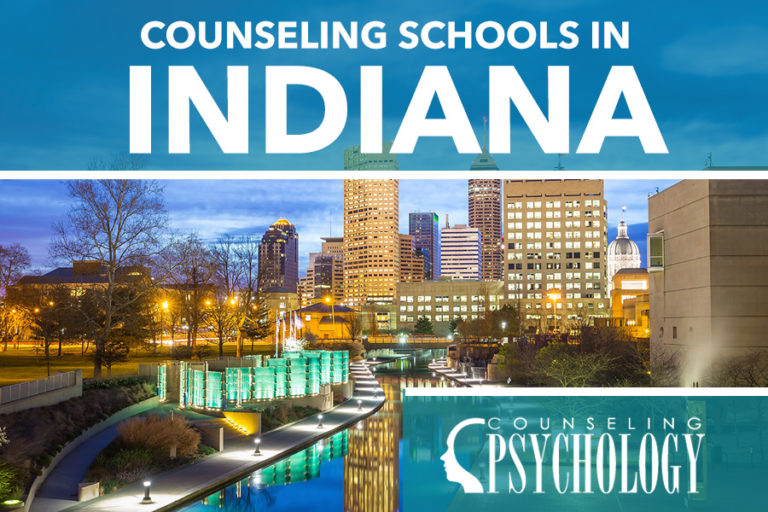 How to Find a Counseling Program in Indiana
Many different colleges and universities offer counseling programs in Indiana. You'll find programs with various degrees, specialization options, learning modes, tuition rates, and schedules. Select whichever program makes sense for you, taking into account both present needs and future goals.
Counseling Degree Pathways in Indiana
Counseling degrees are available at every level of undergraduate and graduate post-secondary education. You can enroll in a relatively short associate degree straight out of high school, or spend years in a doctorate program (perhaps before continuing onto a postdoc job). The counseling degrees available in Indiana include:
Associate Degrees: two-year degrees that can be enrolled in after completing high school (or a GED). An associate degree might help you find an entry-level position within the field.
Bachelor's Degrees: four-year degrees that can be enrolled in after completing high school. Completing an associate degree shortens the bachelor's degree to two additional years. A bachelor's degree might help you find entry-level or mid-level work, and it could also prepare you for study at the graduate level.
Master's Degrees: One to two-year degrees that can be enrolled in after completing a bachelor's program (in counseling or any field). Completing a master's (in counseling or a related field) is required to work as a licensed counselor in Indiana.
Doctorate Degrees: Three to six-year degrees that can be enrolled in after completing a bachelor's or master's program (depending on the doctorate program). A Ph.D. doctorate provides advanced research study, and a Psy.D. doctorate provides advanced clinical study. This is the highest level of degree that you can attain.
Graduate Certificates: Six-month to one-year certificate programs afford opportunities to specialize. Most require a bachelor's degree, and you might complete a certificate even after a master's degree.
Choose a Counseling Specialty
Many counseling degree programs (especially graduate ones) have tracks for specialization. Specialization can help differentiate you, and it might be needed to secure certain jobs.
There's almost no shortage of specialization options. The following are just a few examples of what's available through Indiana counseling degree programs:
Clinical addictions counseling
Clinical mental health counseling
Accreditation
To ensure you receive a quality education and earn a useful degree, make sure any Indiana counseling program you consider is regionally or nationally accredited. The main accrediting bodies for counseling degree programs are the Council for the Accreditation of Counseling and Related Education Programs and the American Psychological Association.
Online vs. Traditional Counseling Programs in Indiana
Indiana schools have online counseling programs and traditional counseling programs. Online programs frequently cost less and have more flexible class schedules. Traditional programs provide in-person conversation opportunities. You may find either mode preferable.
Becoming Licensed as a Counselor in Indiana
Indiana counselor licensure requires a master's degree of 48 credits or a doctorate degree of 96 credits. You also need a 1,000-hour internship, 3,000 hours of post-degree supervision, a passing exam score, and a fee payment.
Counseling licenses must be renewed every even-numbered year. Renewing requires 40 hours of continuing education in most cases.
List of Counseling Degree Programs in Indiana
Are you searching for a counseling degree program in Indiana? Browse our comprehensive list of schools offering counseling programs, both online and on-campus, and follow the links to learn more about what each program has to offer.
Bloomington, IN
Fort Wayne, IN
Gary, IN
Hammond, IN
Indianapolis, IN
Kokomo, IN
Lawrenceburg, IN
Marion, IN
Muncie, IN
New Albany, IN
Richmond, IN
South Bend, IN
Terre Haute, IN
West Lafayette, IN
Are we missing your school's program or need to update information listed? Please contact us so we can make the necessary changes.