Best Counseling Schools in Iowa
Iowa has people who struggle with family issues, substance abuse, trauma, poverty, and other challenges. These issues create a significant demand for counseling professionals. If you're thinking about working professionally within the counseling field, these are some of the best counseling programs in Iowa for you to study at.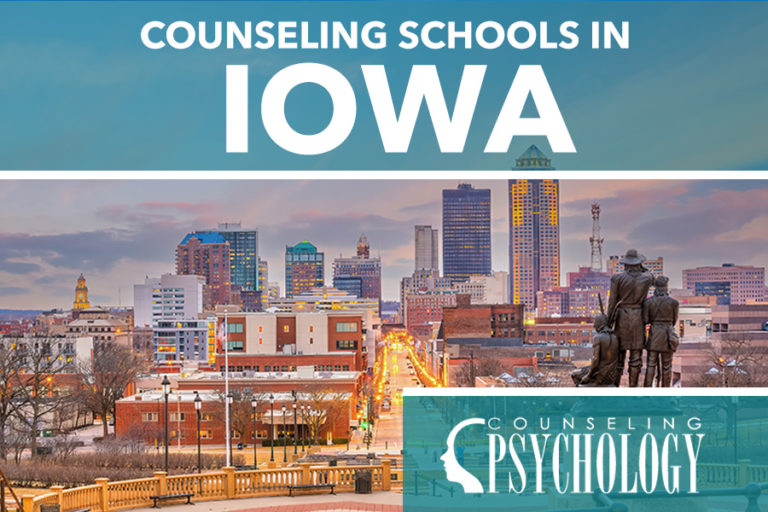 How to Find a Counseling Program in Iowa
Iowa has a number of colleges and universities that offer counseling programs, and you'll find various features among the different programs. Consider your personal interests, financial needs, and future goals as you evaluate programs' courses, tuitions, and specialties.
Counseling Degree Pathways in Iowa
The counseling degrees that Iowa colleges and universities offer to encompass many different levels of postsecondary learning. You might choose to study for a(n)
Associate Degree – takes two years and is suitable for entry-level jobs in the counseling field. You can enroll with just a high school diploma/GED.
Bachelor's Degree – takes four years and is suitable for most work below the licensed professional counselor (LPC) level. You can enroll with a high school diploma/GED.
Master's Degree – takes one to two years and is required for licensure in Iowa. You'll need a bachelor's before enrolling.
Doctorate Degree – takes three to six (or more) years and involves a dissertation/capstone project. You can pursue more clinical work with a Psy.D., or more research work with a Ph.D. You'll need either a bachelor's or master's before enrolling.
Graduate Certificate – can be completed in 1 year or less. You can use these to specialize in a particular area of counseling, especially if your degree program doesn't have a specialization track. You may complete a certificate after a bachelor's or master's degree.
As you evaluate degree options, consider what degree you ultimately need to reach your career aspirations. You might need only one degree, or you may need to complete a few degrees.
Choose a Counseling Specialty
Iowa counselors provide many different counseling services. You can choose to study counseling in general or to focus on a specific area. A few potential focuses are:
Clinical Mental Health Counseling
There are still many other potential specializations. Choose any specialization carefully, after thinking about what clients you'd like to serve throughout your career.
Accreditation
Attending an accredited school guarantees your degree. You know that your coursework will meet general degree expectations and that employers and schools will recognize your counseling degree.
You likely should only consider accredited counseling programs that are recognized by CACREP or the APA These are the three main accreditors for counseling programs in Iowa and the rest of the U.S. The acronyms stand for the Council for Accreditation of Counseling and Related Education Programs and the American Psychological Association.
Online vs. Traditional Counseling Programs in Iowa
Iowa has both online counseling programs and traditional ones. Traditional degrees allow for direct contact with classmates and professors, and you get easier access to library resources when on campus. Online degrees are often more affordable and have more flexible scheduling options. Choose whichever mode better suits your particular situation.
Becoming a Licensed Counselor in Iowa
Iowa requires all licensed counselors to have a master's degree in counseling or a related field. The program must be at least 60 credits and include both a 100-hour internship and a 240-hour practicum. Upon graduation, you must complete another 3,000 supervised hours before sitting for the licensure exam.
Your counseling license will have to be renewed during even-numbered years (e.g. 2022, 2024, 2026). Renewing requires 40 hours of continuing education.
List of Counseling Degree Programs in Iowa
Are you searching for a counseling degree program in Iowa? Browse our comprehensive list of schools offering counseling programs, both online and on-campus, and follow the links to learn more about what each program has to offer.
Ames, IA
Cedar Falls, IA
Des Moines, IA
Forest City, IA
Iowa City, IA
Are we missing your school's program or need to update information listed? Please contact us so we can make the necessary changes.