Best Counseling Schools in Maine
Maine is rich in natural resources, but sometimes the economic opportunities for residents are limited. Low incomes can add to the standard stresses of family strife, addiction, trauma, and other challenges. These challenges create a large demand for counselors in the state. If you're interested in helping people through counseling, here are the best counseling programs in Maine.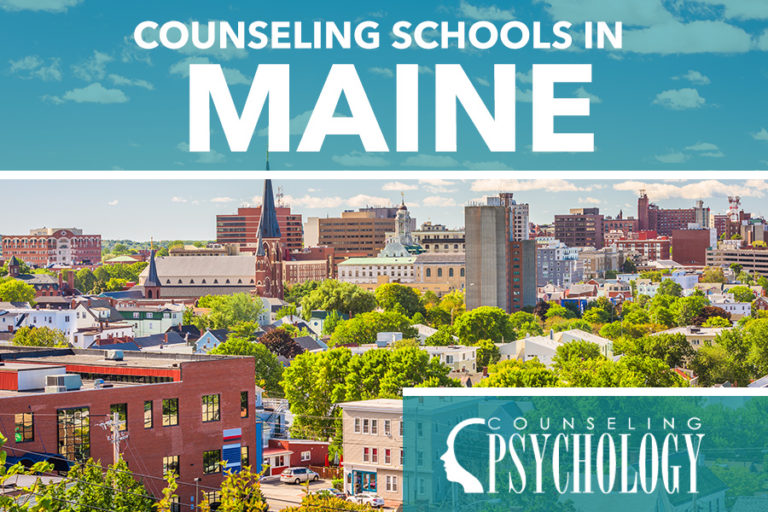 How to Find a Counseling Program in Maine
No one counseling program is right for every student. Find one that works well for you by considering your finances, current vocational responsibilities, familial responsibilities, personal interests, and professional goals. There's bound to be a good counseling program in Maine for you.
Counseling Degree Pathways in Maine
Several universities and colleges in Maine offer accredited counseling degrees. There are several levels of degrees, including multiple options at both the undergraduate and the graduate levels. Select a program that you're qualified for, that also meets your academic and professional needs:
Associate Degrees: Associate degrees are two-year programs that you can enroll in immediately after high school. They'll qualify you for entry-level work directly with clients.
Bachelor's Degrees: Bachelor's degrees are four-year programs that you also can enroll in immediately after high school. They'll give you an edge over associate graduates, qualifying you for entry-level and mid-level work. You'll likely work under the supervision of a licensed professional counselor (LPC) still.
Master's Degrees: Master's degrees are one to two-year programs that you need a bachelor's degree for. A master's degree is required to become an LPC.
Doctorate Degrees: Doctorate degrees are three to six-year (and sometimes longer) programs that you can enroll in after a bachelor's or master's degree.
Graduate Certificates: Graduate certificates are six months to one-year non-degree programs, and you can enroll after a bachelor's or master's degree. These are primarily used for specialization, as they don't meet the LPC's master's requirement on their own.
Choose a Counseling Specialty
As a counselor, you can provide broad or specialized services. Should you choose to specialize, you may do so during a bachelor's, master's, or graduate certificate program. There's no shortage of counseling specialties:
Clinical and vocational rehabilitation
Marriage, couple, and family counseling
These are just a sample of the specializations that you can choose from.
Check School Accreditation
School accreditation ensures that counseling degrees meet basic academic standards for programs, and also that degrees are recognized by other institutions.
The main accrediting body for counseling degrees in Maine is CACREP (the Council of Accreditation of Counseling and Related Education Programs). Maine requires a CACREP (not an APA degree) for licensure.
The University of Maine and the University of Southern Maine's degrees are accredited. Make sure any other school degree that you consider is also accredited.
Online vs. Traditional Counseling Programs in Maine
Accredited counseling degrees are available through both online and in-classroom programs. An online program will likely be more affordable and more flexible, and you won't have to commute to class during winter. An in-classroom program will likely give you more interaction with peers, and possibly better access to internships and research material.
Choose whether to enroll in an online counseling program or an in-classroom counseling program, carefully thinking about what's more accessible for you.
Becoming a Licensed Counselor in Maine
For licensure, Maine requires a 60-credit graduate degree that's accredited by CACREP. You must additionally complete a 600-hour internship and 2,000 hours of supervised counseling after graduating. The final licensing requirements are an exam and a fee.
Maine counseling licenses must be renewed bi-annual. Renewing requires 55 continuing education hours.
List of Counseling Degree Programs in Maine
Are you searching for a counseling degree program in Maine? Browse our comprehensive list of schools offering counseling programs, both online and on-campus, and follow the links to learn more about what each program has to offer.
Augusta, ME
46 University Dr
Augusta
,
ME
04330-9410
(207) 621-3000
Farmington, ME
224 Main St.
Farmington
,
ME
04938-9978
(207) 778-7000
Are we missing your school's program or need to update information listed? Please contact us so we can make the necessary changes.