Best Counseling Schools in Maryland
Maryland's population has many different needs, including many different counseling needs. From trauma and addition to school and family, counselors help residents with all types of issues. If this sounds like work you'd enjoy doing, completing a counseling program in Maryland will prepare you for an important, rewarding, and well-paying career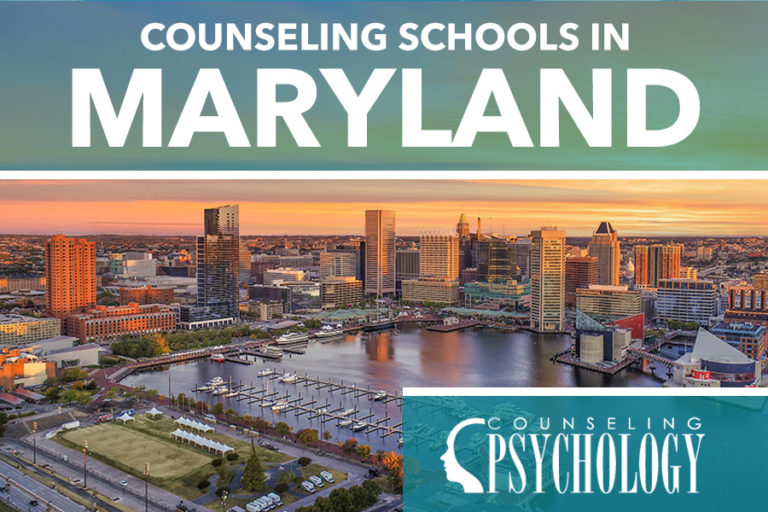 How to Find a Counseling Program in Maryland
To find a counseling program that's a good fit for you, you must consider what's most important to you. Do you need to prioritize tuition, schedule, or location? Do your future aspirations require specialized knowledge and credentials? Ask these sorts of questions as you evaluate different Maryland counseling programs.
Counseling Degree Pathways in Maryland
Counseling degrees are available at multiple levels of post-high school academia. You may complete one or several of the following degrees:
Associate: An associate degree makes sense if you want to quickly begin work with patients and/or clients. The degree requires a high school diploma and lasts two years.
Bachelor's: A bachelor's degree is the most common undergraduate degree, and could prepare you for many different counseling jobs. The degree requires a high school diploma and is four years.
Master's: A master's degree is the most common graduate degree, and is required for licensure in Maryland. The degree requires first completing a bachelor's and is one to two years usually.
Doctorate: A doctorate degree is the highest graduate degree, and could prepare you for leadership or other high-level positions. Psy.D. doctorates are heavy on clinical work, while Ph.D. doctorates are heavy on research. Either can take three to six years to complete, and requires either a bachelor's or master's first
Graduate Certificate: A graduate certificate is a shorter program that's primarily used to specialize. The certificate will take a maximum of one year, and can help you establish yourself within a particular field of counseling.
Choose a Counseling Specialty
Many counseling programs offer specialization options. Completing one of these programs could set you up for a specific type of counseling work. Specialization options include (but aren't limited to):
Clinical mental health counseling
Substance abuse counseling
Child and adolescent counseling
Couples and family counseling
Check School Accreditation
Accredited schools' counseling programs are guaranteed to meet standards and to be accepted by other institutions and potential employers. You should only consider accredited programs.
The largest accrediting bodies for counseling programs are the Council for the Accreditation of Counseling and Related Education Programs (CACREP), and the American Psychological Association (APA).
Online vs. Traditional Counseling Programs in Maryland
Counseling degree programs can be taught online, or in traditional classrooms. Attending an online degree program will probably reduce your tuition bill, and give you more flexibility with regard to schedule and location. Attending a traditional degree program with in-person classes will give you more access to faculty, fellow students, and library resources. Choose whichever is best for your situation and academic needs.
Becoming a Licensed Counselor in Maryland
Maryland counseling licensure requires a master's degree in counseling or a similar field, and the degree needs to have at least 125 internship hours. You'll also need three years and at least 3,000 hours of supervised experience. This requirement is reduced by one year and 1,000 hours if pursuing a doctorate degree. Finally, a licensing exam and fee are the last steps to licensure.
Renewing a counseling license requires 40 continuing education units (CEUs). This must be done every two years.
List of Counseling Degree Programs in Maryland
Are you searching for a counseling degree program in Maryland? Browse our comprehensive list of schools offering counseling programs, both online and on-campus, and follow the links to learn more about what each program has to offer.
Adelphi, MD
Baltimore, MD
Frostburg, MD
Westminster, MD
Are we missing your school's program or need to update information listed? Please contact us so we can make the necessary changes.