Best Counseling Schools in Montana
Much of Montana's population struggles with the long winters and isolation that can accompany living in the state, and many people seek out counseling services to help them. If you're thinking of helping people through counseling, these are the best counseling programs in Montana to prepare you for a career in the counseling field.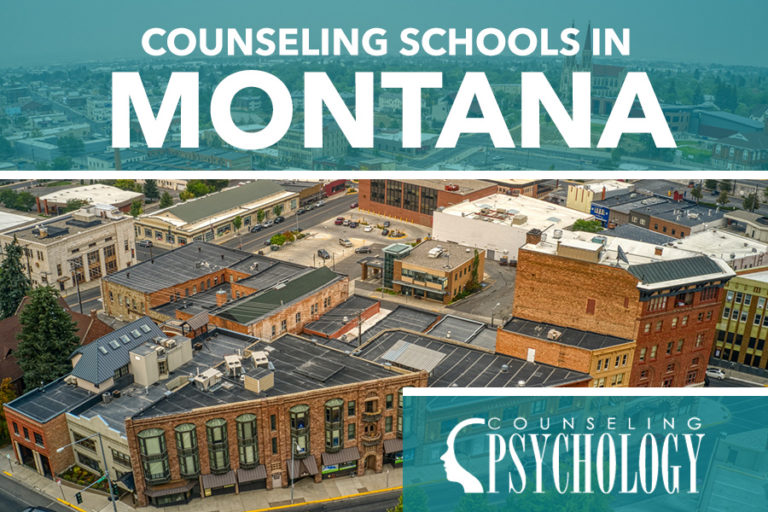 How to Find a Counseling Program in Montana
There are several counseling programs in Montana. Which one best suits you depends on your particular needs. Consider tuition, class schedule, course mode, specialization options, degree level, and similar details as you evaluate the different programs.
Counseling Degree Pathways in Montana
With regard to degree level, there are several undergraduate degrees and graduate degrees that you can pursue. You might complete just one degree, or several as you advance your education. The various degrees are:
Associate Degree: A shorter two-year undergraduate program that qualifies you for entry work in the field. You only need a high school diploma (or equivalent).
Bachelor's Degree: A standard four-year undergraduate program that qualifies you for a wider variety of work, especially as you gain experience after graduating. You only need a high school diploma.
Master's Degree: A common one to two-year graduate program that qualifies you to become a licensed professional counselor in Montana. You need a bachelor's degree.
Doctorate Degree: A lengthy three to six-year (or longer) graduate degree that qualifies you for leadership and research positions. Can be a Psy.D. or Ph.D. degree. Both degrees may require a bachelor's or master's before starting.
Graduate Certificate: A short six to twelve-month non-degree graduate program that helps you specialize. You need a bachelor's but also might complete this after already getting a master's.
Choose a Counseling Specialty
Montana counselors provide specialized or general services. Should you wish to specialize, your degree program might offer tracks that can help. Some examples of specialization tracks within degree programs are:
Mental health counseling track
Addiction counseling track
Marriage, couples, and family counseling track
Check School Accreditation
Attending an accredited school ensures that your degree will be recognized by others. You'll only be able to transfer credits from an accredited school should you want to change programs, and you can only apply for higher degrees after attaining any required lower degrees from an accredited institution.
Most counseling degree programs are accredited by one of the following: the CACREP (Council for the Accreditation of Counseling and Related Education Programs) or the APA (American Psychological Association).
Online vs. Traditional Counseling Programs in Montana
You'll find both online and traditional programs available from accredited Montana schools. An online program might make sense if you need flexibility or want lower tuition bills. A traditional program might be right if you want more in-person interaction with classmates and professors, as well as direct access to books in the school library. Select whichever learning mode better suits your situation.
Becoming a Licensed Counselor in Montana
Montana requires all licensed professional counselors to have a 60-credit master's degree in counseling or a similar field. A doctorate degree exceeds what a master's degrees provide, and thus also meets the requirement.
You'll need to have extensive experience, which includes 200 practicum hours (during school) and 3,000 supervised hours (after school). You also must pass a licensing exam and pay a licensing fee.
You must renew the license each year, between December 1st and February 1st. Renewing requires 20 hours of continuing education.
List of Counseling Degree Programs in Montana
Are you searching for a counseling degree program in Montana? Browse our comprehensive list of schools offering counseling programs, both online and on-campus, and follow the links to learn more about what each program has to offer.
Billings, MT
1500 University Drive
Billings
,
MT
59101-0298
(406) 657-2011
Bozeman, MT
Graduate Certificate Programs
Montana State University
Bozeman
,
MT
59717
(406) 994-0211
Missoula, MT
Master's ProgramsPhD Programs
Missoula, Montana
Missoula
,
MT
59812
(406) 243-0211
Are we missing your school's program or need to update information listed? Please contact us so we can make the necessary changes.