Best Counseling Schools in New Hampshire
New Hampshire has a substantial need for counseling professionals, as residents struggle with issues arising from poverty, addiction, trauma, mental health, and other issues. If you wish to help in any professional counseling capacity, here are the best counseling programs in New Hampshire to prepare you for this work.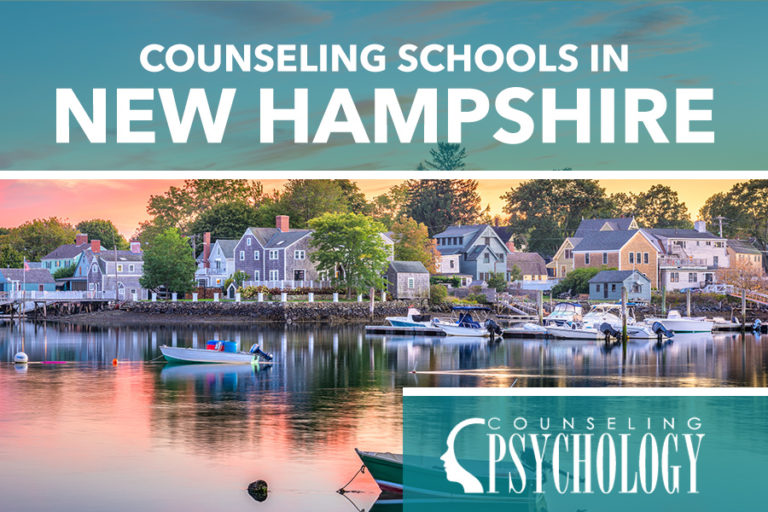 How to Find a Counseling Program in New Hampshire
The counseling program that you apply to should meet your needs well. These may include financial needs, scheduling needs, or degree requirements for your future career. Whatever you need, there are plenty of counseling programs in New Hampshire to choose from.
Counseling Degree Pathways in New Hampshire
Which counseling degree you should pursue is determined by your current credentials and future goals. The degree options available are:
Associate Degree: A two-year undergraduate program that'll prepare you for entry-level counseling positions. You'll likely work directly with clients and under a supervisor. A high school diploma or GED is needed to start.
Bachelor's Degree: A four-year undergraduate program that'll prepare you for work below the licensed professional counselor level. Many positions will be available, and you'll likely have the oversight of a licensed counselor. A high school diploma or GED is needed.
Master's Degree: A one to two-year graduate program that'll prepare you for licensure. You may have people below and/or above you. A bachelor's degree is needed.
Doctorate Degree: A three to six-year graduate program that'll prepare you for advanced work. You may work more in research (with a Ph.D.) or clinical settings (with a Psy.D.), and you'll be academically qualified for the highest positions. A bachelor's or master's is needed.
Graduate Certificate: A six to twelve-month graduate program that'll help you specialize. You can differentiate yourself within a particular counseling field. A bachelor's is needed.
Choose a Counseling Specialty
Some undergraduate and graduate counseling degree programs allow for opportunities to specialize. Some examples of specialization tracks are:
Marriage and family therapy
If you know what field you ultimately want to work in, consider seeking out a program that offers specialization options.
Check School Accreditation
Whatever counseling degree program you choose should be accredited. Most schools in New Hampshire with counseling degrees are accredited, but confirm that they are. Only accredited schools are guaranteed to have credible degrees.
The main accrediting body for counseling degrees is the CACREP (the Council for Accreditation of Counseling and Related Educational Programs) and the APA (the American Psychological Association).
Online vs. Traditional Counseling Program in New Hampshire
Both online and traditional counseling programs are available from accredited New Hampshire schools, and you might consider either option. Students generally choose one based on their financial, geographic, and location needs, and whether they want the traditional in-classroom interaction.
Becoming a Licensed Counselor in New Hampshire
To become a licensed counselor in New Hampshire, you'll need to complete a master's degree that's at least 60-semester credits (or a doctorate degree). The degree program needs to include 700 hours of practicum/internship, which can count toward the credits.
After graduating, you'll need another 3,000 hours of supervised counseling experience. There's then an exam to pass and a fee to pay, after which you'll be licensed.
Renewing your license is due every two years, on the date that the license was initially issued. You'll have to complete 40 continuing education units (CEUs) to renew.
List of Counseling Degree Programs in New Hampshire
Are you searching for a counseling degree program in New Hampshire? Browse our comprehensive list of schools offering counseling programs, both online and on-campus, and follow the links to learn more about what each program has to offer.
Concord, NH
25 Hall Street
Concord
,
NH
03301-3471
(603) 228-3000
Plymouth, NH
17 High Street
Plymouth
,
NH
03264-1595
(603) 535-5000
Are we missing your school's program or need to update information listed? Please contact us so we can make the necessary changes.