Best Counseling Schools in New Mexico
New Mexico counseling programs provide students with the opportunity to complete a counseling degree or certificate. There are many things that go into finding a good counseling program. The variety of counseling degrees and certificate options within the State of New Mexico allows students to gain the required skills to follow their desired career path.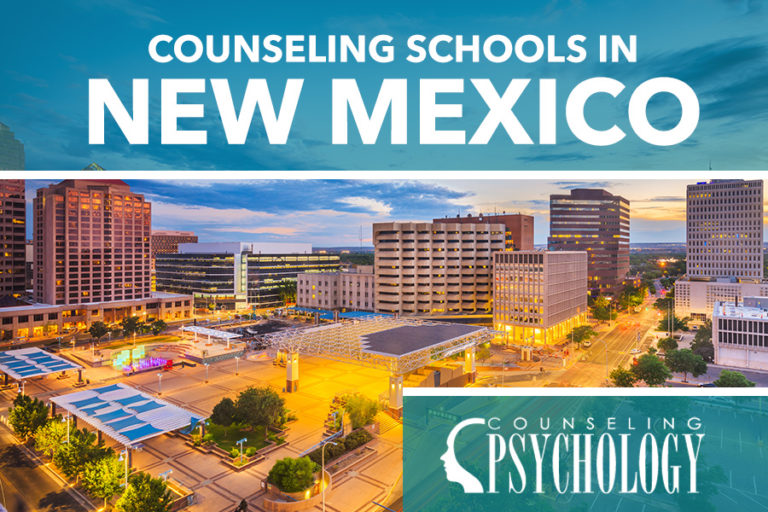 How to Find a Counseling Program in New Mexico
There are a few things you should consider when looking for a program that fits your needs. If you're looking for an in-person education, consider the town or city you may, or may not be relocating to. Will there be housing available? Are there adequate resources, such as a library equipped with the materials you will need for research? Make sure you thought of the important details, and that you're sure the program you are signing up for is right for you.
Counseling Degree Pathways in New Mexico
The pathway that students follow depends on the type of program that they wish to pursue and the degree or certificate requirements. 
Santa Fe Community College offers a licensed alcohol and drug counselor (LADAC) certificate program that consists of 18.5 credits. The program consists of two semesters of study.
Northern New Mexico College offers a substance abuse counselor/associate of arts program, consisting of 35 credit hours. Bachelor's degree programs typically require three to four years of study, while a graduate degree usually requires up to two years of additional study.
It should be noted that New Mexico Statutes require a minimum of an associate's degree for licensure as an alcohol and drug abuse counselor.
Choosing a Counseling Specialty
Choosing a counseling specialty is crucial if you want to follow your desired career pathway. Choosing a specialty is important whether you are completing a first degree, or whether you are a professional already working in counseling or another profession, who wants to change careers or advance your counseling career opportunities.
New Mexico State University has a bachelor of science in counseling and community psychology degree program that prepares students to work at the bachelor's level and prepares them for graduate programs.
New Mexico Highlands University offers five master's of arts concentrations in its counseling program. Choose the M.A. rehabilitation counseling concentration, the M.A. clinical rehabilitation counseling, the M.A. rehabilitation counseling with vocational evaluation specialization, the clinical mental health program, or the M.A. school counseling concentration.
Check School Accreditation
Students need to make sure that a program is accredited if they want to meet state educational requirements and sit for exams.
The New Mexico State University offers an M.A. clinical mental health program in a traditional face-to-face format. The program is accredited by the Council for Accreditation of Counseling and Related Educational Programs (CACREP). It has a high graduation rate, a 100 percent exam pass rate, and a 100 percent employment rate.
Online vs. Traditional Counseling Programs in New Mexico
Colleges and universities today often provide options for students to complete their programs. Many students complete their degrees in a traditional on-campus format. Many other students complete their coursework in an online format.
Western New Mexico University recognizes that students may need options. The university offers a three-year, 60-credit hour online Master of Arts in counseling program. Students choose between four specialties, which include school counseling, addiction counseling, clinical mental health counseling, and clinical rehabilitation counseling.
Becoming Licensed as a Counselor in New Mexico
The New Mexico Regulation & Licensing Department provides licensing services for counselors in New Mexico. It lists the rules and application procedures. The board provides links to exam boards for specific counselor specialties.
List of Counseling Degree Programs in New Mexico
Are you searching for a counseling degree program in New Mexico? Browse our comprehensive list of schools offering counseling programs, both online and on-campus, and follow the links to learn more about what each program has to offer.
Albuquerque, NM
Hobbs, NM
Las Cruces, NM
Portales, NM
Are we missing your school's program or need to update information listed? Please contact us so we can make the necessary changes.