Best Counseling Schools in North Dakota
North Dakota has many opportunities for students who wish to pursue a counseling certificate or counselor degree program. Students who realize that there are many things that go into finding a good counseling program in North Dakota are likely to find an ideal program.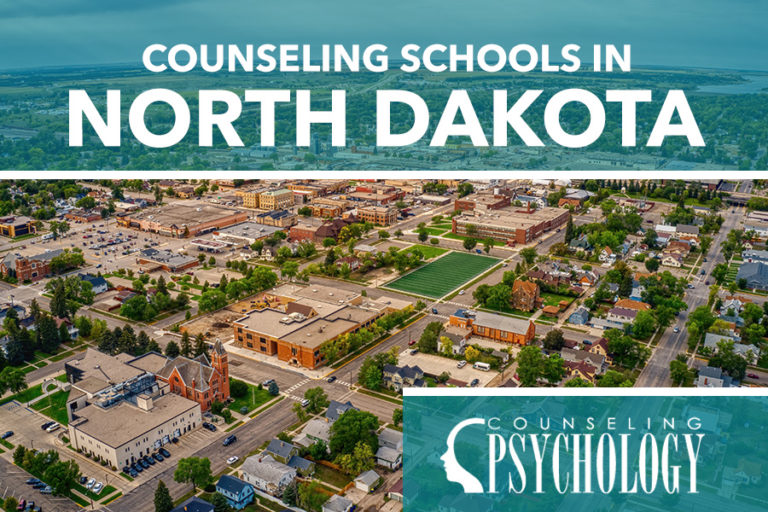 How to Find a Counseling Program in North Dakota
Some students enroll in an associate's degree program, while others begin their counselor education by opting to enroll in a bachelor's degree in counseling program. A master's degree is an ideal option for students seeking professional licensure in the state. The post-graduate certificate and doctoral programs offer counselors the opportunity to expand their knowledge and advance their professional careers.
Counseling Degree Pathways in North Dakota
The variety of counseling degree pathways that are available to students in North Dakota allows students to choose the pathway that is the right program for their professional and personal goals.
Choosing a Counseling Specialty
Students have many options when considering a counseling specialty. Choosing a counseling specialty is important so that students follow the best pathway that leads to their desired counselor qualifications.
The University of North Dakota offers a variety of specialties in its Master of Arts in counseling program to meet the diverse needs of students.
Choose from four full-time on-campus tracks, including community mental health counseling, addiction counseling, child adolescent counseling, or rehabilitation counseling.
Accreditation
Students are responsible for making sure that a counseling program qualifies them to sit for exams or to qualify for licensure in North Dakota if that is their goal. They are also responsible for checking whether a counseling program that they are interested in is an accredited program. This is typically done through CACREP (the Council for Accreditation of Counseling and Related Educational Programs).
The University of North Dakota lists the university accreditation, along with the accreditation bodies for all accredited programs. Look for accreditation information before enrolling in the program.
Online vs. Traditional Counseling Programs in North Dakota
Some students prefer to complete degree requirements on-campus, while others complete their counseling program in an online format. The University of North Dakota offers four part-time online Master of Arts in counseling tracks.
Choose the addiction counseling online program, the community mental health counseling program, the K-12 school counseling track, or the rehabilitation counseling online program.
Becoming Licensed as a Counselor in North Dakota
Some North Dakota universities offer counseling programs for students who already have their counselor licenses. North Dakota State University offers a Doctor of Philosophy (Ph.D.) in counselor education and supervision. Students complete 60 hours of study beyond their master's degree.
The North Dakota Department of Public Education has the responsibility of credentialing school counselors in North Dakota. The North Dakota Board of Counselor Examiners is responsible for the licensure of the licensed associate professional counselor and for the licensure of other counselors in North Dakota.
List of Counseling Degree Programs in North Dakota
Are you searching for a counseling degree program in North Dakota? Browse our comprehensive list of schools offering counseling programs, both online and on-campus, and follow the links to learn more about what each program has to offer.
Bismarck, ND
Bachelor's ProgramsMaster's ProgramsGraduate Certificate Programs
7500 University Dr
Bismarck
,
ND
58504
(701) 255-7500
Grand Forks, ND
264 Centennial Drive, Stop 8193
Grand Forks
,
ND
58202-8193
(800) 225-5863
Jamestown, ND
608 6th St NE
Jamestown
,
ND
58405
(701) 252-3467
Are we missing your school's program or need to update information listed? Please contact us so we can make the necessary changes.