Best Counseling Schools in South Dakota
South Dakota has many residents who struggle with poverty, isolation, limited career opportunities, and numerous other challenges. Counselors help residents work through the challenges that they're struggling with, helping them address both critical and long-term issues. If this sounds like work that you'd enjoy, here are some of the best counseling programs in South Dakota. Completing a program could prepare you well for work in the counseling field.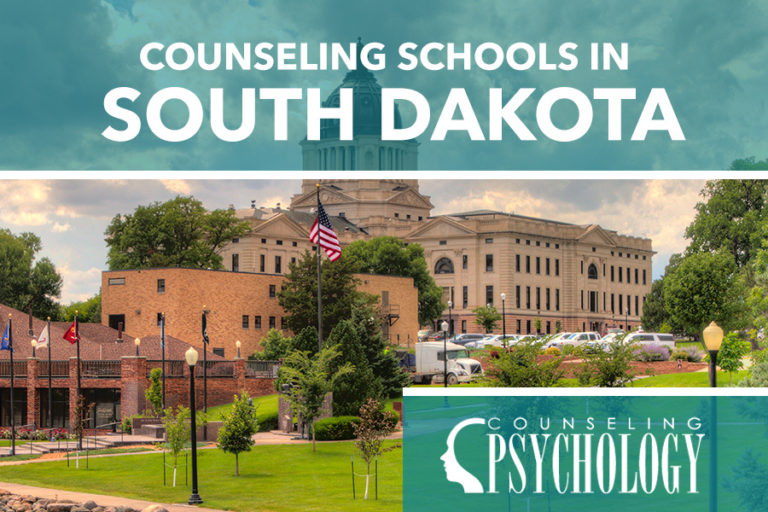 How to Find a Counseling Program in South Dakota
Counseling degree programs are available from colleges and universities throughout South Dakota. Which of the available programs is best for you depends on numerous factors. Consider the degree offered, cost of tuition, mode of instruction, and other details as you evaluate each specific program.
Counseling Degree Pathways in South Dakota
Counseling degrees are offered at both the undergraduate and graduate levels. An undergraduate program requires at least high school or a GED, while a graduate program requires that you first graduate college with a bachelor's degree. The various options are:
Associate Degree: Undergraduate degree lasting two years. Can prepare you for entry-level counseling work.
Bachelor's Degree: Undergraduate degree lasting four years. Can prepare you for entry- and mid-level work.
Master's Degree: Graduate degree lasting one to two years. Required to become a licensed professional counselor (LPC) in South Dakota.
Doctorate Degree: Graduate degree lasting three to six years. Can be research (Ph.D.) or clinical (Psy.D.) in nature, and qualifies you for the highest positions.
Graduate Certificate: Graduate certificate (not a degree) lasting six to twelve months. Can help you specialize after completing a bachelor's or master's.

Choose a Counseling Specialty
Counselors in South Dakota offer specialized and non-specialized services. Should you want to specialize, you can do so through a degree or certificate program. Some examples of specializations that are available include:
Clinical mental health counseling
Clinical rehabilitation counseling
Marriage, couple, and family counseling
Check School Accreditation
Only accredited counseling programs provide recognized degrees and certificates. A non-accredited school's program likely won't qualify for future academic work or licensure. Any program you consider should thus be accredited.
The three main accrediting bodies for counseling programs are the Council for the Accreditation of Counseling and Related Education Programs (CACREP), and the American Psychological Association (APA).
Both South Dakota State University and the University of South Dakota are accredited, as are other schools in the state.
Online vs. Traditional Counseling Programs in South Dakota
You can choose to enroll in an online or traditional counseling program or a hybrid one. Online programs tend to have lower tuition costs and more flexible class schedules, while traditional ones have in-person classes that afford plenty of discussions. Hybrid programs combine the advantages of each type.
Base your choice of online, traditional, or hybrid on your financial needs, other obligations, and desired experience.
Becoming a Licensed Counselor in South Dakota
To become a licensed professional counselor in South Dakota, you'll have to complete an accredited master's degree in counseling or something similar. The program must include a 100-hour practicum, and a 600-hour internship.
After graduating with a master's degree, you'll then have to complete 2,000 hours of supervised counseling work, pass a licensure exam, and pay a licensing fee.
Your license will then have to be renewed every odd-numbered year (e.g. 2023, 2025, 2027). Renewal requires paying a fee, and completing 40 hours of continuing education.
List of Counseling Degree Programs in South Dakota
Are you searching for a counseling degree program in South Dakota? Browse our comprehensive list of schools offering counseling programs, both online and on-campus, and follow the links to learn more about what each program has to offer.
Brookings, SD
1004 Campanile Ave
Brookings
,
SD
57007-1898
(800) 952-3541
Sioux Falls, SD
2001 S Summit Ave
Sioux Falls
,
SD
57197-0001
(605) 274-5516
Vermillion, SD
Graduate Certificate ProgramsMaster's Programs
414 E Clark St
Vermillion
,
SD
57069-2390
(605) 658-6200
Are we missing your school's program or need to update information listed? Please contact us so we can make the necessary changes.