Best Counseling Schools in Vermont
Counseling can be a rewarding career that's both personally fulfilling and well-paying. If you're interested in this field of work, one of the best counseling programs in Vermont could prepare you well for your career.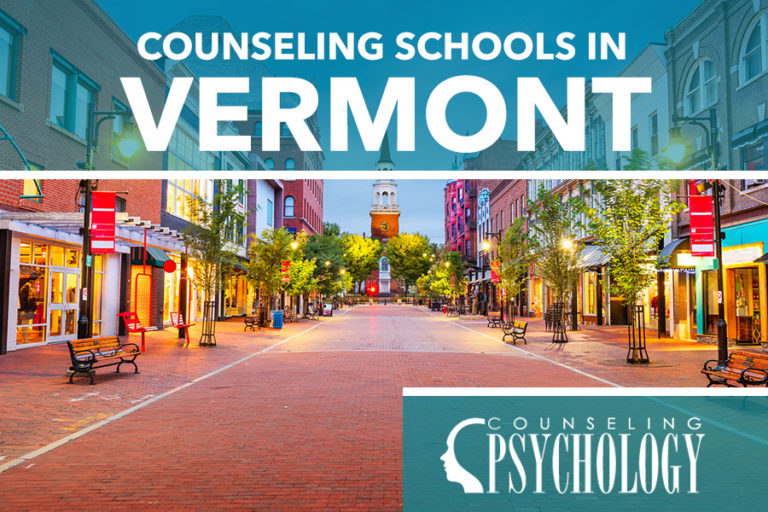 How to Find a Counseling Program in Vermont
Vermont has several colleges and universities that offer counseling degree programs. No one program is right for everyone. The program that you ultimately select should match your financial needs, scheduling news, current qualifications, and future aspirations. Whatever your situation and goals are, you'll likely find a few potential programs.
Counseling Degree Pathways in Vermont
Counseling degrees are offered through both undergraduate and graduate programs. Depending on your credentials and goals, you might choose any of the following degrees:
Associate Degree – Two-year program that prepares graduates for entry positions
Bachelor's Degree – Four-year program that prepares graduates for non-licensed work and master's programs
Master's Degree – One to two-year program that prepares graduates for licensure
Doctorate Degree – Three to six-year research (Ph.D.) or clinical (Psy.D.) program that prepares graduates for advanced work
Graduate Certificate – Six to twelve-month program that helps graduates specialize in a particular type of counseling
You'll need a high school diploma (or GED) to enroll in an associate or bachelor's counseling program. Master's, doctorate and graduate certificate counseling programs require that you already have a bachelor's degree.
Choose a Counseling Specialty
Some counseling programs provide fairly general training, but clothes have specializations that students can choose from. Whether you specifically seek out a specialized program should depend on how advanced your degree program is, and what type of setting you ultimately want to work in. Should you want to specialize, options include:
Adult clinical mental health counseling
Youth and families clinical mental health counseling
Check School Accreditation
The vast majority of counseling degree programs in Vermont are accredited, but confirm that any program you apply to is fully accredited. Accreditation ensures that a program meets commonly accepted standards — and that the degree granted will be commonly accepted.
The most common accrediting body for counseling programs is the CACREP or the Council for the Accreditation of Counseling and Related Education Programs or the APA (the American Psychological Association).
Online vs. Traditional Counseling Programs in Vermont
Vermont schools offer counseling programs in both online and traditional (classroom) formats. Most online programs have greater flexibility and lower tuition, and they also don't require you to get to class when there's snow. Traditional programs have more opportunities for conversations with classmates and faculty, and possibly also more opportunities for internships. Choose whichever format best meets your needs and preferences.
Becoming Licensed as a Counselor in Vermont
To work as a licensed professional counselor (LPC), you must first go through the licensure process. This entails earning a master's degree or higher, completing a 700-hour internship, completing another 3,000 hours of supervised counseling work, passing an exam, and finally paying a fee.
(Vermont's internship requirement is 100 hours longer than most other states' requirements, and some out-of-state programs' internships may be short of Vermont's required 700 hours. Programs in the state generally have 700-hour internships for their students.)
Once licensed, you'll have to go through a renewal process by January 31st of every odd year (e.g. 2023, 2025, 2027). Renewing requires 40 continuing education hours.
List of Counseling Degree Programs in Vermont
Are you searching for a counseling degree program in Vermont? Browse our comprehensive list of schools offering counseling programs, both online and on-campus, and follow the links to learn more about what each program has to offer.
Burlington, VT
85 S Prospect St
Burlington
,
VT
05405-0160
(802) 656-3131
Johnson, VT
337 College Hill
Johnson
,
VT
05656-9464
(802) 635-2356
Are we missing your school's program or need to update information listed? Please contact us so we can make the necessary changes.