Best Counseling Schools in Virginia
Virginia has many excellent colleges and universities, and a good number of these schools offer counseling degrees. If you're thinking of going to school for counseling, here are some of the best counseling programs in Virginia.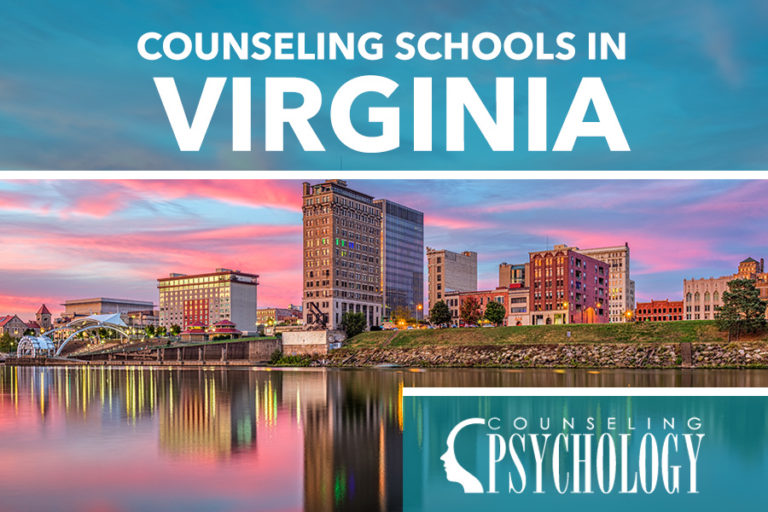 How to Find a Counseling Program in Virginia
With multiple schools offering counseling programs in Virginia, you'll find an assortment of degree options. As you evaluate the various options, take into account each program's tuition, schedule, duration, degree, instruction mode, specialization tracks, and other factors. Whichever program you select should be well-matched to your personal needs and goals.
Counseling Degree Pathways in Virginia
Counseling programs range in length from six months to six years (or longer). Programs also award different degrees. The different degrees are:
Associate Degree Programs: Associate programs are typically two-year programs that prepare students for entry-level positions. Applicants must have a high school diploma (alternatively a GED).
Bachelor's Degree Programs: Bachelor's programs are typically four-year programs that prepare students for entry-level positions, promotions as students gain experience, and master's degree programs. Applicants must have a high school diploma (GED).
Master's Degree Programs: Master's programs are typically one to two-year programs that prepare students for licensure. Applicants must have a bachelor's degree.
Doctorate Degree Programs: Doctorate programs are often three to six-year programs that prepare students for advanced clinical work (Psy.D. degree) or research (Ph.D. degree). Applicants must have a bachelor's or master's degree, depending on how competitive a particular program is.
Graduate Certificate Programs: Certificate programs are six to twelve-month programs that help students specialize in specific types of counseling. Applicants must have a bachelor's degree.
Choose the degree program that you're currently qualified for, and that'll help you achieve the next academic level or career goal.
Choose a Counseling Specialty
When working as a counselor, you can provide general counseling services or specialized services. Should you wish to specialize, there are many options including (but not limited to):
Clinical mental health counseling
Student affairs college counseling
Check School Accreditation
To ensure that your counseling degree will be accepted by other schools, the state, and future employers, make sure that you attend an accredited program.
The CACREP (the Council for the Accreditation of Counseling and Related Education Programs) is the main accreditor of counseling programs in Virginia. The APA (the American Psychological Association) and regional organizations also provide accreditation.
Online vs. Traditional Counseling Programs in Virginia
You can attend an online counseling program or a classroom-based counseling program. Students who choose online programs often do so for the programs' increased flexibility and lower tuition. Students who attend classroom-based programs usually want the in-person discussion that classes provide.
Becoming Licensed as a Counselor in Virginia
To become a licensed professional counselor (LPC) in Virginia, you must have an accredited master's degree in counseling or something similar. The degree has to be at least 60 semester hours long, and it must include at least 600 internship hours (also a practicum).
After graduating, you then have to complete 3,400 hours of supervision, take a licensing exam, and pay a fee. Once all of this is done, you can then work as an LCP in Virginia.
To maintain your Virginia LPC license, you have to complete 20 continuing education units (CEUs) each year. The units and a renewal application are due by June 30th of each year.
List of Counseling Degree Programs in Virginia
Are you searching for a counseling degree program in Virginia? Browse our comprehensive list of schools offering counseling programs, both online and on-campus, and follow the links to learn more about what each program has to offer.
Blacksburg, VA
Charlottesville, VA
Farmville, VA
Hampton, VA
Harrisonburg, VA
Lynchburg, VA
Norfolk, VA
Petersburg, VA
Radford, VA
Virginia Beach, VA
Williamsburg, VA
Are we missing your school's program or need to update information listed? Please contact us so we can make the necessary changes.