Best Ph.D. and PsyD Degrees in School Psychology
If you're interested in making a difference in the lives of kids, earning your doctorate in school psychology can be a fantastic way to achieve your career goals. As a school psychologist, you'll get to work with students, teachers, and families, helping everyone learn the best way they can support your client.
You'll likely serve as a jack of all trades when it comes to mental health issues with young people, addressing everything from depression and anxiety to learning differences. You may work in a single school, or you may work with an entire district, switching between schools throughout the week depending on district needs.
You may also have the opportunity to teach sessions in classrooms, helping students with their social-emotional learning goals. Here, we'll explore what you can expect to learn from an online school psychology doctorate program, as well as the standard admission requirements for earning your doctorate in school psychology and becoming a school psychologist.
Best Doctorate Degree in School Psychology Programs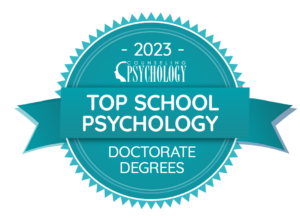 Counselingpsychology.org provides rankings of Doctorate Degrees in School Psychology based off of a carefully-crafted methodology. This methodology includes criteria such as completion rates, affordability and cost of living, the competitiveness of the institution, the diversity of programs offered, and the years of experience of the faculty. You can find more information on their methodology here. With this information, you can make an informed decision when selecting a doctorate program in school psychology.
What Will I Learn in an Online School Psychology Doctorate Program?
Earning your Ph.D. or Psy.D. in school psychology online qualifies you for a number of jobs working with young minds, from serving school districts develop effective social-emotional learning curricula to helping students develop ways to reduce test anxiety. Typically, it takes about eight years to complete a doctorate program in school psychology online. You may need to go through a residency or internship program, which may add to the amount of time it takes for you to complete your doctorate.
As you work through your school psychology doctorate program, you'll cover many topics, including:
Child and adolescent psychopathology: In your psychopathology courses, you'll learn about mental health issues that often affect children and adolescents, how to identify these conditions, and how to work with students and their families to create effective treatment plans that allow each of your clients to maximize their potential.
Academic assessment and intervention: As a school psychologist, you'll work to support students in the classroom. Often, this involves observing students working with their teachers and their peers and identifying issues that are holding them back. After completing assessments, you'll work with students, teachers, and administrators to develop effective interventions that boost student achievement.
Cognitive assessment: In your doctoral program, you'll learn how to assess students' cognitive abilities, allowing teachers to get the information they need to craft appropriate curricula.
Research design and methods: As a school psychologist, you'll have the unique opportunity to contribute to research in the field. In your research design and methods class, you'll get the chance to explore how to create an effective study, and you'll learn how to unpack complicated academic studies into actionable steps that you can put into practice with your students.
Admissions Requirements for a Doctorate in School Psychology
In order to gain admission to an online school psychology doctorate program, you'll need to submit both your undergraduate and graduate transcripts. If you don't have a master's degree, you may be able to submit a combination of work experience and your bachelor's transcripts. In some cases, you may need to have a minimum GPA in order to be considered for admission to a program. Your program may require that your undergraduate degree be in a related field, such as education, psychology, or sociology.
Many programs also require that you submit a statement of purpose explaining what you'd like to do with your career. You may also need to include letters of recommendation from your professors or work supervisors.
List of School Psychology Doctorate Degree Programs
Find an online or campus-based doctorate program in school psychology today – our state-by-state listings make it easy to find a great program near you.
Jump to Your State Listings
Arizona
Arkansas
California
Colorado
Connecticut
Florida
Georgia
Illinois
Indiana
Iowa
Kansas
Maine
Minnesota
Mississippi
Montana
Nebraska
Nevada
New Jersey
New Mexico
New York
North Carolina
Ohio
Oregon
Pennsylvania
South Carolina
South Dakota
Tennessee
Texas
Utah
Are we missing your school's program or need to update information listed? Please contact us so we can make the necessary changes.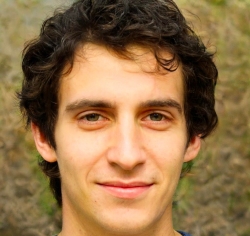 Latest posts by Joel Gill
(see all)