Best Psychology Schools in Alaska
Are you looking to study psychology in Alaska? In this guide, we explain what you need to do to find a great psychology program, whether you're a prospective new undergraduate or returning to school for a relevant graduate program.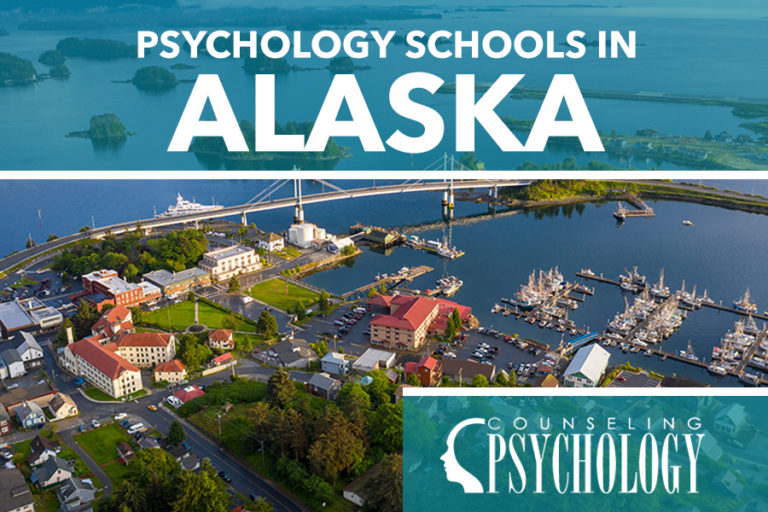 How to Find a Psychology Program in Alaska
Studying psychology in Alaska requires careful consideration of plenty of variables beyond the program's comprising elements, location, and cost of tuition. When considering a psychology degree program, you should also examine the following.
Psychology Degree Pathways in Alaska
If you're a prospective new psychology undergraduate in Alaska, you have two degree types to choose from. You may pursue a two-year associate's degree or a four-year bachelor's degree.
If you're researching your graduate options, you have several choices. Your first choice is a graduate certificate – a program designed to add niche skills or specific technology. While this option is great for the student who has completed a bachelor's degree and wants to advance their skills, it's not a degree program in and of itself and results in a specialty certificate. The second option is a master's degree in psychology. These come in two types – the master of arts (for clinical practice) and the master of science (for research and policy).
Doctorates are the highest qualification you can take (terminal degrees). There are two types – the Ph.D. (for research careers) and the PsyD (aimed at clinical psychology).
Choose a Psychology Specialty
Undergraduate programs are rarely available with concentrations – students typically enroll in a general psychology program. Graduate programs are a different matter, though – this is where you have your first chance to direct your studies into a psychology niche.
Alaska Pacific University is one of several schools in Alaska offering undergraduate and graduate programs. Among them are a BA (bachelor of arts), an MS (master of science), and a PsyD (psychology doctorate) in counseling psychology.
The University of Alaska Anchorage offers a bachelor of arts and a bachelor of science, with different courses available. They also offer graduate certificates, an MS in clinical psychology, and a Ph.D. in clinical-community psychology.
Accreditation
Students should always ensure that any program they consider is accredited by a regional or national board.
Accreditation means a program attains minimum standards of teaching and research quality
Accreditation is mandatory for programs that you intend to study to work in clinical practice
Non-clinical roles may also require that your psychology degree is accredited, especially in government jobs
Professional organizations usually expect accredited programs for membership
The national body responsible for accreditation is the American Psychological Association (APA). Regionally, Alaska higher education is accredited by the Northwest Commission on Colleges and Universities.
Online vs. Traditional Psychology Programs in Alaska
There are advantages and disadvantages to traditional in-person campus study and online study.
Online, you have plenty of flexibility – typically the ability to study courses at your own pace and time. However, where synchronous study plays a part, you will still need to attend virtual classes at set times. The disadvantage is that you don't tend to have access to the more social elements of school.
With campus study, classes are structured. Therefore, they are not suited for people to fit school around work or family commitments during the day.
Becoming Licensed as a Psychologist in Alaska
Licensing in Alaska has two tiers. The first option is for master's graduates. You can apply for a psychological associate license. Accreditation for your program is mandatory. You may practice, but you must identify that you are a psychological associate, not a fully practicing psychologist. School psychologists need only a master's degree in Alaska.
For full-practice psychology, you need a doctorate. Temporary licenses are issued during which time you must practice for one year under supervision. Then you must take the full licensing exam (EPPP). Once passed there is one more exam – Alaska State Law and Ethics Examination.
Licensing by credentials (endorsement) is also permissible in Alaska.
List of Psychology Degree Programs in Alaska
Are you looking for a psychology degree program in Alaska? Browse our list of psychology programs offering both online and on-campus instruction. Follow the links to learn more about what each school's psychology program offers.
Anchorage, AK
Bachelor's ProgramsMaster's Programs
4101 University Dr
Anchorage
,
AK
99508
(907) 561-1266
Bachelor's ProgramsGraduate Certificate ProgramsMaster's ProgramsPhD Programs
3211 Providence Drive
Anchorage
,
AK
99508
(907) 786-1800
Fairbanks, AK
1731 South Chandalar Drive
Fairbanks
,
AK
99775
(907) 474-7034
Are we missing your school's program or need to update information listed? Please contact us so we can make the necessary changes.