Best Psychology Schools in Arizona
Are you considering enrolling in a psychology degree program in Arizona? This guide is designed to assist you through the process, including what you need to get started - whether you're looking for an undergraduate program such as an associate's or bachelor's degree, or a graduate program in the state.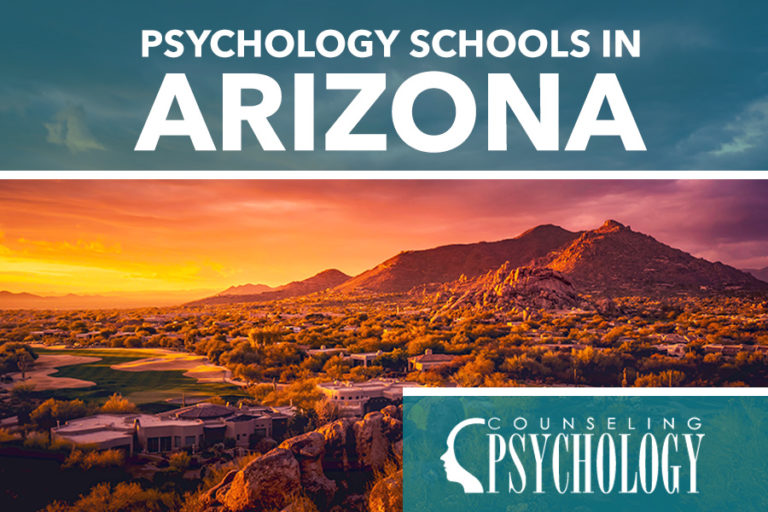 How to Find a Psychology Program in Arizona
Searching for the right psychology program for you across Arizona's colleges and universities involves considering a variety of factors. Cost is one consideration, but you should also consider the following.
Psychology Degree Pathways in Arizona
Which degree type do you need? If you're entering higher education for the first time, you need an associate's degree (a two-year program) or a bachelor's degree (four years) in psychology. If you have a bachelor's degree in another subject and wish to adapt it to psychology, you should look at either a master's degree (two or three years) or a graduate certificate (one year to eighteen months).
There are two types of doctorate degrees in psychology. The Ph.D. is for people who wish to enter research as a career, while the PsyD is suitable for clinical practice.
Choose a Psychology Specialty
Specialties typically do not exist until the graduate level – from grad certificate and upwards. Most undergraduate students will study general psychology. These are available at Northern Arizona University and Arizona State University – both offer undergraduate, graduate, and distance learning psychology programs.
The University of Arizona is the state's most prominent university and is rated highly for its medical research. Its graduate programs offer opportunities to specialize in clinical health psychology, clinical neuropsychology, psychophysiology, and intervention science. More information is available here.
Accreditation
What does it mean if a psychology program is accredited?
It is a mark of quality that teaching and research adheres to minimum standards
Your chances of employment in non-clinical roles are much higher
You can register with professional organizations once the program is complete
Accredited programs in Arizona are covered by the North Central Association of Colleges and Schools. Nationally, the American Psychological Association accredits programs.
Online vs. Traditional Psychology Programs in Arizona
There are benefits and drawbacks to both online and traditional campus study.
Online, you typically have the benefit of flexibility to study on the days and times that suit you, except where lectures and seminars are synchronous. The main drawback to online study is that you miss the social aspect of university life.
For campus study, you gain the social and other communal aspects of college and university life, including in-person contact. You will need to book classes and get to each class on time.
Becoming Licensed as a Psychologist in Arizona
To gain a license for clinical practice in psychology in Arizona, you first need to complete a fully accredited doctorate degree program.
You will need at least 3,000 hours of professional experience under a licensed professional – a minimum 1,500 hours must be internship work during your doctorate. The remaining 1,500 hours can be a combination of work experience, additional internships, or postdoctoral work (supervised).
Next, you must pass two Arizona psychology licensing exams. Each has a minimum pass score of 500.
Licensure by endorsement is also possible in Arizona, subject to the state's requirements.
List of Psychology Degree Programs in Arizona
Are you looking for a psychology degree program in Arizona? Browse our list of psychology programs offering both online and on-campus instruction. Follow the links to learn more about what each school's psychology program offers.
Flagstaff, AZ
Glendale, AZ
Phoenix, AZ
Prescott, AZ
Tempe, AZ
Tsaile, AZ
Tucson, AZ
Are we missing your school's program or need to update information listed? Please contact us so we can make the necessary changes.