Best Psychology Schools in Arkansas
Arkansas is a great place to begin or advance your psychology career. If you're currently searching for either an undergraduate or graduate program in psychology, our comprehensive information will help guide you through the most important decisions.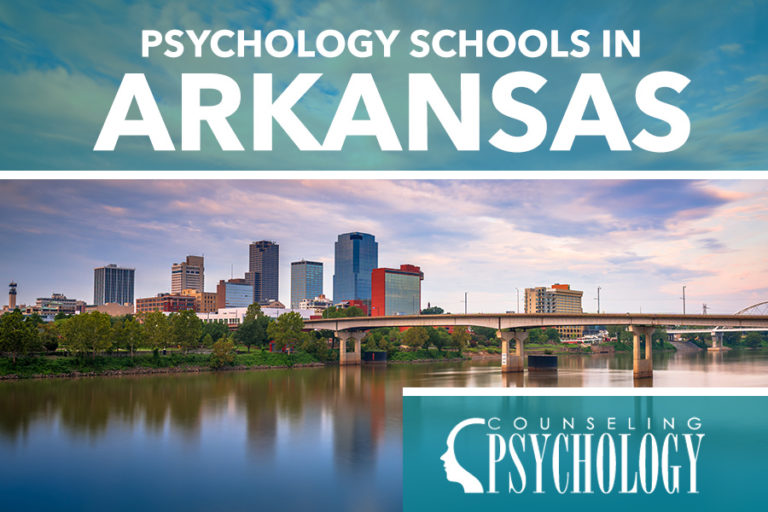 How to Find a Psychology Program in Arkansas
Choosing a psychology degree program in Arkansas requires a close examination of all elements that go into this important decision. The right degree program depends on your prior education and future goals. Read on to learn how to narrow down your options in Arkansas.
Psychology Degree Pathways in Arkansas
Undergraduate students in Arkansas may study either a two-year associate's degree at a community college, or a four-year bachelor's degree at a college or university – the bachelor of arts (for practice), and the bachelor of science (more research-based).
Graduate certificates are a useful add-on for bachelor's and master's degrees to train in a specific niche. Master's degrees are also in arts and sciences and tend to focus on specific areas of the discipline.
The highest type of qualification is the doctorate. In psychology, there are two types. The PsyD is for clinical practice, and the Ph.D. is more suited to research and policy.
Choose a Psychology Specialty
Specialties are usually not available at the undergraduate level, so most students will simply enroll in a general psychology major. Concentrations are typically options at the graduate certificate, master's, and doctorate levels.
Arkansas State University currently offers a BS in psychology, while the University of Arkansas offers both undergraduate and graduate programs. The latter includes master's degrees with specializations in social psychology, cognitive psychology, developmental psychology, and neuroscience, as well as Ph.D. options in Experimental Psychology and Clinical Psychology.
Accreditation
It's vital for any program you choose to study to be regionally accredited.
Accreditation is a mark of minimum teaching and education standards
It is mandatory for further study required for work in medical psychology
Most non-clinical roles will also seek to understand if your qualification is accredited
Many professional societies and organizations will only permit membership if you have the proper background which always needs accreditation
The American Psychological Association (APA) is the national accreditation body for psychology programs. The regional body responsible for schools in Arkansas is the North Central Association on Colleges and Schools.
Online vs. Traditional Psychology Programs in Arkansas
Both traditional on-campus and fully online psychology programs in Arkansas have positives and negatives.
Most students pursue an online program for the flexibility to study when, where, and how you like. However, you don't get the full benefit of the social aspect of college life. Online classes can be synchronous (set times for virtual attendance) or asynchronous (recorded material to access when you like).
Campus study has the opposite issue. Classes are always structured and timed, and you gain the benefit of group work and social interaction. However, they are not suited to people who work full-time or who have other external commitments.
Becoming Licensed as a Psychologist in Arkansas
In Arkansas, you must have a doctorate in psychology including a minimum 12 months of internship. This internship must either be APA or state accredited. Once this is complete, the next step is to seek relevant employment. You will need 12 months of full-time supervised work experience. This is when you need to apply to the Arkansas Psychology Board to begin the licensing process. Only when the full two years are complete (internship and work experience) will you be permitted to apply for the EPPP licensing examination. After that, an oral examination is required.
Licensing by credentials (endorsement) is permitted for psychologists with five years of experience.
List of Psychology Degree Programs in Arkansas
Are you looking for a psychology degree program in Arkansas? Browse our list of psychology programs offering both online and on-campus instruction. Follow the links to learn more about what each school's psychology program offers.
Batesville, AR
Conway, AR
Fayetteville, AR
Fort Smith, AR
Jonesboro, AR
Little Rock, AR
Russellville, AR
Siloam Springs, AR
Are we missing your school's program or need to update information listed? Please contact us so we can make the necessary changes.