Best Psychology Schools in Connecticut
If you're considering a psychology degree program in Connecticut, you should know about the various options available to you. Which degree pathway you need will depend on your current education level, among other things. The state offers both undergraduate and graduate programs in psychology.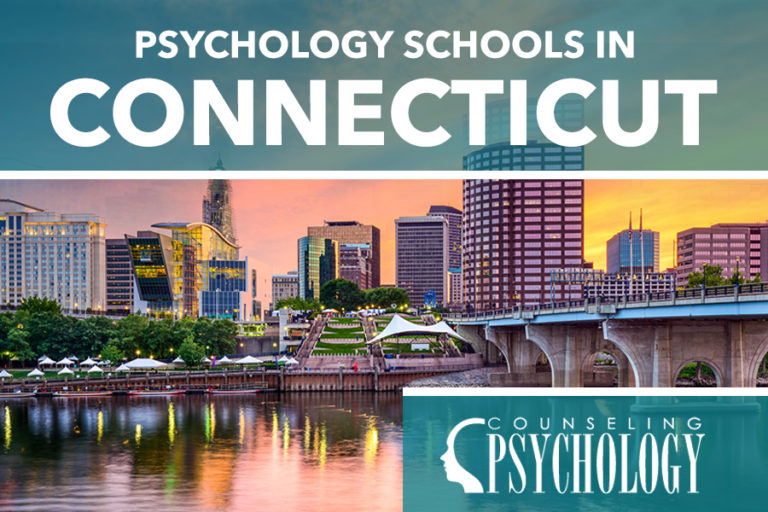 How to Find a Psychology Program in Connecticut
Your decision to enroll in a psychology degree program requires long and careful consideration. The type of program and cost are important factors to think about, but there are others to consider as well.
Psychology Degree Pathways in Connecticut
There are several undergraduate degrees that prospective psychology students can pursue. The first is a two-year associate's degree. The second is a four-year bachelor's degree. It's important to note that bachelor's degrees come in two choices – the BA (bachelor of arts – for clinical practice) or a BS (bachelor of science – for research, teaching, and policy). Some are available as accelerated programs.
From there you may take a graduate certificate to train in a specific niche or convert a related degree to psychology. The graduate certificate is only available to those who hold a bachelor's or master's degree.
Master's degrees in psychology come in two choices – the master of science (MS) and master of arts (MA).
Beyond these degree choices, the terminal degree in psychology is the doctorate. Again, there are two choices: the Ph.D., which is designed for a research career, and the PsyD, which is for clinicians.
Choose a Psychology Specialty
All undergraduate degrees are standard psychology programs. It is not until you get to the graduate program level that you may choose a psychology niche.
Southern Connecticut University offers several bachelor of arts degrees with several concentrations – for general psychology and mental health, including an accelerated pathway.
The University of Hartford offers options across the board – a Bachelor of Arts in Psychology, a Master of Arts in several psychology subjects, and doctorates (both PsyD and Ph.D.). They also offer an accelerated BA to MS program.
Accreditation
It's important that you look for accredited psychology degree programs. There are several reasons why:
It means they have been assessed for teaching and research quality, ensuring students get a minimum level of education
With a non-accredited program, you will not be permitted to practice as a clinical psychologist
Even some non-medical psychology careers will look for accreditation
Professional associations and organizations usually require accredited qualifications for membership
Nationally, American Psychological Association (APA) accredits programs. Regionally, the New England Association of Schools and Colleges accredits programs.
Online vs. Traditional Psychology Programs in Connecticut
The two options of offline campus study and online distance learning both have their plus points and drawbacks.
Most students still opt for offline (campus) study to earn undergraduate and graduate programs. They have access to all resources and faculty and take classes in a communal setting. This structure can be a drawback for those who need flexibility.
Online study exists in a virtual environment and has grown in popularity. In most online psychology programs, students can complete classes at their own pace. However, there may be instances of synchronous classes where groups meet for online remote classes.
Becoming Licensed as a Psychologist in Connecticut
Only doctorate graduates (both Ph.D. and PsyD) may apply for a practice license in Connecticut.
Following this, you are required to complete 12 months of supervised work. This can be done as one consecutive year or over two years. Supervision must be under the direction of a licensed psychologist. It is also necessary that your experience is in the intended eventual employment area.
Next, you must take the Examination for Professional Practice of Psychology (EPPP) with a minimum 500 score. Only after this can you take the Connecticut Jurisprudence exam and pass it to be eligible for a license.
List of Psychology Degree Programs in Connecticut
Are you looking for a psychology degree program in Connecticut? Browse our list of psychology programs offering both online and on-campus instruction. Follow the links to learn more about what each school's psychology program offers.
Danbury, CT
Fairfield, CT
New Haven, CT
Storrs, CT
Waterbury, CT
West Haven, CT
Willimantic, CT
Are we missing your school's program or need to update information listed? Please contact us so we can make the necessary changes.