Best Psychology Schools in Delaware
Delaware is a great place to pursue psychology, whether you're a prospective undergraduate student or already have qualifications that you wish to upgrade with a graduate program. This guide provides a helpful summary of your options in the state so you can make the right choice for your new career.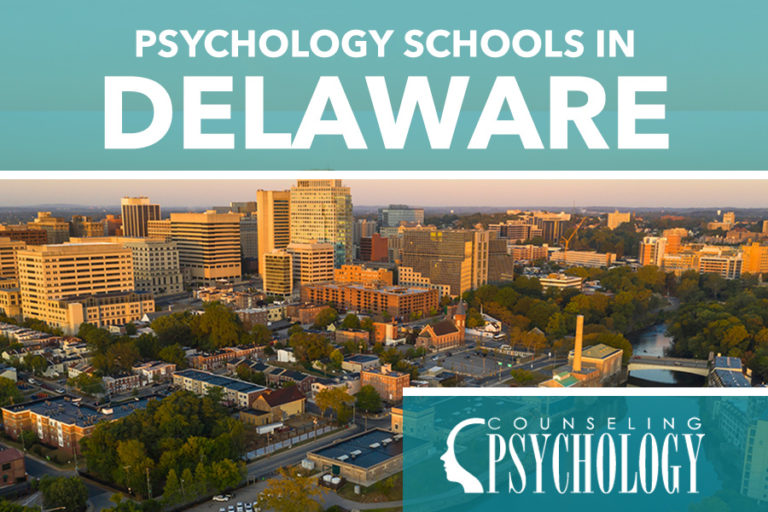 How to Find a Psychology Program in Delaware
What factors should you consider in your psychology degree program search in Delaware? There are some considerations you may not have thought about – below you will find several tips to make choosing the right psychology program a breeze.
Psychology Degree Pathways in Delaware
New undergraduates have two options to study psychology. First, you can pursue the cheaper and shorter associate's degree program. Secondly, there is the four-year bachelor's degree which you'll need to progress to graduate programs. Psychology bachelor's degrees are available as arts degrees (BA), and science degrees (BS).
For graduate programs, you may opt for a graduate certificate – a short program designed for those who hold a bachelor's or master's degree that allows students to earn a certificate in a niche psychology area. Like bachelor's degrees, master's programs in psychology also come in arts (MA) or science (MS) options.
The terminal degree in any discipline is a doctorate. For psychology, you have the choice of a Ph.D. which is for research and policy-making careers, or the PsyD, a program designed for clinicians.
Choose a Psychology Specialty
In most cases, undergraduate programs are typically only available in general psychology, though there are exceptions. At the graduate program level, that situation is quite different. While straight psychology is still available, this is where you'll be able to choose a psychology concentration if you wish.
Delaware State University is the state's only public university. It is therefore the most prominent university offering psychology in the small state, with both an associate's degree option and a bachelor of science. Graduate studies include an MA in Counseling Psychology and several Ph.D. programs.
Accreditation
Why is it important that students seek accredited psychology programs rather than non-accredited?
Accredited programs are evaluated by regulatory bodies for minimum standards for teaching
Clinical practice requires that all your programs are accredited to ensure robust training
Some psychology careers outside of medical practice may also require minimum standards for your training
Some professional organizations may grant membership conditional on accreditation
Accreditation bodies are the American Psychological Association (APA) nationally, and the Middle States Association of Colleges and Schools regionally.
Online vs. Traditional Psychology Programs in Delaware
There are currently two options for attending school to acquire a degree. The first and most popular is the offline campus study option. The other is online – working on your degree from home at your own pace.
Campus students attend college, go to scheduled classes and spend much of their time on campus during regular hours. The advantage is structure, but it's not suited to those who need flexible scheduling.
That flexibility is available through online study, an increasingly popular option amongst those who are employed or have family commitments. The drawback is you miss out on the social element of campus study. However, some online psychology programs offer synchronous learning where you take scheduled classes as a group.
Becoming Licensed as a Psychologist in Delaware
Doctorates are mandatory for practicing psychologists in Delaware. Both Ph.D. and PsyD psychology grads are eligible. However, you may be eligible if your doctorate is in something other than psychology so long as it is closely related to the discipline, such as counseling.
The next step is to ensure you have 1500 hours of supervised work experience in psychology practice in the same field in which you intend to work. This must be evaluated through a supervised work verification form. At this point, you may begin applying for your license.
The state will then review your application and schedule you for the Examination for Professional Practice in Psychology (EPPP). Pass, and you will receive your Delaware Psychologist License.
List of Psychology Degree Programs in Delaware
Are you looking for a psychology degree program in Delaware? Browse our list of psychology programs offering both online and on-campus instruction. Follow the links to learn more about what each school's psychology program offers.