Best Psychology Schools in Georgia
Are you a prospective psychology student in Georgia? You probably already understand there is a lot to think about. This article presents the information you need to help you get started on that search and launch into a great new psychology career, whether it's an undergraduate or graduate degree you wish to pursue in the state.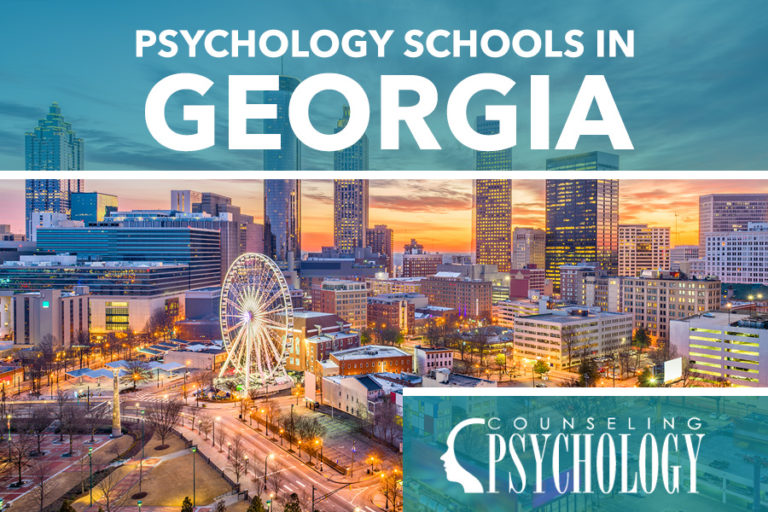 How to Find a Psychology Program in Georgia
A search for psychology degree programs in Georgia should consider many things. This is a big decision, and aside from ensuring you choose the right college, it's important to consider your pathway and career options.
Psychology Degree Pathways in Georgia
First, consider which degree you need. Those seeking their first psychology degree have two choices: the two-year associate's degree, and the four-year bachelor's degree. If you intend to pursue a master's degree, a bachelor's degree is necessary.
From there, you may pursue a graduate certificate – a short program (18 months on average) that allows students to enter a psychology specialty. Alternatively, there are psychology master's degrees (MA or MS).
At the doctorate level, you have two options – the Ph.D. for research careers and the PsyD for prospective psychology clinicians.
Choose a Psychology Specialty
Most psychology undergraduate degrees don't offer a specialization – though there are rare exceptions.
That changes with graduate degree programs, though. You may pursue a general psychology master's (MA or MS) degree, or you may enter a specialty where available. The Georgia Institute of Technology is one of several educational establishments in the state that offers psychology bachelor's degrees (a BS in this case).
The University of West Georgia offers a comprehensive choice of undergraduate and graduate options including a BS and MA in psychology, and a Ph.D. in Psychology: Consciousness and Society.
Accreditation
There are many reasons why you should only pursue an accredited program in psychology:
If a program is accredited, it means it adheres to minimum standards of teaching quality
Without accredited study, you won't be able to practice as a clinician
Some non-medical roles may also expect applicants to qualify with accredited programs
Professional associations may make accreditation a condition of membership
In Georgia, the Southern Association of Colleges and Schools accredits programs. Nationally, the American Psychological Association (APA) is the responsible body.
The Association of State and Provincial Psychology Boards (ASPPB) accredits doctorates in industrial and occupational psychology.
Online vs. Traditional Psychology Programs in Georgia
In considering any program, you have two options on how to pursue it. The first is online study (distance learning). The other is the traditional on-campus route.
Online study is great for students who need flexibility – parents and full-time employees, for example. You may have asynchronous classes (to study when you like) or synchronous (where you attend virtual classes in groups). The major drawback is missing the social college element. Also, where college resources aren't as adequate, online can be a drawback.
Campus study's main drawback is the set times for classes which can be problematic for students with disabilities and illnesses that limit their availability, parents, caregivers, and those juggling work and study.
Becoming Licensed as a Psychologist in Georgia
If you want to practice as a licensed psychologist in Georgia, you need an accredited doctorate unless your specialism is in industrial or occupational psychology in which case, your program must be accredited by ASPPB.
You will need to complete one year of internship under a qualified psychologist in your area. After which you need 1,500 hours of post-doctoral supervised work – over no more than two years.
Next, you must take the EPPP, after which an oral exam is required which also contains an interview element. Finally, you will send a case study before the granting of the license.
List of Psychology Degree Programs in Georgia
Are you looking for a psychology degree program in Georgia? Browse our list of psychology programs offering both online and on-campus instruction. Follow the links to learn more about what each school's psychology program offers.
Americus, GA
Athens, GA
Atlanta, GA
Augusta, GA
Carrollton, GA
Dahlonega, GA
Kennesaw, GA
Lawrenceville, GA
Milledgeville, GA
Morrow, GA
Statesboro, GA
Valdosta, GA
Are we missing your school's program or need to update information listed? Please contact us so we can make the necessary changes.