Best Psychology Schools in Hawaii
Hawaii is a great place to obtain a psychology degree. If you're currently considering your options for either undergraduate or graduate psychology programs in the state, you will have a lot to consider. In this piece, we provide the most important information to help you get started - no matter your current education level.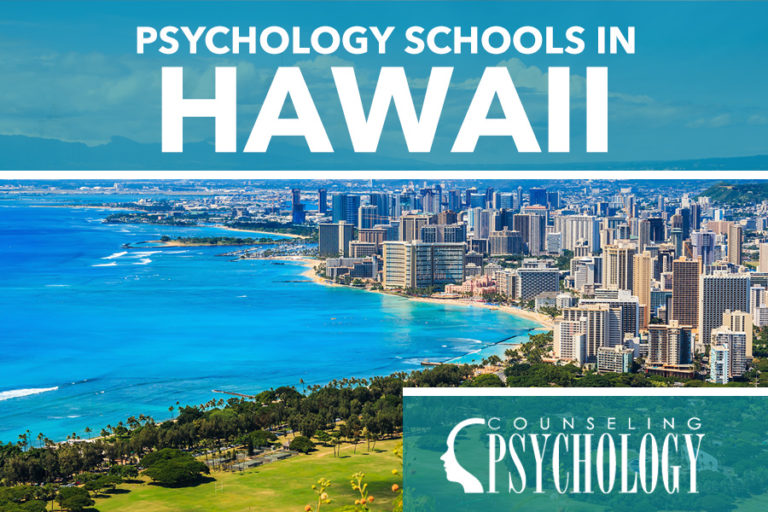 How to Find a Psychology Program in Hawaii
Searching for psychology educational programs in Hawaii requires long and careful consideration. Choosing the right college is important, but so is a careful comparison of those programs for your intended career outcome.
Psychology Degree Pathways in Hawaii
Which degree do you need? As an undergraduate, you have two choices: there is the two-year associate's degree, and the four-year bachelor's. If you intend to pursue further study, you will need the latter option.
Graduate certificates are shorter courses that educate you in a niche area of psychology. These are only open to students who already hold a bachelor's or master's degree, and result in a certificate and not a stand-alone degree. Psychology master's degrees are also an option (MA or MS).
In psychology, there are two types of doctorate degree choices – the Ph.D. and the PsyD.
Choose a Psychology Specialty
Typically, psychology undergraduate programs aren't in a specialist area, though there are some instances. This changes with master's degrees (MA or MS).
The University of Hawaii at Hilo is one of the best places in the state to study psychology, offering a BA in Psychology, an MS in Clinical Psychopharmacology, and an MA in Counseling Psychology. Only their Manoa campus offers doctorates (PhD) in clinical psychology.
Hawaii Pacific University offers one of two of the state's PsyD program choices. They also offer bachelor's degrees, undergraduate certificates, and other graduate degrees.
Accreditation
Why should you choose an accredited rather than a non-accredited psychology degree program?
Accredited programs have been evaluated and checked for minimum teaching standards
With a non-accredited program, you will not be permitted to work as a clinician
Non-clinical roles may also be as stringent as their medical counterparts in insisting on accreditation
Some professional associations and organizations may only permit membership to those with accredited qualifications
The Western Association of Schools and Colleges accredits programs for Hawaii while the American Psychological Association (APA) is the national authorizing body.
Online vs. Traditional Psychology Programs in Hawaii
With web technology expanding, students have flexibility and choice more than ever before. You may pursue both campus (the traditional method) or online where available.
Online study is aimed at students who need flexible scheduling, such as working parents or those with other responsibilities during the day. Asynchronous classes allow you to go at your own pace while synchronous classes mimic the structure of campus-based programs. You will lack the social element of college life, though.
This is of course an advantage to offline study, but in campus-based programs, you will have to adhere to a highly structured day and semester, which is not suitable for everyone. Night classes are far less available.
You can also look for hybrid psychology programs which mix the best of online and offline study.
Becoming Licensed as a Psychologist in Hawaii
Only doctoral graduates are permitted to practice as clinical psychologists in Hawaii. This program – and all other degrees that led to it – must be accredited by the bodies discussed above.
You will then need to complete 1,900 hours of supervised work experience over 12 months. At this point, you are required to submit your application for a license.
If all is well, the Hawaii Board of Psychology will invite you to sit the Examination for Professional Practice in Psychology (EPPP). Assuming you pass this exam, you will then be eligible for practice in Hawaii.
List of Psychology Degree Programs in Hawaii
Are you looking for a psychology degree program in Hawaii? Browse our list of psychology programs offering both online and on-campus instruction. Follow the links to learn more about what each school's psychology program offers.
Hilo, HI
Master's ProgramsBachelor's Programs
200 W Kawili St
Hilo
,
HI
96720-4091
(808) 932-7446
Honolulu, HI
Master's ProgramsBachelor's ProgramsPsyD Programs
3140 Waialae Avenue
Honolulu
,
HI
96816-1578
(808) 735-4711
PsyD ProgramsBachelor's Programs
1 Aloha Tower Drive
Honolulu
,
HI
96813
(808) 544-0200
Bachelor's ProgramsMaster's ProgramsPhD Programs
2500 Campus Road
Honolulu
,
HI
96822-2217
(808) 956-8111
Laie, HI
Are we missing your school's program or need to update information listed? Please contact us so we can make the necessary changes.