Best Psychology Schools in Indiana
If you're considering a psychology career in Indiana, it's important to understand both your options and what you need to do to get there. Whether you are looking into an undergraduate or graduate psychology degree in the state, this guide has the information to get you started.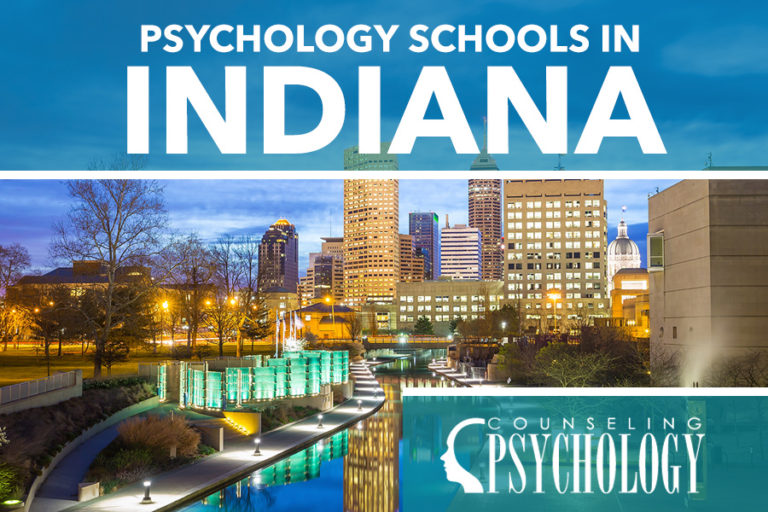 How to Find a Psychology Program in Indiana
There are many factors to consider in your Indiana psychology program search. There is location and cost, of course. But no two psychology programs are the same – each university presents different types of degrees; other considerations come into play, too.
Psychology Degree Pathways in Indiana
Prospective psychology undergraduates in Indiana have two degree type choices: the associate's degree (two years) and the bachelor's degree (four-year). Only with a bachelor's degree can you pursue further study.
Your first choice as a graduate student is the graduate certificate. This is a short program imparting niche skills in a specialty area of psychology, designed for those who have completed a minimum of a bachelor's degree. Most commonly, psychology students at the graduate level pursue a master's degree: MA (master of arts) or MS (master of science).
The terminal degree is the doctorate. In psychology, there are two types – the Ph.D. (for research-based careers) and the PsyD (newer type aimed at clinical practice careers).
Choose a Psychology Specialty
It isn't typical for undergraduate degrees to include specializations, although some instances do exist. Normally you will major in general psychology in undergrad and specialize further as a graduate student.
Indiana University has both online and campus psychology degrees, providing both a BA and BS in psychology. They offer no master's degrees, but do offer the Ph.D.
Indiana State University, however, provides master's degrees – both an MA and an MS in General Psychology. Doctorates include Clinical Psychology and School Psychology (both PsyD).
Accreditation
For advanced study, and for research and clinical practice you must ensure your psychology degrees are properly accredited.
Accreditation means standards on quality of research and teaching have been met
Without an accredited program, you may not apply for clinical work
Non-clinical psych careers often require this minimum standard of training, too
Professional organizations may refuse membership to those without accredited qualifications
The North Central Association of Colleges and Schools accredits programs in Indiana. The American Psychological Association (APA) is the national accrediting body.
Online vs. Traditional Psychology Programs in Indiana
Technology has come so far that we are now able to pursue full degrees online. While most students still prefer to pursue campus study, both have benefits that suit certain students.
Online psychology programs are ideal for non-traditional students: older adults, parents, and full-time employees who can't follow regular class patterns. There are disadvantages to studying this way, mostly the lack of in-person contact. Synchronous classes (scheduled times attended as a group) provide some structure.
On-campus study provides all this of course – the whole college experience – but there is little flexibility. This rigid structure doesn't suit all students, especially those who live in areas that aren't convenient to a college campus.
Some colleges may offer hybrid psychology programs, which contain elements of both online and offline study.
Becoming Licensed as a Psychologist in Indiana
Only doctoral graduates may apply for a psychology practice license in Indiana. Whether you obtained a Ph.D. or PsyD, your program must be accredited.
As part of your psychology doctorate program, you need to complete 1,500 hours of internship. Once complete, you must complete another 1,600 hours of supervised practice. Both must be completed in two years (one year each).
Only then are you eligible to apply for licensure. Before this is granted though, you will need to take and pass the Examination for Professional Practice in Psychology.
List of Psychology Degree Programs in Indiana
Are you looking for a psychology degree program in Indiana? Browse our list of psychology programs offering both online and on-campus instruction. Follow the links to learn more about what each school's psychology program offers.
Bloomington, IN
Evansville, IN
Fort Wayne, IN
Gary, IN
Hammond, IN
Indianapolis, IN
Kokomo, IN
Muncie, IN
New Albany, IN
Notre Dame, IN
Richmond, IN
South Bend, IN
Terre Haute, IN
Upland, IN
Valparaiso, IN
West Lafayette, IN
Are we missing your school's program or need to update information listed? Please contact us so we can make the necessary changes.