Best Psychology Schools in Iowa
Iowa-based prospective psychologists need to understand their study options fully. Whether you're starting your first psychology degree or stepping back into education to complete a graduate program, there are many considerations to be aware of that factor into finding the right program for your goals.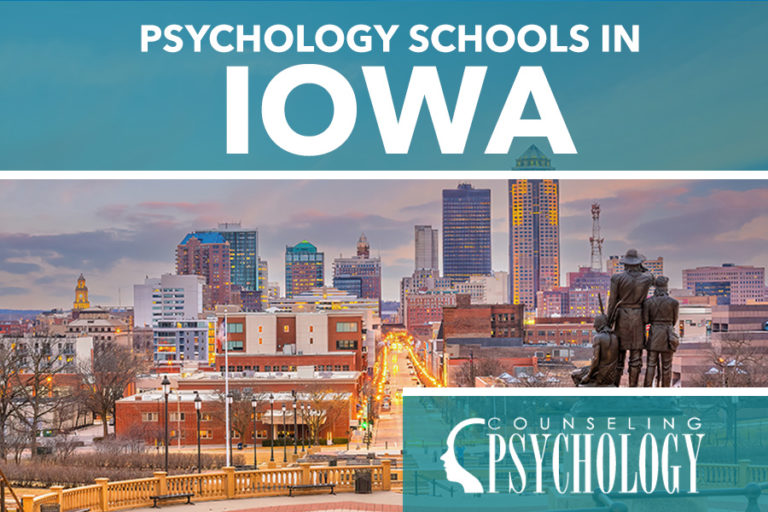 How to Find a Psychology Program in Iowa
Psychology students in Iowa have many things to consider, not least of all which type of degree they need, and the cost. But there are other factors at play as well. The following are a few highlights of what you should think about before entering a psychology degree program in the state.
Psychology Degree Pathways in Iowa
In Iowa, students seeking their first undergraduate degree have two options: an associate's degree taken over two years, or a bachelor's degree over four years. Only the latter degree type permits further study – which most people in the field of psychology will eventually pursue.
From there, you may choose to enroll in a graduate certificate program – a shorter program option that aims to train you in a specialty area of psychology. Or, you may opt for a master's degree in psychology, which comes as a Master of Arts (MA) for clinical practice, or Master's Degree of Science (MS) for research careers.
The doctorate is the highest type of degree you can earn. They come in two types for psychology. In line with a master's degree, they too are aimed at different types of students: the Ph.D. is for research careers while the PsyD is for clinical practice careers.
Choose a Psychology Specialty
Undergraduate psych degrees don't normally offer niche specialization, though you may find some limited options. Most often, students will major in general psychology at this level. Graduate certificates, master's degrees, and doctorates typically offer areas of concentration for students to hone their psychology studies further.
The University of Iowa has both a BA and BS, an MA, and a Ph.D. – all in psychology. Iowa State University is a great place to pursue a doctorate in specialty areas including cognitive psychology, counseling psychology, and social psychology.
Accreditation
To work in most areas of psychology, employers will expect you to have completed an accredited program. There are several other reasons to ensure a properly accredited psychology program:
If a program is accredited, it means minimum teaching quality standards are met
Mandatory for those seeking clinical work and licensure
Some roles outside of clinical practice also require accredited qualifications
Some professional organizations limit membership to graduates of accredited qualifications
In Iowa, the North Central Association of Colleges and Schools accredits programs. The APA (American Psychological Association) accredits nationally.
Online vs. Traditional Psychology Programs in Iowa
Full-time offline campus study doesn't suit all students. Internet technology now permits remote learning, even for psychology degrees.
The benefits of online psych programs are apparent – work at your own pace, over any number of years, and during hours and patterns that suit you (within reason). The drawback is that you miss out on the social element of college life.
While on-campus programs have all the social and human interaction benefits, they are strictly structured with timed classes and deadlines. This has worked for countless students, but it's not for those who need flexibility – such as those employed full-time or with family obligations.
To address problems with both study methods, hybrid learning may be available with some psychology degrees – these programs blend in-school and virtual learning.
Becoming Licensed as a Psychologist in Iowa
In Iowa, you may only apply for a license if you have a doctorate. This can be a Ph.D. or a PsyD so long as it is accredited, and it can be in any relevant psychology subfield.
From there, you are permitted to use the title "Psychology Associate" in the state of Iowa. This allows you to acquire the necessary work experience under supervision that will allow you to become eligible for the next stage. You must complete these 1,500 hours within one year.
The Iowa Board of Psychology will assess all this and then invite you to sit the Examination for Professional Practice in Psychology (EPPP). Pass, and you are eligible to practice as a licensed psychologist.
List of Psychology Degree Programs in Iowa
Are you looking for a psychology degree program in Iowa? Browse our list of psychology programs offering both online and on-campus instruction. Follow the links to learn more about what each school's psychology program offers.
Ames, IA
Cedar Falls, IA
Cedar Rapids, IA
Davenport, IA
Des Moines, IA
Fayette, IA
Forest City, IA
Iowa City, IA
Are we missing your school's program or need to update information listed? Please contact us so we can make the necessary changes.