Best Psychology Schools in Kansas
Prospective psychology students in Kansas have some great educational opportunities, whether they're looking at entering as an undergraduate or taking existing qualifications to the next level. The information here will help you understand your current options.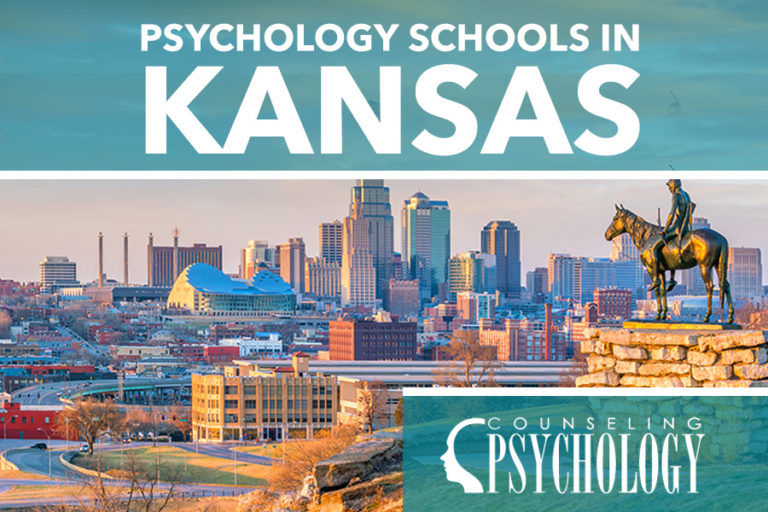 How to Find a Psychology Program in Kansas
Prospective psychology students in Kansas have many issues to consider, among them cost and location. However, there are other elements too – such as work pattern, type of degree, and career path.
Psychology Degree Pathways in Kansas
If you're considering undergraduate psychology degree options, you may choose from either an associate's degree (a two-year program) or a bachelor's degree (a four-year program). Associate's degrees are typically found at community colleges, while bachelor's degrees can be found at colleges and universities in the state.
Only a bachelor's degree will allow you to progress to a graduate program such as a graduate certificate or a full master's degree down the line. Graduate certificates are shorter programs that allow students to specialize in an area of psychology once a bachelor's degree has been completed. Master's degrees in psychology are popular graduate pathways that may be used as a springboard to a doctorate.
In psychology, there are two types of doctorate-level degrees. First, there is the PsyD which trains clinicians, and there's also the Ph.D. for research and policy careers in psychology.
Choose a Psychology Specialty
Undergraduate psychology degrees don't typically offer specialized concentrations – your major is likely to be in general psychology. Psychology specialties can often be pursued at the graduate level.
The University of Kansas offers two undergraduate programs – BA and BGS (Bachelor of General Studies) in psychology. Their Ph.D. offers specializations in Clinical Psychology, Social Psychology, or Brain, Behavior & Quantitative Science. The university also has a graduate certificate in Health Psychology.
Kansas State University is a rare instance where students may specialize in undergraduate psychology – in cognitive, industrial/organizational, social/personality, and clinical psychology. They also offer a Ph.D. program.
Accreditation
There are many reasons to pursue an accredited degree in Kansas rather than a non-accredited one, including the following:
Accreditation is a mark of minimum standards met on teaching quality
Only graduates from accredited programs may progress toward clinical work
Some roles outside of clinical practice may expect that your qualifications are accredited
Professional organizations may reject your application if your qualifications are non-accredited
In Kansas, the North Central Association of Colleges and Schools accredits programs. APA (American Psychological Association) accredits nationally.
Online vs. Traditional Psychology Programs in Kansas
Full-time campus-based study doesn't suit all students. Luckily, online psychology programs have been cropping up at a rapid rate.
The benefits of online study include working at your own pace, at times that suit you. However, you do not get the in-person contact time with faculty and other students. Classes may be synchronous (group classes) or asynchronous (study material at your own pace).
Traditional on-campus programs naturally provide these benefits but it also limits how you go about studying. It's not suited for those who need flexibility, as it is tougher to work around jobs, family, and other commitments.
If you want the best of both, some schools may offer hybrid programs, which combine online coursework with some campus lectures.
Becoming Licensed as a Psychologist in Kansas
Only those with a doctorate in Kansas may apply for a license for clinical practice. However, if your qualifications are in school psychology, you need only a master's degree and to pass the praxis exam.
While obtaining your doctorate, you may begin working under supervision, such as an internship. Two years are required prior to license granting, but 1,800 hours of this experience must be taken as part of a post-doctoral work program. Every year, you must devote 180 hours to non-clinical supervised psychology service.
Only then can you apply for a license, at which point you must take the Examination for Professional Practice in Psychology (EPPP). The pass rate in Kansas is 70%.
List of Psychology Degree Programs in Kansas
Are you looking for a psychology degree program in Kansas? Browse our list of psychology programs offering both online and on-campus instruction. Follow the links to learn more about what each school's psychology program offers.
Emporia, KS
Hays, KS
Lawrence, KS
Manhattan, KS
Pittsburg, KS
Topeka, KS
Wichita, KS
Are we missing your school's program or need to update information listed? Please contact us so we can make the necessary changes.