Best Psychology Schools in Kentucky
Kentucky residents searching for psychology degree programs in the state will find plenty of choices available. Whether you're considering an undergraduate degree in psychology or already have a bachelor's and are now seeking a graduate program, this guide will help you on your way.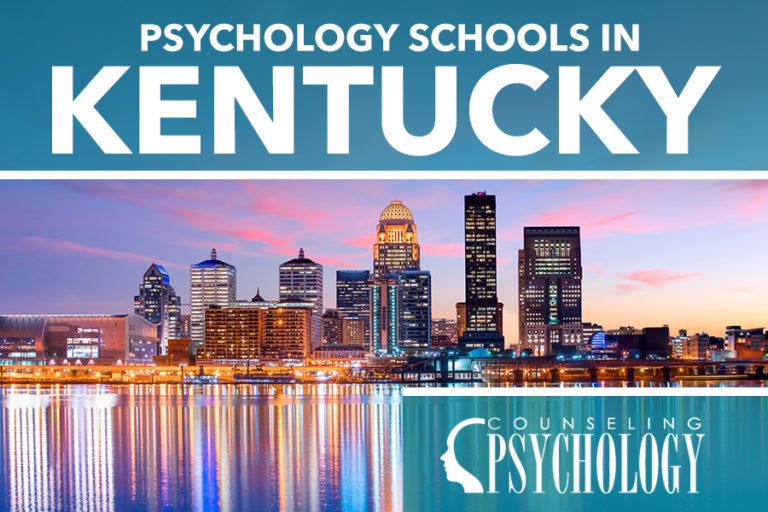 How to Find a Psychology Program in Kentucky
Students need to consider the full range of factors during any degree search, and psychology programs are no different. Cost, location, and type of degree matter for your intended career, and how you will progress.
Psychology Degree Pathways in Kentucky
If it's an undergraduate psych program you're currently searching for, you have two broad options – the two-year associate's degree and the four-year bachelor's degree (bachelor of arts, and bachelor of science). Only the latter will allow you to progress through graduate study and into clinical practice.
Graduate programs include the short graduate certificate, suited for those with a minimum of a bachelor's degree who want to gain niche psychology skills. Students can also opt for the more traditional master's degree in psychology (master of arts and master of science), which is the most common degree type for graduate students who wish to eventually obtain a doctorate.
At the doctorate level, you may choose from the practice-based PsyD or the research-based psychology Ph.D.
Choose a Psychology Specialty
Most undergraduate degrees don't offer specializations – in most cases, you will simply major in psychology. That changes as you enter graduate programs, through a master's and/or doctorate, you can enter more specialized psychology practice.
Kentucky State University offers both a BA and BS in psychology. Its Master of Arts in Interdisciplinary Behavioral Sciences offers a psychology track along with law. The University of Kentucky offers both bachelor's degrees and doctorates in clinical psychology, cognitive neuroscience, and developmental, social, and health psychology.
Accreditation
Non-accredited programs tend to be lower cost. But here is why you should pursue an accredited psychology degree instead:
When a program is accredited, it means the teaching and content has been evaluated for minimum quality standards
Without accreditation, you will not be permitted to work as a clinician
Roles outside of medical psychology may also expect that you graduate with an accredited program
Some professional representation bodies may expect members to have fully accredited qualifications
The Southern Association of Colleges and Schools accredits programs in Kentucky. Nationally, the APA is responsible.
Online vs. Traditional Psychology Programs in Kentucky
The traditional campus method of earning a psychology degree isn't suitable for everyone; luckily, online and hybrid program options have grown in popularity recently, giving students more choices in how their education is delivered.
The benefits of campus study include social interactions with fellow students and with faculty. If a structured day with scheduled classes works for you, then it is ideal. However, it's not always an ideal pathway for those employed full-time, those who have families, and/or those who live in rural areas away from colleges and universities.
Online psychology programs allow students to study at their own pace – over multiple years and at times that suit them. Be advised that some programs have synchronous study, where students attend scheduled online classes at set times. Most programs offer at least some asynchronous courses, which can be taken whenever the student has time.
Hybrid psychology programs, which blend in-person attendance with online study, may also be available.
Becoming Licensed as a Psychologist in Kentucky
In Kentucky, you must have a doctorate to practice as a psychology clinician. As long as the program is accredited, it can be a Ph.D. or a PsyD.
Before licensing is permitted, you will need to work towards 3,600 hours of work experience over two years. You can work for up to half of this during your doctorate, while the other half must be taken during your post-doctoral work. A minimum of 100 hours must be under the direct supervision of an already qualified psychologist.
At that point, you will apply for a license and be invited to take the Examination for Professional Practice in Psychology (EPPP) exam.
List of Psychology Degree Programs in Kentucky
Are you looking for a psychology degree program in Kentucky? Browse our list of psychology programs offering both online and on-campus instruction. Follow the links to learn more about what each school's psychology program offers.
Berea, KY
Bowling Green, KY
Campbellsville, KY
Danville, KY
Georgetown, KY
Highland Heights, KY
Lexington, KY
Louisville, KY
Midway, KY
Morehead, KY
Murray, KY
Richmond, KY
Williamsburg, KY
Are we missing your school's program or need to update information listed? Please contact us so we can make the necessary changes.