Best Psychology Schools in Louisiana
Louisiana is a great place to earn a psychology degree – whether you're a prospective new undergraduate student or considering further study as a graduate. In this guide, we lay out the information you need to aid your search, and details about how to practice in the state.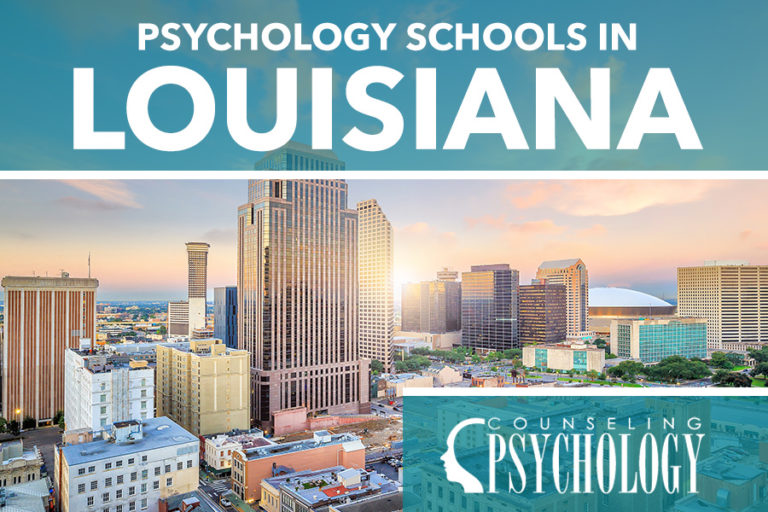 How to Find a Psychology Program in Louisiana
Prospective psychology students – both undergraduate and postgraduate – need to consider a wide range of factors when searching for schools and programs in Louisiana. Aside from location and cost, there are several other key considerations to take into account.
Psychology Degree Pathways in Louisiana
If you're looking at undergraduate psychology programs, there are two degree options. The first is an associate's degree – these take two years, can be found at community colleges, and are suited for entry-level psychology roles. The second is the bachelor's degree – a four-year program and a potential first step toward clinical practice.
From there, you may pursue a graduate certificate, which suits those looking to upskill into a specific area of psychology (eligible only for those with a bachelor's at minimum). Or, you may enroll in a master's degree in psychology, of which there are two types – the master of arts and master of science.
Doctorates are available in two types – the PsyD for practice, and the research-based Ph.D.
Choose a Psychology Specialty
You will find that most undergraduate psychology degrees are general and don't offer specialization opportunities. Specialties are usually possible with graduate study, starting with the master's degree.
The University of Louisiana offers majors and minors in psychology, a pre-med concentration, and an MS (master of science). Meanwhile, Louisiana State University offers undergraduate psych majors and minors, but no master's. They do, however, offer doctorates in Clinical Psychology, Cognitive and Brain Sciences, Industrial and Organizational Psychology, and School Psychology.
Accreditation
You will find that non-accredited programs are cheaper than accredited programs. However, there are several reasons why choosing an accredited psychology degree program is optimal:
Accreditation means that minimum standards of teaching quality have been met
Clinical roles would be closed to you without an accredited degree
Some non-medical roles may require accreditation, too
Professional networking and organization societies may reject applications from non-accredited program graduates
The Southern Association of Colleges and Schools accredits programs in Louisiana. Nationally, the APA is the body responsible.
Online vs. Traditional Psychology Programs in Louisiana
In terms of how you study, you have two options. The first is traditional, offline, campus study. Most students choose to pursue a degree in this way.
With campus study, you'll take advantage of daily in-person interactions with fellow students and faculty and have access to all physical resources. Classes are structured, much like in high school.
However, traditional on-campus programs don't fully suit everyone – parents and full-time employees, for example, may find them too rigid to work realistically. Online psychology programs offer virtual learning environments allowing students to work at their own pace. Some classes may be synchronous (online group classes taken at set times), while some are offered asynchronously in a recorded format that the student can take at their leisure.
Hybrid psychology programs are often available as well, mixing some on-campus study with online coursework.
Becoming Licensed as a Psychologist in Louisiana
In Louisiana, only psychology doctoral graduates are permitted to apply for a license to practice – Ph.D. and PsyD grads are eligible. Your doctorate must also be accredited.
You will need to acquire 3,000 hours of working experience over two years. The first year of this must be an internship as part of your doctorate program. The second year must be post-doctoral and under the supervision of a fully licensed practitioner.
Finally, you will need to take the EPPP (Examination for Professional Practice in Psychology). Once passed, you will be eligible to practice as a fully licensed psychologist.
List of Psychology Degree Programs in Louisiana
Are you looking for a psychology degree program in Louisiana? Browse our list of psychology programs offering both online and on-campus instruction. Follow the links to learn more about what each school's psychology program offers.
Alexandria, LA
Baton Rouge, LA
Hammond, LA
Lafayette, LA
Monroe, LA
Natchitoches, LA
New Orleans, LA
Are we missing your school's program or need to update information listed? Please contact us so we can make the necessary changes.