Best Psychology Schools in Maryland
Maryland has many choices of colleges and universities to pursue the full range of available psychology degrees. With so many opportunities, prospective undergraduate and postgraduate psychology students undoubtedly need help navigating their options. Read on to learn more about psychology degrees in Maryland.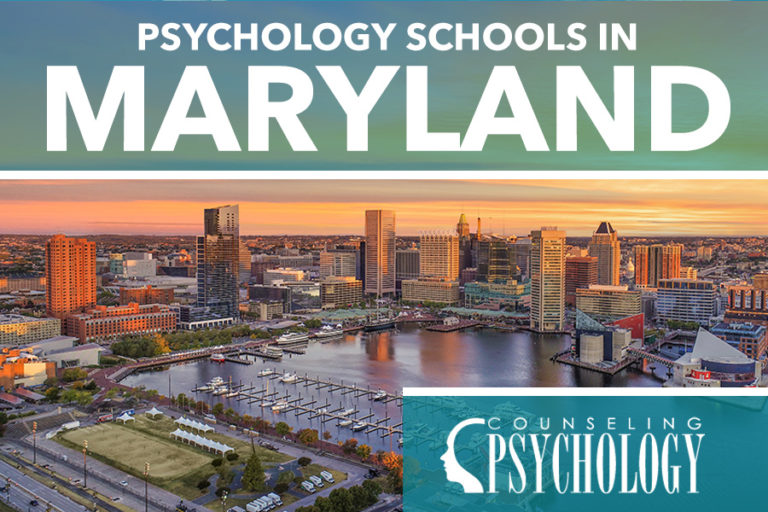 How to Find a Psychology Program in Maryland
Regardless of your current education level, there are many programs and pathways to consider. Prospective psych students in Maryland must think about location, whether the college is accessible, and how much tuition will cost. It's a good idea to start with what degree level you'd like to pursue, and what psychology specialty (if any) you are interested in.
Psychology Degree Pathways in Maryland
Undergraduates have two options for psychology degrees. The associate's degree, a two-year program that permits some limited job choices in psychology, is the most basic route. The other choice is the bachelor's degree (arts, or science) and the first major step towards clinical practice.
As a graduate, you may opt for a graduate certificate in an area of psychology, which will help you break into a niche. Please note that graduate certificates are only available to those with a bachelor's at minimum, and is not a degree in and of itself. The second choice is the master's degree in psychology– available as either a master of arts or a master of science.
The terminal degree is the doctorate. There are two types – the Ph.D. in Psychology and the PsyD. The latter is suitable for people pursuing a career in practice, while the former is suitable for public health, policy, and governance.
Choose a Psychology Specialty
Undergraduate degrees are typically offered in general psychology. Graduate study is more often where you'll choose a specialty and direct your potential future career.
At the University of Maryland, you have the option of master's degrees in Clinical Psychology Science or Industrial Organizational Psychology, or a Ph.D. in Psychology. Meanwhile, the University of Maryland Global Campus (UMGC) has an online bachelor's degree. Other master's degree pathways can be found at the University of Baltimore, which offers a Master of Science in Applied Psychology with the choice of two concentrations: Counseling Psychology and Industrial & Organizational Psychology.
Accreditation
Accredited psychology programs in Maryland are much more valuable than non-accredited programs for several reasons:
Accreditation denotes that minimum teaching standards have been met
Without accreditation, you may not pursue a career in clinical practice
Some careers outside of medical application may also require graduates of accredited programs
Some professional organizations and associations may limit membership to applicants with accredited qualifications
The Middle States Association of Colleges and Schools accredits programs in Maryland. Nationally, the American Psychological Association (APA) is responsible for accreditation.
Online vs. Traditional Psychology Programs in Maryland
Prospective students in Maryland have two ways they may pursue any of the above psychology degrees. Choices include on-campus programs (the traditional method of college study) and fully online programs. Some hybrid programs are also available, which mix both in-person classes and online coursework.
There are benefits and drawbacks to both. Online study has the benefit of flexibility – students can complete coursework whenever they like, though they may be subject to some deadlines and reasonable limitations once a course has started. The drawback of online study is you miss out on social interactions with other students who you would otherwise see daily.
Campus-based study is hugely structured with scheduled classes. This can benefit students straight out of high school who need set deadlines and regular schedules, but it may not benefit those who want to stay employed while they complete their psychology degree.
Becoming Licensed as a Psychologist in Maryland
In Maryland, like many states, you will only be eligible for a psychology license if you have a doctorate – either a Ph.D. or a PsyD will do. These degree programs will need to be properly accredited, as discussed above.
Two years of clinical experience is also, required totaling 3,250 hours. A minimum of three-quarters of these hours must be under the direct supervision of a licensed psychologist.
Finally, you must take the Examination for Professional Practice in Psychology (EPPP) exam. Pass this, and you will be eligible for licensure in Maryland.
List of Psychology Degree Programs in Maryland
Are you looking for a psychology degree program in Maryland? Browse our list of psychology programs offering both online and on-campus instruction. Follow the links to learn more about what each school's psychology program offers.
Adelphi, MD
Baltimore, MD
Chestertown, MD
College Park, MD
Frostburg, MD
Salisbury, MD
St. Mary's City, MD
Stevenson, MD
Towson, MD
Westminster, MD
Are we missing your school's program or need to update information listed? Please contact us so we can make the necessary changes.