Best Psychology Schools in Michigan
If you're looking for psychology degree programs in Michigan, there are many elements to consider. Psychology is a rewarding and in-demand career field, and Michigan has plenty of educational opportunities. Whether you're a new undergraduate or looking for postgraduate programs, this guide will help get you started.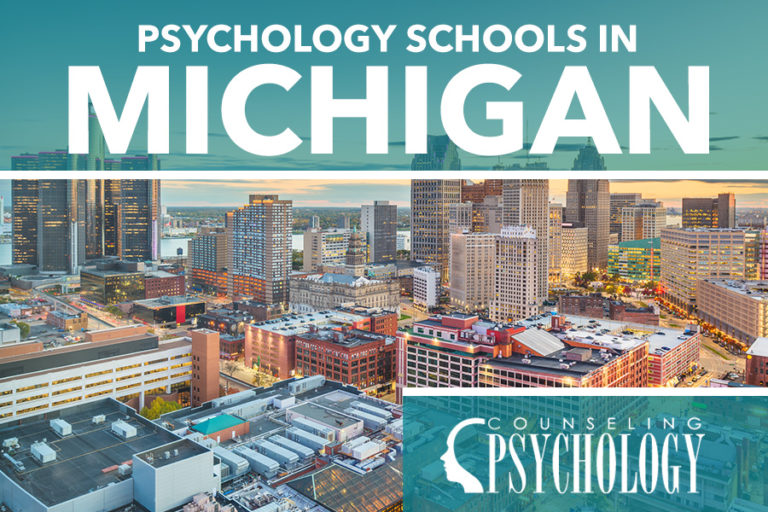 How to Find a Psychology Program in Michigan
Your search for the right psychology degree should include a wide range of variables. While issues like location, program focus, and entry requirements matter, you should also think long-term about your career goals.
Psychology Degree Pathways in Michigan
If you're a new undergraduate, there are two main options. The first choice is the two-year associate's degree. This is a program that provides a limited number of entry-level job roles – most people in the psychology field need to continue their education to be eligible for the full range of psychology careers. The other undergrad choice is the four-year bachelor's degree in psychology (either a Bachelor of Science or a Bachelor of Arts). A bachelor's degree is typically the jumping-off point to graduate-level psychology study.
From there, you may pursue a psych graduate program. Graduate certificates are short programs for those who already hold a bachelor's degree. These are designed to train students in a specific area of psychology but do not result in an additional degree. Master's degrees in psychology are the next major degree step and often allow for more specialization opportunities.
The terminal degree is a doctorate in psychology. As with lower degrees, they too come with choices: students can opt for the Ph.D. in psychology or the PsyD. The former is suited for research careers, while the latter is for clinical practice.
Choose a Psychology Specialty
Most undergraduates will major in general psychology. You may begin specializing at the graduate level.
The University of Michigan offers both undergraduate and graduate degrees in psychology, including an accelerated master's pathway. They also provide Ph.D. programs. An alternative choice is the Michigan School of Psychology, which offers both an MA and a PsyD, as well as a graduate certificate in Applied Behavioral Analysis.
Accreditation
Why should you consider only accredited psychology degree programs in Michigan? There are multiple reasons that will impact your career choices:
Accreditation means the program adheres to minimum industry and government teaching standards
You may not pursue clinical practice without an accredited program
Even non-medical careers for psychologists may not accept your application if your qualifications are not accredited
Representation bodies such as professional societies may refuse your application without an accredited degree
Nationally, the body responsible for accreditation is the American Psychological Association (APA). The North Central Association of Colleges and Schools accredits regionally.
Online vs. Traditional Psychology Programs in Michigan
Michigan-based prospective psychology students have three options to study any degree. The first is traditional offline campus-based, the second is entirely online, while the third takes advantage of the best of both those types; these are called hybrid programs.
The benefits of online study include flexible courses that work around your busy schedule, working at your own pace, and eliminating the need for a campus commute. The drawback is missing out on vital in-person contact and campus-based resources.
The benefits of on-campus study are all the disadvantages of online, and vice versa. You will also have more access to physical resources like books, some of which may be way down the list of priorities for digitization.
Ultimately, psychology students in Michigan should choose the program delivery type that works best for their unique circumstances.
Becoming Licensed as a Psychologist in Michigan
In Michigan, there are two psychology licensure types – those that permit master's graduates to practice (limited application), and the full license which applies to doctorates.
In each case, you need two years of supervised experience before you are permitted to practice alone. The year is completed during your degree program, while the second year will take place after graduation. You can start with a master's license and then apply for a doctoral license once completed.
Michigan requires that you take and pass the EPPP (Examination for Professional Practice in Psychology). This is the final required step prior to becoming a licensed psychologist in the state.
List of Psychology Degree Programs in Michigan
Are you looking for a psychology degree program in Michigan? Browse our list of psychology programs offering both online and on-campus instruction. Follow the links to learn more about what each school's psychology program offers.
Allendale, MI
Ann Arbor, MI
Dearborn, MI
Detroit, MI
East Lansing, MI
Farmington Hills, MI
Flint, MI
Grand Rapids, MI
Holland, MI
Kalamazoo, MI
Marquette, MI
Mount Pleasant, MI
Owosso, MI
Rochester Hills, MI
Spring Arbor, MI
University Center, MI
Ypsilanti, MI
Are we missing your school's program or need to update information listed? Please contact us so we can make the necessary changes.