Best Psychology Schools in Minnesota
If you're considering your options to study psychology in Minnesota, this guide contains some of the most vital information that you'll need. Whether you're a new undergraduate considering a psychology career or are considering your next step with a graduate degree, read on to learn about your options in the state.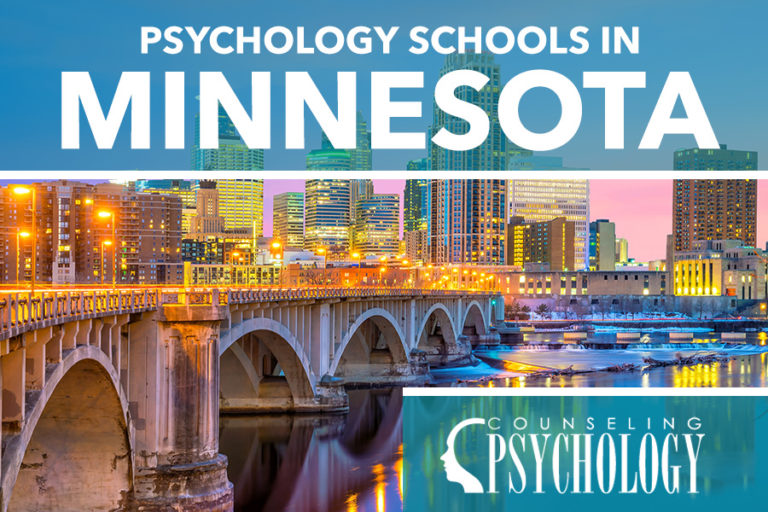 How to Find a Psychology Program in Minnesota
Any degree search should include as many variables as possible to ensure you make the right choice. Think about your long-term future in psychology and consider the following factors.
Psychology Degree Pathways in Minnesota
What is your intended psychology career outcome? You'll find career paths for both undergraduate degree types – the two-year associate's degree, and the four-year bachelor's degree (available as a BS – science, or BA – arts). Associate degrees in psychology will only lead to limited entry-level positions but can be a good way to get started. Only with a bachelor's degree can you continue into graduate studies, which leads to most psychology careers.
The master's degree is the most common path and the one you will need to eventually enter clinical practice. Psychology master's degrees are available in two types: the Master of Arts (MA) and the Master of Science (MS).
A doctorate in psychology is the highest type of degree you can earn in the field. These too come in two different types. In this case, there is a Ph.D. (research-based), and PsyD (practice-based).
Choose a Psychology Specialty
In most cases as an undergraduate, you will not be able to choose a specialty and will major in general psychology. That changes at the graduate level.
The University of Minnesota has a few undergraduate and graduate degree options including psychology BS and BA majors, a minor, and a Ph.D. Their Duluth and Saint Mary's campuses have master's degrees as well. Winona State University offers two master of science degrees – one in clinical mental health, the other in school counseling.
Accreditation
It's important that any psychology program you choose is accredited. It's the best pathway to a great career, due to the following:
It ensures minimum quality standards for teaching and research, which have been analyzed and approved
Only graduates of accredited programs may work in a clinical role
Some non-medical careers may require accredited study
Professional bodies may permit or refuse membership based purely on such accreditation
Nationally, the APA is the body responsible for accreditation (American Psychological Association). Regionally, the North Central Association of Colleges and Schools accredits schools and programs.
Online vs. Traditional Psychology Programs in Minnesota
Prospective psychology students in Minnesota have a few choices on how they study. The first and most popular is on-campus, in-person program delivery, with scheduled classes and firm deadlines and semesters. The benefits of this program format include formal structure and in-person contact, but it doesn't suit full-time employees or primary caregivers such as parents.
The second choice is entirely online psychology programs, which allow students to complete coursework from home, working around employment and familial obligations. On the downside, students enrolled in fully online programs may not be able to take advantage of physical resources such as libraries. Not everything is digitized.
Hybrid programs are sometimes available, which mix in-person classes with online study.
Becoming Licensed as a Psychologist in Minnesota
Only those with a doctorate degree may practice psychology in Minnesota. Both Ph.D. and PsyD doctorates are eligible, and you will be expected to follow the same path to licensure with either degree type.
While completing your psychology doctorate, you must carry out 1,800 hours of internship over one year to 30 months, at a minimum of 20 hours per week. Unlike many other states, you don't need additional post-doctoral supervised experience.
Once you have completed your doctorate, you may apply for licensure. At this time, you must take and pass two exams. The first is the state Professional Responsibility Examination (PRE). The second is the national Examination for Professional Practice in Psychology (EPPP).
List of Psychology Degree Programs in Minnesota
Are you looking for a psychology degree program in Minnesota? Browse our list of psychology programs offering both online and on-campus instruction. Follow the links to learn more about what each school's psychology program offers.
Bemidji, MN
Duluth, MN
Mankato, MN
Minneapolis, MN
Saint Cloud, MN
Saint Joseph, MN
Saint Paul, MN
Saint Peter, MN
St. Paul, MN
Winona, MN
Are we missing your school's program or need to update information listed? Please contact us so we can make the necessary changes.